Geeks is powered by Vocal creators. You support
Jessica Escober
by reading, sharing and tipping stories...
more
Geeks is powered by Vocal.
Vocal is a platform that provides storytelling tools and engaged communities for writers, musicians, filmmakers, podcasters, and other creators to get discovered and fund their creativity.
How does Vocal work?
Creators share their stories on Vocal's communities. In return, creators earn money when they are tipped and when their stories are read.
How do I join Vocal?
Vocal welcomes creators of all shapes and sizes. Join for free and start creating.
To learn more about Vocal, visit our resources.
Show less
13 Best Young Adult Books
And Why You Should Read Them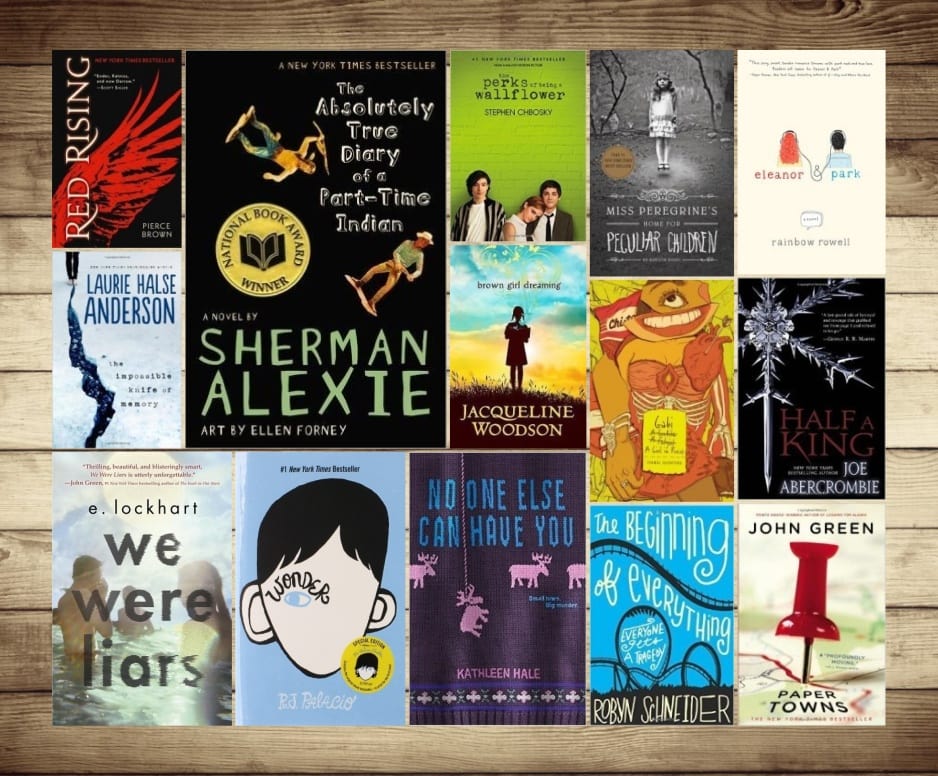 First of all, I would like to clarify that YA books are not a genre. Young adult books are simply the means of denoting the age range these books are meant for. In my opinion, young adult books are for ages 13 and up, though anybody is welcome to read YA books if it suits their fancy. With that being said, these are the top 13 YA books I have read. 
'The Absolutely True Diary of a Part-Time Indian' by Sherman Alexie
This book is not only good but it also brought to my awareness the struggles of Native Americans in the United States. The main character is a super funny guy named Junior who decides to attend an all-white highschool located outside of his reservation and from then on, things take a turn for the worse, but then for the better. Truly, we all deserve equal opportunities and quality education. 

'The Perks of Being a Wallflower' by Stephen Chbosky
I loved this book because it was so raw. I felt like the main character was unique and had a different freshman year experience than most as he became friends with high school seniors. The story ends with a truth that neither the readers nor the main character were aware of, but that was nonetheless very surprising and a bit disturbing. By the way, the movie is pretty darn good too. I mean, it's Emma Watson and Logan Lerman. <3
"And in that moment, I swear, we were infinite." 
The 'Harry Potter' Series by J.K Rowling
Need I say more? These books were literally magic. I feel like I am a better human being because I read these books. The only thing I will say is that GOOD ALWAYS BEATS EVIL. Harry Potter and the gang are literally #squadgoals.
"We could all have been killed — or worse, expelled."
'Heroes of Olympus' Series by Rick Riordan
I am a huge fan of these books! This is the continuing series after the Percy Jackson and the Olympians series, which I feel could be read by younger audiences. Hence, I am suggesting the follow-up series. Percy Jackson, Annabeth Chase, and many of our favorite demigod characters (their parents are Greek gods) are still in the Heroes of Olympus series, but new characters are added, including Leo Valdez and Jason Grace. However, these new characters are children of Roman gods. I love that Rick Riordan has a very diverse set of characters from different walks of life and with different personalities, unlike their godly parents. This series includes a lot of cliffhangers, a fire-breathing flying mechanical dragon, a lot of time spent in hell (otherwise known as Tartarus), and all demigods having mommy/daddy issues.

'Stargirl' by Jerry Spinelli
This book takes place in an ordinary high school, but everything changes when a girl who is anything but ordinary, and inexplicably not like the other students, starts attending this school. This book details the reaction of the students to Stargirl, especially from a boy named Leo. I think this is an important book for students to read, especially in regards to bullying and non-conformity. Weird is the new normal!

'The Lunar Chronicles' Series by Marissa Meyer
I loved this YA dystopian fiction series. It is essentially a recreation of old fairy tale stories set up in a modern futuristic world where technology is a lot more advanced. The first book introduces Cinder (a.k.a. Cinderella). The second book includes Scarlet as the equivalent of Little Red Riding Hood. The third book is all about Cress as Rapunzel, and lastly, Winter, the equivalent of Snow White. But unlike the ladies in these old fairy tales, the ones in the book are total bad-asses (excuse my language) who all contribute to the survival of Planet Earth from the evil Queen Levana, who reigns over Luna, the moon. 

'It's Kind of a Funny Story' by Ned Vizzini
In this story, Craig suffers from depression in part due to the super stressful competitive highschool he attends. He then checks himself into a mental ward where he meets very interesting individuals coping with mental illnesses as well. Craig's story is definitely not uncommon, especially in teenagers. This book definitely helped me to understand individuals who face depression and other mental illnesses and how brave they must be to continue living. 

'The Giver' by Lois Lowry
The Giver literally marked my life forever. That ending, though! This dystopian society is very different from our world. Everyone has a different job that they are chosen to have. Girls could have the job of birthing children—like, that's literally their job and no one else's except for the selected group of girls. But only one person can be "The Giver." In this story, we meet a boy in his journey to discovering what role he will have and whether his society is as utopian as it seems.

'Every Day' by David Levithan
Okay, so this book is trippy AF and hard to explain. Essentially, the main character does not have a human physical form. He/she switches bodies every day with someone, living out their lives for just one day. Every day he/she is someone else. There is a sequel to this book called Another Day, which also elaborates on the main character's peculiar existence, but with the introduction of someone who will make him want more than one day and in a single body. There is a third book scheduled to drop sometime soon, which I will definitely be reading. 

'The Hunger Games' by Suzanne Collins
I know this book is a bit overrated because it had movies made based on it, but I honestly think it was a good trilogy. I had never read anything like it before then, especially not books that caused its characters so much suffering and pain. In this dystopian society, Katniss Everdeen lives with her younger sister, Primrose, and their mother. Every year, the "Hunger Games" takes place. One girl and a boy are chosen from each of the thirteen districts to participate in the ultimate survival game where only one can win... and live.   

'The Catcher in the Rye' by J.D Salinger
One of my all-time favorite books! This is the definition of a young adult and a coming-of-age fiction book. In this story, we are inside the head of a rebellious teenager, Holden Caulfield. He is a hilarious guy who has an interesting and complex outlook on life. You will come across some bad words in this book. Also, Holden uses the word "phony" a lot.
"Then I got the hell out. Some stupid guy had thrown peanut shells all over the stairs, and I damn near broke my crazy neck."
That quote makes me laugh every time.
'Legend' by Marie Lu
This is another dystopian fiction book where the paths of Day (actual name) and June will cross, both seeking vengeance. In this world, the west of the United States belongs to the Republic government, though a rebel group called the "Patriots" fights to take down the Republic. June is the prodigy of the Republic government (she can kick a**), while Day is enemy #1 of the Republic. This book is part of a trilogy where the secrets of the Republic government and of the Patriots will be revealed, defining Day and June's allegiances. 

'The Curious Incident of the Dog in the Night-Time' by Mark Haddon
This mystery novel narrates the story of 15-year-old Cristopher, a boy with Asperger's Syndrome. However, Cristopher's condition does not derail him as he is a mathematical genius who sees the world in a different way. When his neighbor's dog is killed with a pitchfork, Cristopher decides to investigate and figure out who the real culprit is. A play adaptation of this book was premiered in 2012. I actually watched the play about a year ago in San Francisco, and it was amazing!
Which books have you read from this list?