Geeks is powered by Vocal creators. You support
Felix Helix
by reading, sharing and tipping stories...
more
Geeks is powered by Vocal.
Vocal is a platform that provides storytelling tools and engaged communities for writers, musicians, filmmakers, podcasters, and other creators to get discovered and fund their creativity.
How does Vocal work?
Creators share their stories on Vocal's communities. In return, creators earn money when they are tipped and when their stories are read.
How do I join Vocal?
Vocal welcomes creators of all shapes and sizes. Join for free and start creating.
To learn more about Vocal, visit our resources.
Show less
15 Alternative Versions of Spider-Man
Geek Facts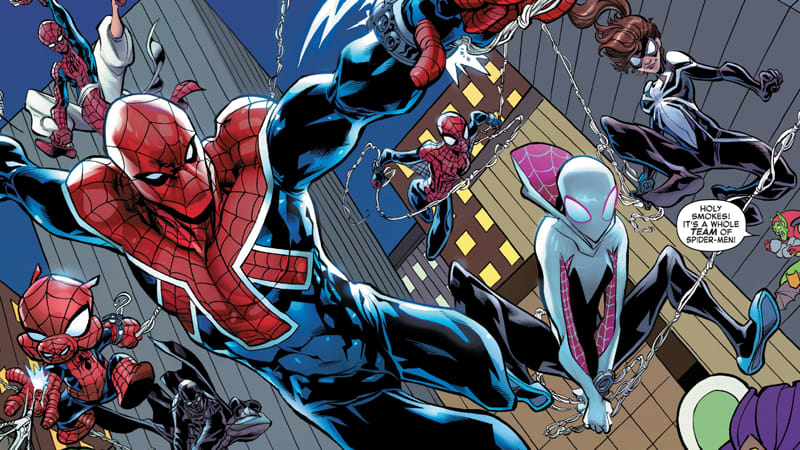 Ever since his appearance in Amazing Fantasy #15 in August of 1962, Spider-Man has become one of the most iconic characters in the Marvel universe and has gained a lot of fans over the years through comic books, tv shows, movies, video games, etc. During this time, a concept was introduced called the "Spider-Verse," a multiverse where alternate versions of your favorite web slinger exist. Since Spider-Man: Into The Spider-Verse came out not too long ago I thought I'd introduce you to some other versions of Spidey. Now I myself haven't seen Into The Spider-Verse but I will eventually. 
15: Spider-Punk (Earth-138)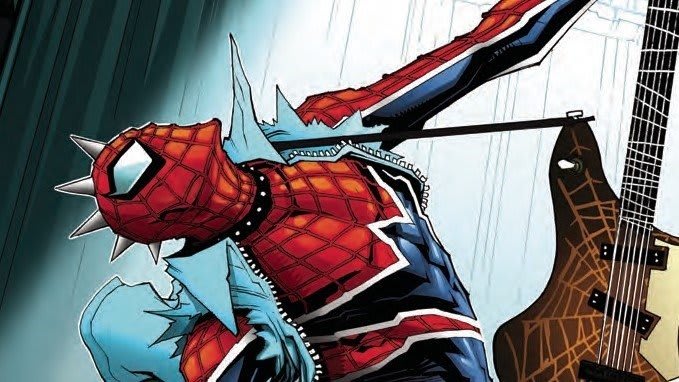 Now this guy is my kind of superhero. On Earth-138, teenager Hobie Brown is Spider-Punk and got his powers like Peter by being bitten by a radioactive spider. He fights for freedom with his friends Captain Anarchy (Captain America) and the Hulk. Hobie played in a rock band called the Spider-Slayers and their fans were the Spider Army. Hobie and the Spider Army rose up against President Osborn who wanted to make America great again by purging the streets of the lower class. Osborn used the Venom symbiote on himself and his regime to wipe them out but Spider-Punk, Captain Anarchy and the Spider Army were able to take America back with the power of rock n' roll and loudspeakers turned up to 11.
14: Spider-Man Noir (Earth-90214)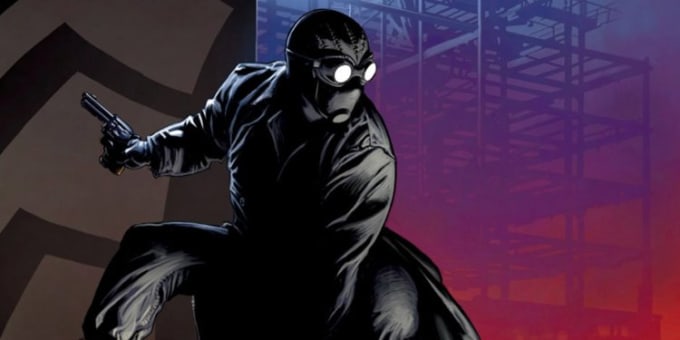 In this dark take of Spidey, Peter grew up during the great depression and was raised by his aunt and uncle, May and Ben Parker. He was raised to believe that good triumphs over evil with his aunt and uncle being social activists, but that didn't workout so well for uncle Ben. Because of him, crime boss, the Goblin (aka Norman Osborn) sent his enforcers which consisted of some of Spider-Man's greatest enemies to take care of Ben (by that I mean kill him). After discovering the horribly mutilated body of Ben, Peter didn't take it too well and wanted justice for his uncle. Goblin's gang tried to hurt Aunt May and Peter as well but were saved by Urich. Urich worked for the Daily Bugle, Peter aided him in his work and wrote about the Goblin. Peter got a tip about the enforcers smuggling ancient artifacts, that tip was actually meant for Urich but Peter headed off to find them alone. Peter found them at a warehouse and they unloaded a spider statue. They dropped the statue which released tons upon tons of spiders, one of these spiders bit Peter and he passed out. He dreamt about a spider god and when he woke up, he was granted the powers of a spider. He hunted down Osborn, beats the crap out of his men, gives his "this ends now" speech but finds out that Urich was being blackmailed by Osborn, so he storms off feeling betrayed. He makes a suit similar to that of his uncle's uniform when he fought in WWl and armed with a revolver, he became Spider-Man. 

13: Spider-Man 2099 (Earth-928)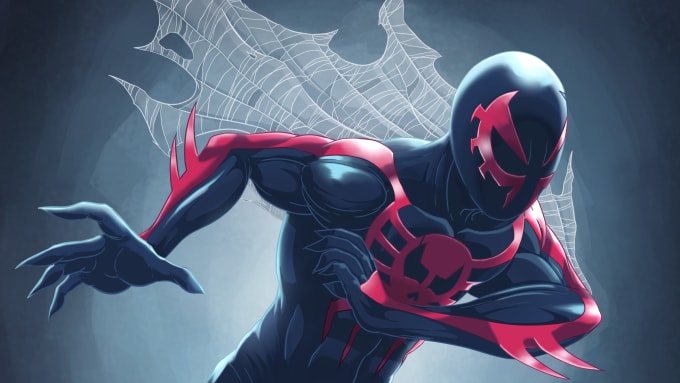 On Earth-928, it's set in the year 2099. Miguel O'Hara worked for a company called Alchemex and was a pro in the genetics field and inspired by the legend of Spider-Man, he conducted research in animal genetics. He was pressured by his father, Tyler Stone to test a genetic imprint on a human subject to alter his physiology and of course, the expiriment went wrong. The test subject turned into a horrible creature and died short after. Miguel decided to end the experiment and quit his job at Alchemex but Tyler offers him a drink which little did he know was laced with a very addictive drug. To get rid of the drug, he tested the same experiment on himself which went wrong as well, he survived but got his genes spliced with the genes of a spider and gained powers like organic webbing and retractable talons. His suit was an old costume he wore to a Day of the Dead celebration (because of his Hispanic heritage) but what's really cool about this suit is that it's made out of indestructible fibers which was the same material for the Fantastic Four suits. Spider-Man 2099 was one of several comic books with a futuristic concept, there are comics like Venom 2099 and Ghost Rider 2099 as well.
12: Scarlet Spider (Ben Reilly) (Earth-616)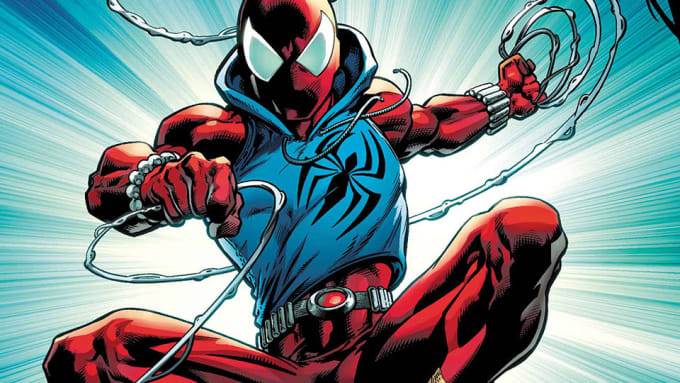 Many spiders have took on the mantle of "Scarlet Spider" but the most popular one is Ben Reilly and he is technically not an alternate version since he exists in the original Spider-Man's reality but he deserves to be on this list anyway. Ben Reilly was one of several clones created by the Jackal in attempt to thwart Spider-Man and was the first successful clone to not suffer from cellular degeneration. The Jackal pinned him against Spider-Man with their being a bomb in the middle of it. Jackal dentonates the bomb and both are knocked unconscious, long story short, they both survived. Ben spent five years wandering the country and eventually met the love of his life, Janine Godbe. She was the first person that Ben revealed his secret identity to, I mean you shouldn't reveal your secret identity to your girlfriend but on the other hand, relationships are built on a foundation of truth. Unfortunately, this relationship didn't last very long because she died at some point. He returned to New York and met Peter Parker, realized that he was the clone. Peter realized how much of himself was in the clone, so they decided to call it a truce. He named himself Ben Reilly, after his uncle Ben and Aunt May (Reilly was May's maiden name). During the next five years, he set off on his own fighting crime elsewhere and developing new weapons. He had a few confrontations with one of the reject clones (Kaine). One of the weapons he developed was explosive webbing which would trap the villain in a cocoon and this was really useful against Venom, he shot one down his throat which separated the Venom symbiote from Eddie Brock. One of the really cool things about Scarlet Spider is that unlike Spider-Man, Scarlet's spider sense works on Venom but Carnage is immune since Ben was a host of Carnage for some time, long enough for Carnage to build up immunity against his spider sense. 
11: Superior Spider-Man (Earth-616)
Superior Spider-Man is technically not an alternate version as well since he existed in the Earth-616 universe but this one's pretty cool too. Spider-Man visits a dying Otto Octavious (Doc Oc or Dr. Octopus) and while on the verge of death, Octavius transports his subconscious into Peter's mind. Otto sees all his memories and understands why he became a hero, so he becomes the Superior Spider-Man to live up to Peter's legacy. He made some technological advancements to the suit including mechanical spider legs and spider bots. Otto's methods of dealing with criminals were more violent and irrational than Parker's methods, after losing a fight with the Goblin he realizes that Peter is still in there, he sacrifices himself, so Peter can be the true Superior Spider-Man. Even though this happened on Earth-616, it's still a pretty cool concept. 
10: Spider-Girl (Earth-982)
Set in the future in an alternate timeline, Peter becomes crippled after his final battle with the Goblin and retires as Spider-Man, to focus on being there for his wife (MJ) and daughter. His daughter, May "Mayday" Parker was unaware of her father's past until she discovered powers of her own. At first, they forbade her to become a superhero but they realized it was in vain, so Peter decided to mentor his daughter. As Spider-Girl, she has encountered many foes and made allies along the way, including making amends with Norman Osborn Jr. (Osborn's grandson). She has also fought prodigies of Spider-Man villains like Aftershock (daughter of Electro) and some of Spidey's old enemies like Kaine and Venom. 
9: Spider-Gwen (Earth-65)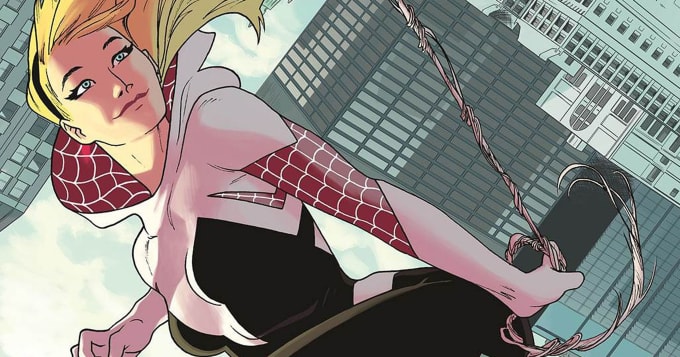 Originally, Gwen Stacy was a love interest for Spider-Man in the Earth-616 universe. She was thrown over the Brooklyn Bridge by the Green Goblin and Spider-Man tried saving her with his webbing. Unfortunately, the sudden stop gave her whiplash causing her neck to break which killed her. Probably one of the most tragic moments in comic book history which Peter blames himself for. In the Earth-65 universe, Gwen Stacy is alive and well. In this universe, it's Gwen who gets bitten by the famous radioactive spider and not Peter Parker. She went by Spider-Woman and just like Peter, she used her powers for personal gain instead of saving people. Having no superpowers, Peter was bullied at school and Gwen stood up for him. He tried recreating Gwen's powers by using a serum on himself which turned him into Earth-65's the Lizard. Gwen ends up having to fight him and he does return to normal but she loses him in the process. From that point forward she vowed to use her powers for good, Peter was Gwen's uncle Ben having that "with great power, comes great responsibility" moment. Jonah Jamison blames Spider-Gwen for Peter's death and most people including her dad (Captain George Stacy, police chief) see her as a criminal.

8: SP//dr/Peni Parker (Earth-14512)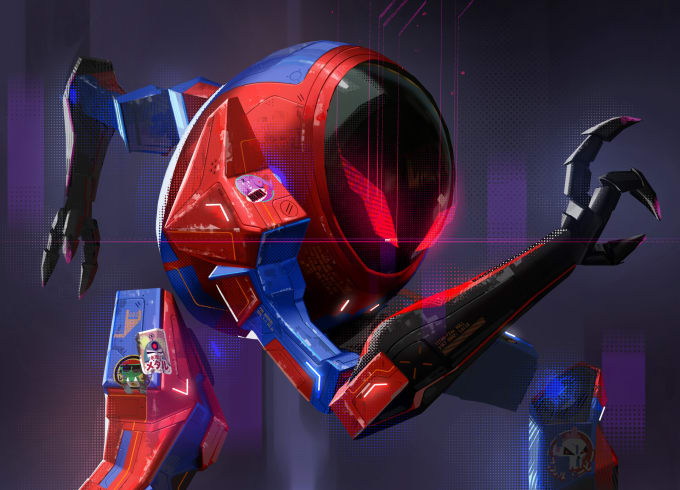 When Peni was nine, her father who was the original pilot for the SP//dr suit died while piloting it. When May and Ben Parker break the news to her they also tell her that she's the only one who was genetically compatible to pilot the suit. For a nine-year-old kid, that must've been a lot to process but she agreed to continue what they started. In order for her to have control over the mech suit, they released a radioactive spider to bite her, so they would become psychically linked. Peni herself doesn't really have any super powers other than the suit, sort of like Iron Man, well I guess he's really smart. Don't get me wrong, Iron Man is a pretty cool superhero too. 

7: Miles Morales (Ultimate Spider-Man) (Earth-1610)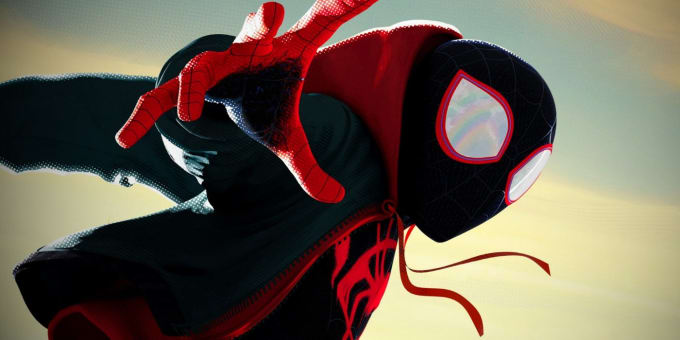 In this universe, Peter Parker was known as the Ultimate Spider-Man and Miles was a kid living in Brooklyn. He went to visit his uncle, Aaron Davis (aka The Prowler) and his parents didn't want him seeing his uncle because of his criminal past. Davis was assigned to steal some equipment from you guessed it, Oscorp and a while he was there a genetically enhanced spider crawls into his bag. That would crawl out and bite Miles giving him special powers. This was actually the opposite of what he wanted because he just wanted to be normal. Unfortunately, months later, Spider-Man died saving his family. Feeling bad for not helping him, Miles decided too take on the mantle of the "Ultimate Spider-Man" and continue in Peter's legacy. Like Spider-Man, Miles has powers like wall-crawling but has some different ones such as camouflage and a stun blast which is called an arachno-blast. 

6: Spider-Ham (Earth-8311)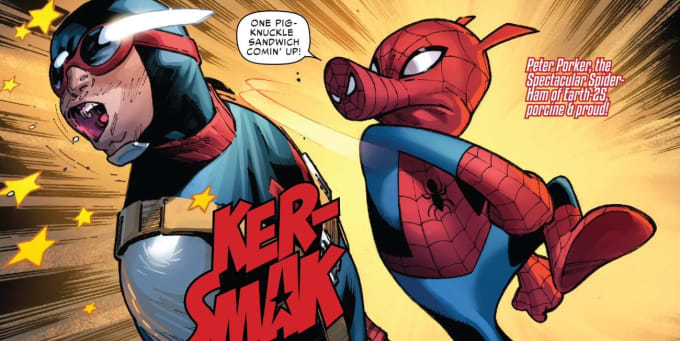 Probably one of the most ridiculous concepts for Spider-Man but c'mon ridiculous was what the writers were aiming for when they made this swine-tastic character (that was a terrible pig pun). May Porker was trying to build a nuclear powered hair dryer and testing it on herself, she became radioactive. She bit a spider (named Peter) that was living in her basement and the spider transformed into a pig but kept his spider abilities. Peter Porker dedicated himself to use his powers for good and become "The Spectacular Spider-Ham."
5: Spider-Woman (Jessica Drew) (Earth-616)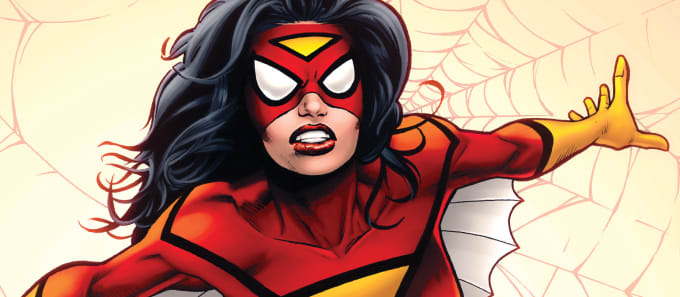 Having uranium poisoning, Jessica's father used an untested serum he was working on that contained the blood of several exotic species of spiders hoping it would cure her. To speed up the process, he put her in a genetic accelerator but the process was still working at a slow pace. In recent years, she was cured and became a grown woman. She had little life experience and felt out of place, sort of like Captain America minus the being frozen and not aging part. She set off on her own and joined Hydra but would later rebel against Hydra and become a member of S.H.I.E.L.D. She does have some of Spidey's basic abilities like wall-crawling with additional abilities such as immunity to all toxins, poisons, and drugs, venom blasts, extreme healing, pheromone secretion and gliding (gliding not flying). 
4: Silk (Earth-616)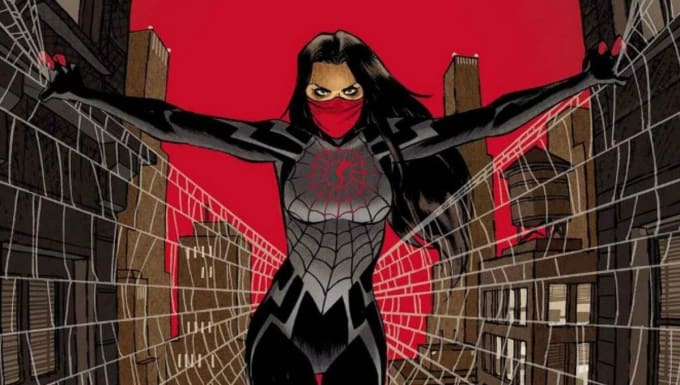 Cindy Moon was bitten by the very spider that bit Peter, it would bite Peter then fall off his hand and bite Cindy on her ankle before dying. Her powers started to develop when she accidentally webbed up her parents with organic webbing. A man named Ezekiel Sims took Cindy away and became her mentor but he soon finds out that Morlun was tracking her. Cindy hides out in bunker that is stocked up with years worth of food, books and tapes on the outside world. She knew the code and could leave anytime she wanted but she decided to stay even though she had to endure constant boredom. 13 years later, Peter hears about Cindy's story when he was Spider-Man and decides to release her from the bunker despite what she said about Morlun. After opening the door, she attacks Peter for dooming them both but Peter tells her that Morlun is dead. Hearing the great news, she fashioned a suit made out of webbing and told Spidey she goes by Silk. She returned to New York but realized her parents moved, so Spider-Man promised to help Silk find her parents. She would later be recruited by Spider-UK along with Spider-Man 2099, Spider-Woman and Spider-Girl in the Spider-Verse comics. 
3: Zombie Spider-Man (Earth-2149)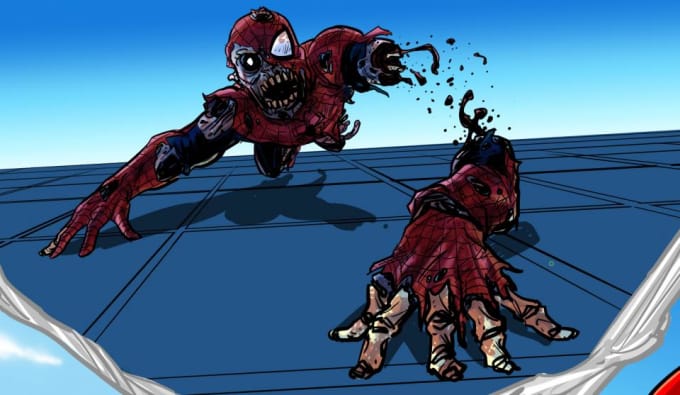 In this universe, a zombie plague is released on the world. Spider-Man was swinging around the city when he sees the Avengers fighting Ash Freaking Williams (from "The Evil Dead" trilogy). Spidey joins in on the fight and wraps Ash up in webs. While carrying him, Ash told his story about a zombified Sentry that brought him into this world and infect the Avengers with the virus. Soon enough, Captain America bites Spider-Man becomes a zombie but there's a part of him that's still human. Fearing for MJ and Aunt May, he had to get them to safety and left Ash on his own. He finds MJ and Aunt May safe and sound but that wouldn't last for long. The virus continued spreading throughout his body, he lost control then attacked and ate MJ, he would do the same to his Aunt May. 
2: The Spider (Earth-15)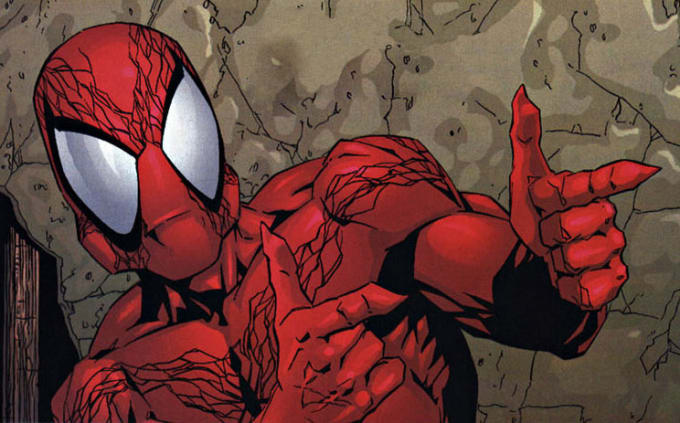 Not much is known about this Spider other than the Peter of this universe was a mass muderer and a sociopath. He was sentenced to 67 life sentences by the jury. He also becomes bonded with the Carnage symbiote which spells a whole lot of bad. 
1: Spider-Man (Earth-616)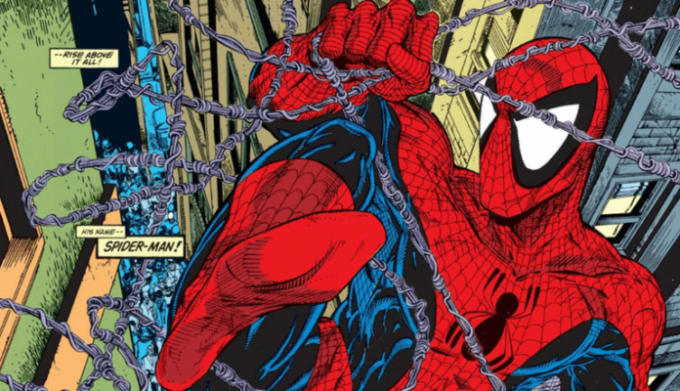 Can't have a Spidey list without including the one and only Spider-Man. Making his debut in 1962, Spider-Man is one of the most iconic and most recognizable characters in the Marvel universe. Of course we all know how got his powers, gets bit by a radioactive spider and gains the proportionate powers of a spider. He originally used his powers for personal gain until he finds his uncle dying and given those iconic words of wisdom, "With great power, comes great responsibility." From that point forward he would use his powers to help people. There are so many cool versions of Spider-Man but none of them can beat the original Spidey. Well I hoped you enjoyed reading and maybe gained some knowledge about the Spider-Verse. Thanks for reading and I'll catch ya on the flip side.