7 Terrifying TV Shows Like 'American Horror Story' on Netflix and Hulu
What will you be watching next?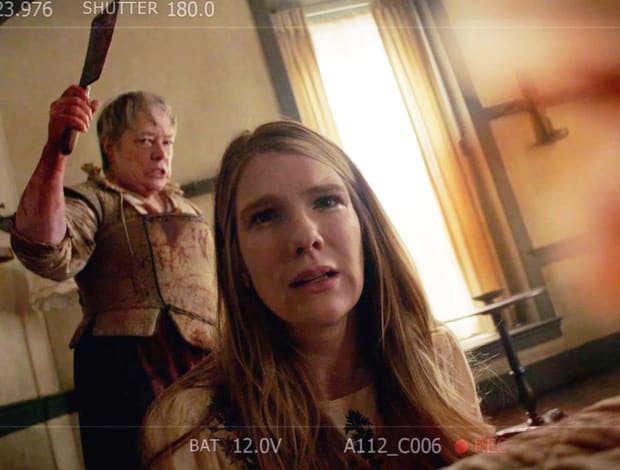 Say what you want, but American Horror Story basically redefined the genre of horror on television. For anyone new to the party, American Horror Story is a horror anthology show that first hit screens back in 2011. The show has a self-contained storyline each season and a recurring group of actors who come back every season as different (or reprised) characters.

Unfortunately, it is hard to find a good horror nowadays, but if you are a fan of the Fox show created by Ryan Murphy — the mastermind behind acclaimed shows like Glee, Nip/Tuck and The People vs. O.J. Simpson: American Crime Story — then you are in luck! Here are nine shows available on Netflix and Hulu that I think are as creepy and intriguing, and will terrify you one way or another.
Note: these are all personal preference, free of spoilers and are not in any particular order.
'Darknet' (2013-2014)
Cast: Michelle Alexander, David Hewlett, Carlyn Burchell, Adam Kenneth Wilson, Cara Gee
A horror anthology web series designed for a 21st-century internet mindset. Sounds interesting, right? Well, many people actually have not heard of the Canadian-born show because it is not in mainstream popularity — but it is so worth the watch! Without spoiling anything, basically, the show is about a website called Darknet, where you watch ordinary people in various disturbing and horrific circumstances. It is great genuine horror, plus the show is full of chilling macabre imagery and loads of great twists.
Why AHS fans should watch:
It is truly creepy! Darknet

doesn't rely on overused cheap jump scare tactics. It evokes a lot of psychological fear, which is prominent in the world of

American Horror Story

.



If you are a fan of Roanoke

, you will be glad to know that

Darknet

is very similar as it uses technology and POV shots to enhance the element of fear.



Plot twists around every corner! American Horror Story

is great at this, and so is

Darknet

.



'The Exorcist' (2016- )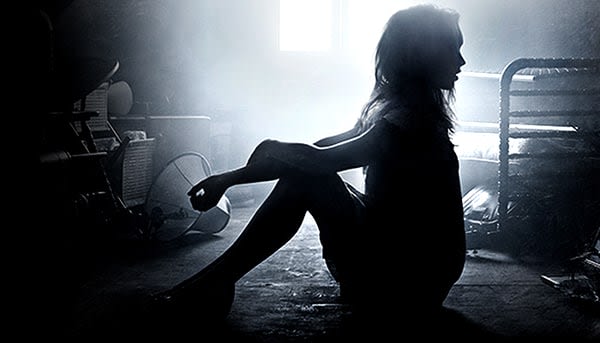 Cast: Alfonso Herrera, Ben Daniels, Hannah Kasulka, Geena Davis, Alan Ruck
The idea of turning an iconic horror film into a TV series doesn't sound like the greatest idea, but trust me, after the first episode, I was hooked! The Exorcist sees two priests join forces to help out a family that has a demonic presence possessing one of their own. Even fans of the original 1973 film have gone on the record to say that this series was a pleasant surprise and completely compelling. It takes the original film and gives it plenty of suspense and twists that today's audiences will appreciate.
Why AHS fans should watch:
If you are like me and absolutely loved the exorcism subplot from Asylum

, then you should definitely tune into

The Exorcist

.



The suspense is real! The Exorcist

isn't cheap jump scares but is well thought-out. The slow build is very effective and keeps you watching.



Um, what is more, creepy and terrifying than demonic possession?

'Hannibal' (2013-2015)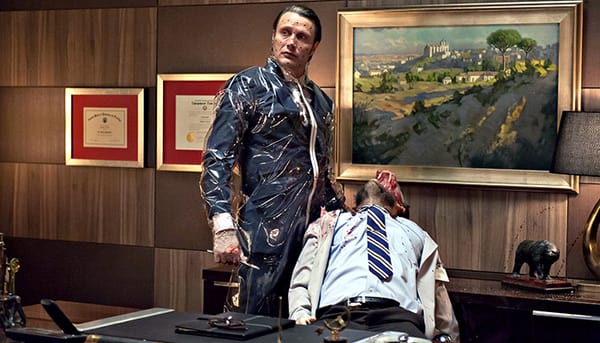 Cast: Mads Mikkelsen, Hugh Dancy, Gillian Anderson, Caroline Dhavernas, Laurence Fishburne
Psychological horror at its finest! With so many installments in the franchise regarding Hannibal Lecter, this TV series is like a breath of fresh air. Hannibal follows the relationship between Agent Will Graham, who is haunted by his ability to empathize with serial killers, and his psychiatrist Hannibal Lecter, who has an air of mystery shrouding his every move. Sounds pretty simple, but the show is far from it.
Suspense and fear grow with every episode as truths are revealed. The writing is excellent and the main cast is phenomenal in their roles. Only word of caution: while watching, perhaps withhold any indulgence with food.
Why AHS fans should watch:
Unknowingly working alongside a serial killer has Asylum

written all over it. Who could forget the relationship between Dr.

Oliver Thresdon and Lana Winters?



Hannibal

is packed to the brim with gore and blood, but if you can stomach the grisly imagery of

American Horror Story

then this is worth every second.



Hannibal

is visually stunning! If that doesn't make you want to watch something, then I don't know what will. Seriously, sink your teeth into this one!



'Black Mirror' (2011- )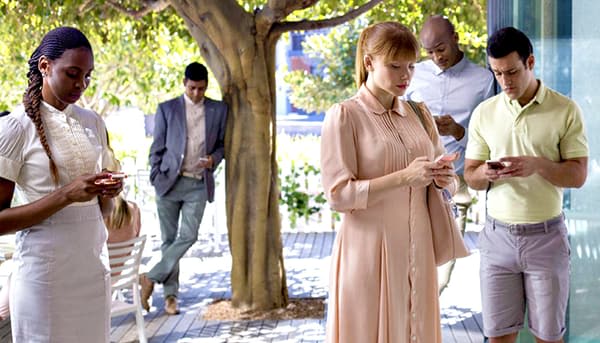 Cast: Different actors every episode.
Described as techno-horror, Black Mirror is another great anthology series that shows the disturbing reality of how crazy our current society is and how dark it could actually become. It dives deep into society's addiction with technology and people's oddly intimate connection with it. I can't say much more without spoilers, but trust when I say that Black Mirror is one of the most original, thrilling and truly disturbing shows out right now and should not be missed.
Why AHS fans should watch:
Black Mirror

is perfect for fans of

American Horror Story

because although it is mainly sci-fi, there are parts that verge on the terrifying!



Full of twists and incredibly interesting narrative-driven stories.

Basically, it is pretty much like Darknet

minus all the intense gore and blood. It is more based on

real life and how human nature can be a complete horror show.



'Scream Queens' (2015-2016)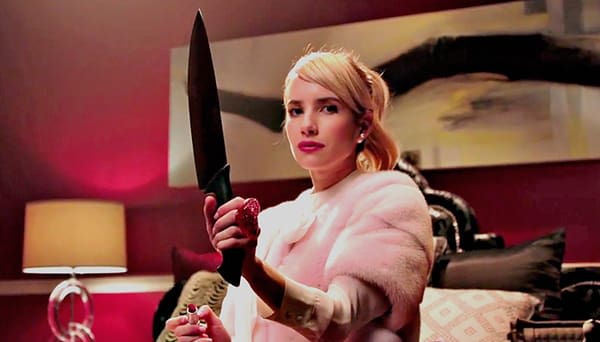 Cast: Emma Roberts, Jamie Lee Curtis, Lea Michele, Keke Palmer, Abigail Breslin, Billie Lourd
Scream Queens is described as a semi-anthology series that centres on returning characters being terrorized by a serial killer in different locations. The first season focused on a string of murders happening around the infamous Kappa sorority, headed by "Queen Bee Bitch" Chanel Oberlin and her fellow Chanels. It plays on the typical stereotypes in the slasher and horror genres, which makes Scream Queens very camp — but that's why it's so good! The show is the perfect blend of black comedy and horror.
Why AHS fans should watch:
If you were a fan of Coven

then you will enjoy the more light camp-horror going on in this show.



Again this is perfect for those of you who want to watch something scary but not so much as to trigger nightmares. There is always a laugh after the bloodshed.

American Horror Story

is known for its strong female ensemble, and Ryan Murphy completely delivers here! Original scream queen Jamie Lee Curtis? Yes, please!



'Bates Motel' (2013-2017)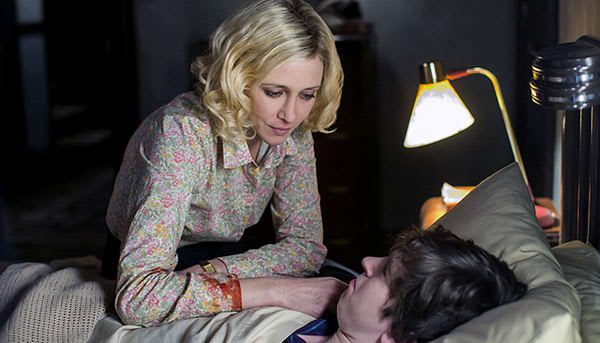 Cast: Vera Farmiga, Freddie Highmore, Max Thieriot, Nestor Carbonell, Olivia Cooke
Bates Motel is a perfect contemporary take on the iconic 1960s Hitchcock film, Psycho. After moving to a new town and opening their own motel to get a fresh start, everything suddenly goes wrong for Norman and his mother Norma Bates. If you are not familiar with the original masterpiece, Bates Motel acts as its prequel where we get to see how the normal teenage boy Norman transforms (quite literally) into the deranged and psychotic persona of his mother. Bates Motel is shocking, brilliant and innovative, with twists and cliffhangers like any other great show.
Why AHS fans should watch:
Talent runs in the family! Vera Farmiga is the elder sister of AHS alumni

, Taissa Farmiga. If you were a fan of Taissa Farmiga's portrayals of Violet Harmon (Season 1) and Zoe Benson (Season 3), you are going to LOVE Vera Farmiga's performance of Norma Bates.

Honestly

, if none of these other reasons

convinces

you, just go and watch it for her powerhouse performance.



Norman has a very close, almost borderline incestuous relationship with his mother Norma Bates. It is very reminiscent of Freak Show

killer-brat Dandy Mott, and his mother Gloria Mott. So, if the Motts caught your attention and you want more, check in with the Bates.



Norman has a similar character profile to AHS

characters Tate Langdon (Season 1), Dr.

Oliver Thredson (Season 2) and the aforementioned Dandy Mott. If you are fascinated by the inner workings of a teenage boy with dissociative identity disorder, then this show is for you.



'The X-Files' (1993-2002, 2016)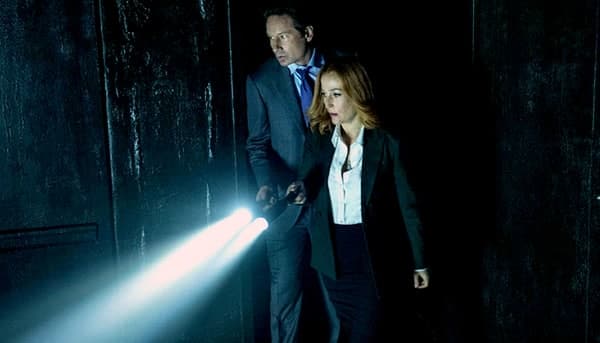 Cast: Gillian Anderson, David Duchovny, Mitch Pileggi
Combine elements of horror and sci-fi, add a skeptic and a believer, and you get the iconic '90s series known as The X-Files. Aliens, monsters, government conspiracies and more aliens, The X-Files is without a doubt one of the best shows to have ever been created. Of course, every show has its weak points — the surprise 2016 season drove fans up the wall — but nonetheless, the show had excellent writing and gave us one of the most iconic duos of all time, Fox Mulder and Dana Scully. Could I possibly use the word "iconic" more? Well, the opening sequence and theme music? ICONIC!
Why AHS fans should watch:
Do you want to believe? If you couldn't get enough of the alien subplot from Asylum

, then definitely watch

The X-Files

!



The X-Files

is branded as purely science-fiction and drama, and while it is relatively light-on the horror, there are some pretty disturbing monsters and plot lines that happen.



Speaking of disturbing, one episode from Season 4 of The X-Files

has strong ties to the Polk family from

AHS: Roanoke

. In fact,

The X-Files

may have beat

AHS

at its level of WTF! Check it out for yourself.



Bonus point: Dana Scully is one of the most iconic female characters to have ever graced our screens!