Geeks is powered by Vocal creators. You support
Paul Zuniga
by reading, sharing and tipping stories...
more
Geeks is powered by Vocal.
Vocal is a platform that provides storytelling tools and engaged communities for writers, musicians, filmmakers, podcasters, and other creators to get discovered and fund their creativity.
How does Vocal work?
Creators share their stories on Vocal's communities. In return, creators earn money when they are tipped and when their stories are read.
How do I join Vocal?
Vocal welcomes creators of all shapes and sizes. Join for free and start creating.
To learn more about Vocal, visit our resources.
Show less
8 Classic TWD Scenes Parodied In 'The Robot Chicken Walking Dead: Look Who's Walking Special'
The Robot Chicken Walking Dead: Look Who's Walking special aired over the weekend, and it did not disappoint in delivering all the hilarity we'd expect.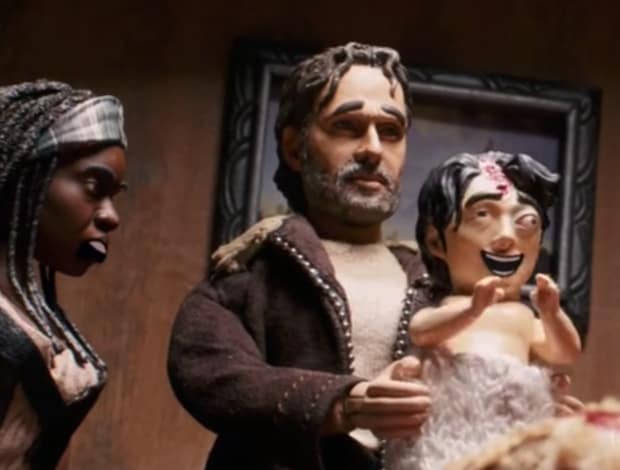 In just a couple weeks, The Walking Dead will return to AMC for its eighth season, kicking off an explosive arc — All Out War — that fans are sure to enjoy. While we wait for Season 8 to begin, we can get a laugh out of a new TWD-themed episode of Adult Swim's Robot Chicken.
The Robot Chicken Walking Dead: Look Who's Walking special aired over the weekend, and it did not disappoint in delivering all the hilarity we'd expect. This special had everything a fan could ask for — including most of The Walking Dead's cast, who lent their voices to the Robot Chicken toy versions of their characters.
Here are the best TWD scenes parodied in this fantastic special.
1. Rick Stays In Morgan's House (Season 1, Episode 1)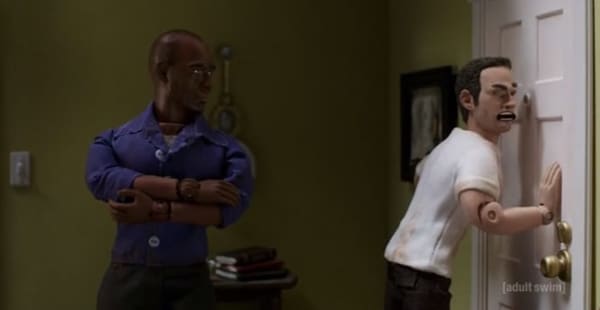 Morgan and Rick bond on the first day of Rick's zombie apocalypse awakening, just like they did in the first episode of The Walking Dead. But here, Rick insults Morgan's zombie wife when she returns to their door, calling her a gargoyle until Morgan explains the situation.
2. Merle Dixon On The Rooftop (Season 1, Episode 3)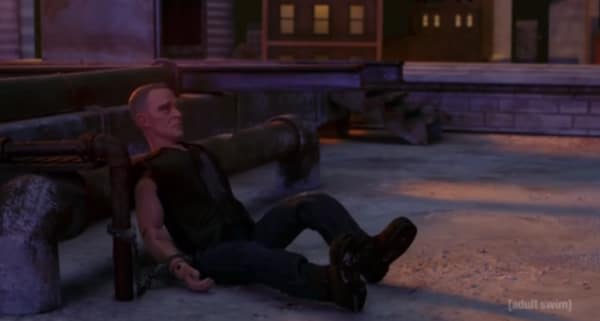 When Merle is handcuffed to a roof in Episode 3, he spends a good time yelling at the sky. This parody takes Merle's alone time on that roof in a different direction, showing him perform a musical number about his sorrows.
3. Rick Meets A Horse On The Way To Atlanta (Season 1, Episode 1)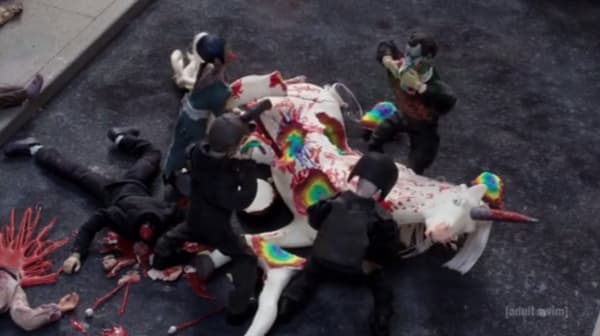 In the first episode of The Walking Dead, Rick finds a horse on his way to Atlanta. In Robot Chicken, the horse is exchanged for a unicorn. And who wouldn't prefer to see a unicorn get devoured by zombies, especially when its insides are filled with rainbow-colored organs?
4. Lori's Sendoff (Season 3, Episode 4)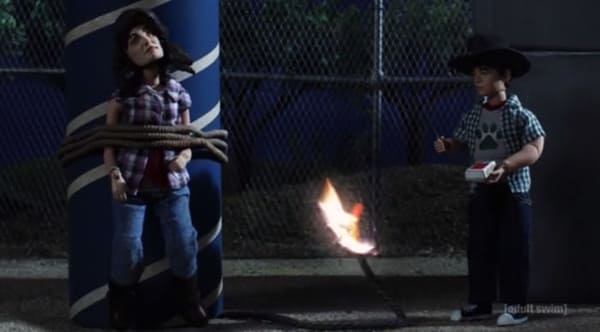 In Robot Chicken's version of Lori Grimes's death, Carl figures out a different way to ensure that his mother won't reanimate. Rather than shooting Lori in the head, as he did on The Walking Dead, Carl ties her to a huge firework and sets her ablaze. Her remains leave a large display in the sky that says "I love you, Mom."
5. The Governor Combs Penny's Hair (Season 3, Episode 5)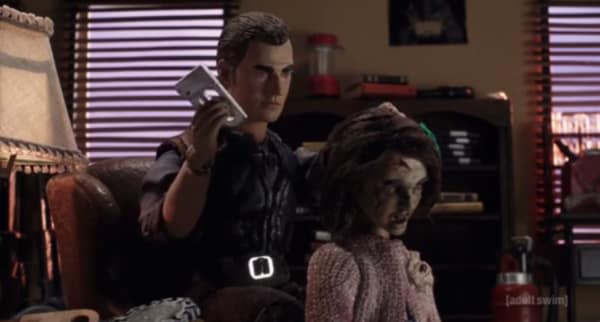 While the Governor combing his undead daughter's hair was creepy enough in The Walking Dead, stapling pieces of her scalp back to her decomposing corpse on Robot Chicken set that creep factor into overdrive.
6. Negan Examines Carl's Eye Socket (Season 7, Episode 7)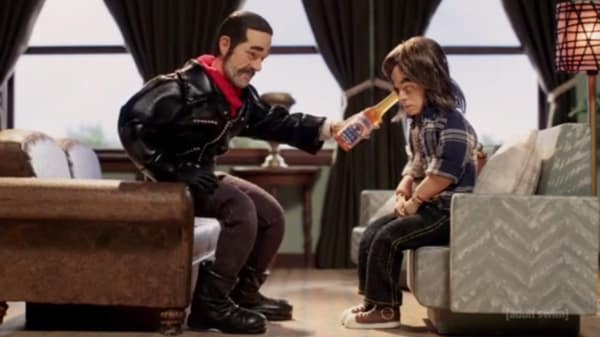 Negan's initial meeting with Carl back in Season 7 received several parodies in the Robot Chicken special — including Negan using Carl's eye socket as a bottle opener, and then as a hole for a mini-golf course.
7. Carol Puts Lizzie To Rest (Season 4, Episode 14)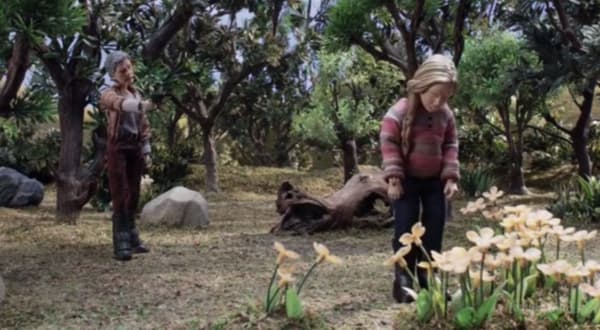 We all remember the emotional scene when Carol had to put a crazed Lizzie down. It was deeply sad to see Carol kill a child, but it was necessary. Robot Chicken's spin on this scene shows Carol giving a merciful end to other pop culture icons like Lennie from Of Mice And Men and Randle McMurphy from One Flew Over The Cuckoo's Nest.
8. Herschel Recalls His Wild Streak Before Getting Sober (Season 2, Episode 8)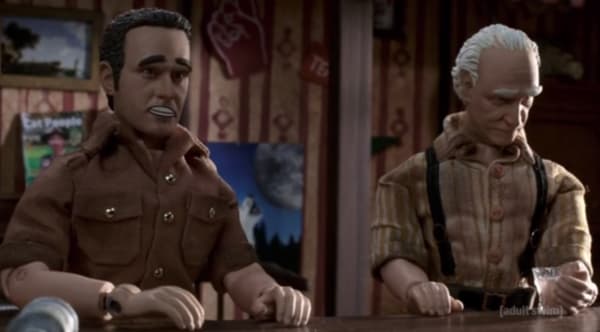 Back in Season 3, after Rick slaughters Herschel's undead family, the old man stopped at a bar and mused about the wild streak in his younger days ... but he never clarifies exactly what it entailed. And that's where Robot Chicken has fun with Herschel's potential backstory. Instead of the country veterinarian lifestyle we'd expect of Herschel, he's portrayed boxing with a kangaroo. Sure, why not?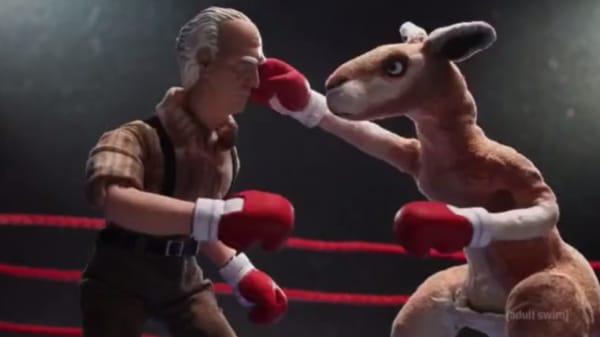 No one expected Robot Chicken to parody every scene from The Walking Dead, but Seth Green and the writers did a great job of picking scenes that played a significant part in TWD's narrative. If anything, it made us even more excited for when The Walking Dead returns to AMC on October 22, 2017.