Geeks is powered by Vocal creators. You support
Christopher Sarda
by reading, sharing and tipping stories...
more
Geeks is powered by Vocal.
Vocal is a platform that provides storytelling tools and engaged communities for writers, musicians, filmmakers, podcasters, and other creators to get discovered and fund their creativity.
How does Vocal work?
Creators share their stories on Vocal's communities. In return, creators earn money when they are tipped and when their stories are read.
How do I join Vocal?
Vocal welcomes creators of all shapes and sizes. Join for free and start creating.
To learn more about Vocal, visit our resources.
Show less
A Haunting Slice of Life by Jeff Lemire
Royal City #1 by Jeff Lemire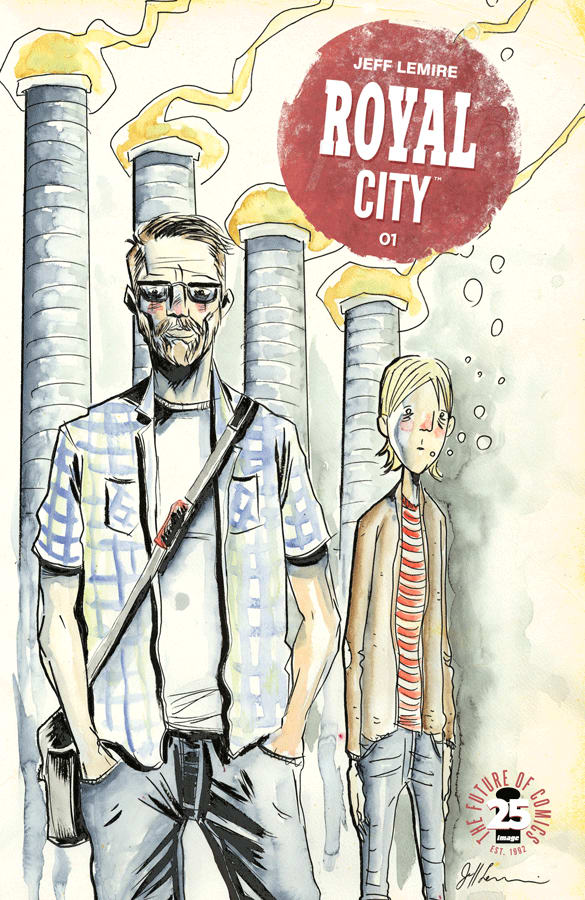 In the back matter of the first issue of Royal City, Jeff Lemire says he fears people would call his new ongoing series a"slice of life" comic. He associates that phrase with being boring to retailers and readers. But it is what it is. Royal City is a slice of life comic by the general accepted definition of what the phrase "slice of life" means in anime, manga, comics and pop culture.
Jeff, can I call you Jeff? There is nothing wrong with that. Royal City is a great book and issue number one is a great kick-off to the Pike family and the theme that runs through every character's life.
Maybe he's right. Maybe this book does look boring. Truth is I only bought it because it had the name Jeff Lemire on it. I'm a fan you know. The only fan that is lukewarm on Black Hammer and looooves the art direction and writing on Descender. Royal City, as far as the first issue goes, is a great break for me the reader as it is for Jeff Lemire as the writer. It is something different from what he is currently writing. It's not super speculative fiction and it's refreshing. Plus all the art is done by him too, an added bonus. Writer/artist works are released as full on graphic novels most of the time, but here we get the small town saga in a serialized form and style.
As is the case with all my comic reviews there are spoilers. These are more conversation pieces after you and I have both had the chance to read the book. You can find me on Twitter for that.
The hook of the whole first issue, the smack in the face on the last page is that many years ago the Pike family of Royal City had a death in the family, the youngest Pike, Tommy Pike.
The first issue is oversized in order to introduce the main characters of the book and to make sure we get the full disclosure that Tommy is a figment of this family's imagination. It starts to become clear that there's something going with the blond males in the issue as the story progresses and we find out that each family member sees a version of Tommy that they've all lived their lives with since his death in 1993.
Patti is the mother of the family sees him as a morally perfect priest. Tara, Tommy's sister sees him as the little boy she used to babysit. Richie, the least successful brother sees him as his adult friend and drinking buddy. A fellow loser. Peter, the father, and a second brother, Pat, have a bit more ambiguous views of Tommy in this first issue but they are definitely haunted by his memory.
Tommy haunting everyone, not in ghostly form, but in psychological baggage form, is what makes Royal City not a typical slice of life kind of book. Tommy weighs down the everyday life issues that occur throughout the book. Tara is trying to convince the anchor company of small-town Royal City to tear down the decades-old business and rebuild as a tourist attraction. She's separated from her husband who is a shift manager at the factory. Richie owes a biker gang two thousand dollars, he works at the factory too as a subordinate of Tara's husband. Pat can't get another book out of him after his initial debut was loved and sold so well. He's also going through a divorce.
At the beginning of the book, before learning any of the above, Peter has a stroke and sits unconscious in a bed. It's the beginning narration that feels genius in hindsight. It's midway through the issue many people will have started to notice something strange about the blonde guys showing up and disappearing throughout the story. 
What most people, myself included, did not notice was the narrator at the beginning of the issue felt like it was Peter talking about Royal City. And the narration blocks end abruptly right after Peter suffers from his stroke. They don't appear again until Lemire decides he's going to give the final reveal that Tommy is a figment of everyone's imagination. I suppose we can't be sure he's not an actual ghost, but the thread of the story is that all these characters are carrying baggage from the year their brother/son died.
The narrator being Tommy the entire time and also being the voice of someone living small city adds real satisfaction and haunting layer to the entire story and Lemire shows that he can use some of the writing concepts one might use in high-concept genre fiction in his slice of life series and have it be a complete success.