Geeks is powered by Vocal creators. You support
Craig Arnott
by reading, sharing and tipping stories...
more
Geeks is powered by Vocal.
Vocal is a platform that provides storytelling tools and engaged communities for writers, musicians, filmmakers, podcasters, and other creators to get discovered and fund their creativity.
How does Vocal work?
Creators share their stories on Vocal's communities. In return, creators earn money when they are tipped and when their stories are read.
How do I join Vocal?
Vocal welcomes creators of all shapes and sizes. Join for free and start creating.
To learn more about Vocal, visit our resources.
Show less
As Voted by the Fans, the Top Five Series of 'Pretty Cure'!
The fans over at the Precure.Livejournal have been casting their votes once again, this time to decide the five best series of Precure!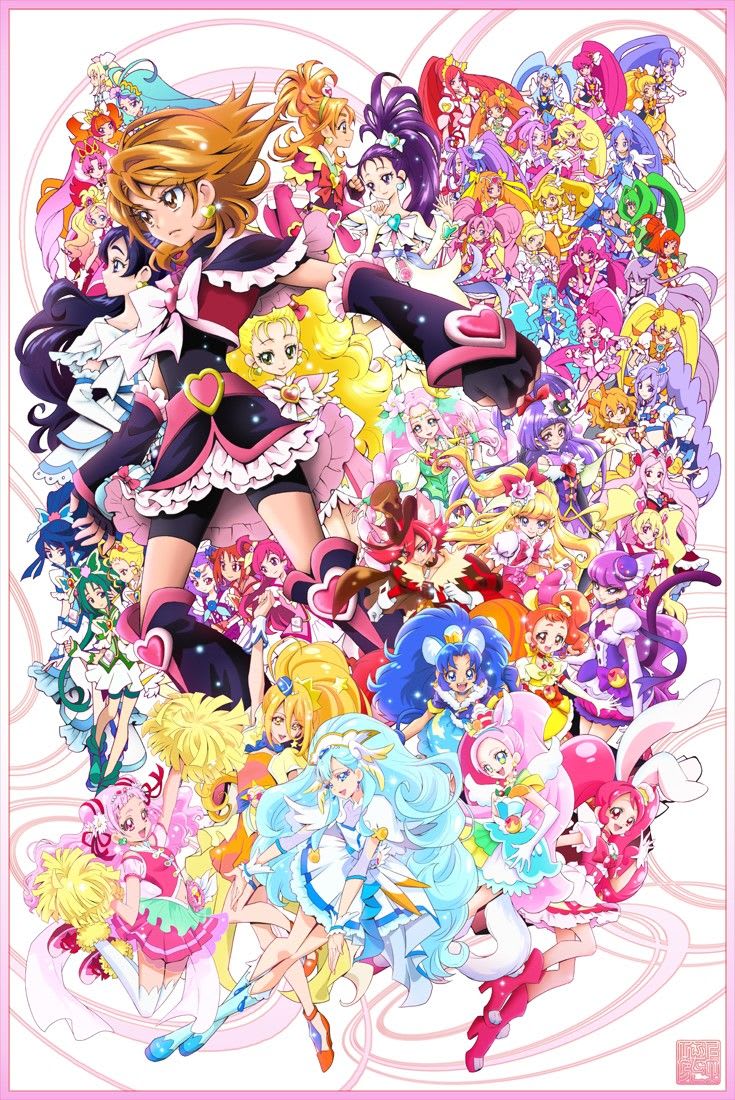 Recently the fifteenth instalment of the franchise Pretty Cure concluded with the Hugtto! Precure saving the world and celebrated the anniversary with homages to seasons past, along with a few crossover from the past heroines to excite the fans. With fifteen years of these magical girls fighting different forms of evil, all hellbent on destroying the world, the fans over at the Precure.Livejournal have been voting once again, this time casting their votes for the top five series from the franchise, and here are the results. 
05. Smile Precure!
Series Premier: February 5, 2012
Series Theme: Fairytales

Series Synopsis: 
"Far away in the universe exists a place called Märchenland, where characters from fairy tales live. Near the corner of Märchenland exists a world called Bad End Kingdom, where the antagonists of all fairy tales gathered. In order to show everyone the "Worst Ending", the people of Bad End Kingdom traveled to Earth to collect Bad Energy. If the villains succeed, all of the worlds in the universe will suffer from the "Worst Ending".
In order to prevent the "Worst Ending", the 5 Legendary Warriors - Pretty Cure - need to collect Cure Decor: the power of happiness of Märchenland's Queen. The Cure Decor, however, has been stolen and hidden away. Set to the task of finding Pretty Cure, Candy the fairy follows the 5 Beams of Light to Earth, where she meets a flustered Hoshizora Miyuki, a transfer student on her first day of school, and already running late..."
Series Overview:
Miyuki loved fairytales, and had her dreams confirmed as a reality when she met Candy from Märchenland, the land of fairytales. Now as Cure Happy she used the magic of light to fight evil, but she needed allies. Joined by Cure Sunny who was powered by fire, Cure Peace who summoned lightning, Cure March who was faster than the wind and Cure Beauty who wielded ice, the Smile Precure were formed. While a uniformed team of five using elemental powers was not new in Precure, this team had an interesting dynamic and some truly amazing heroines to enjoy. They also have some very heartfelt episodes, that would have truly spoken to some viewers, such as an episode when Cure Peace is in turmoil for having no memories of her father who passed away when she was young. With their mighty powers, the girls fight Pierrot from giving the world a Bad End and ruining any hope of a happily ever after for everyone.
Starting Line-Up of Precure:

Pink Precure - Miyuki Hoshizora/Cure Happy

Orange Precure - Akane Hino/Cure Sunny

Yellow Precure - Yayoi Kise/Cure Peace

Green Precure - Nao Midorikawa/Cure March

Blue Precure - Reika Aoki/Cure Beauty

Fairy Mascots:
Mid-Series Precures:
None
The Team:
The characters all had their own distinct personalities and place within the team. Cure Happy was your expected perky and optimistic leader of the team, but her love of fairytales gave her an innocence not often seen in a Pink Precure. Cure Sunny is special as, to date, she is the only Orange Pretty Cure. but she also surprised many viewers as many expected her to be the sporty tomboy of the series, which she actually was. But she had a hardworking style and even had a hint of romance during the series. Cure Peace was perhaps a pure concentrated version of the Yellow Precure stereotype. However, unlike many who were simply soft-spoken and reserved, she can easily be described as a crybaby, which is not often seen in the franchise in general. Cure March was the long-awaited second Green Cure to appear, and is the original ultimate big sister. Finally, Cure Beauty is perhaps the smartest and sharpest of all Precure and she often foresaw dangers and solved problems for the team.
Why it is worth watching:
The story itself was interesting, as it mixed elements of fairytales very sparingly. So you do wonder how the fairytale theme played out, and that is simply by the girls powers coming from a world that powered our fairytales. This was even emulated with the villains, as a wolf, ogre and witch were the three generals, which are figures that are often antagonists in fairytales. There are plenty of fun twists and turns within the show which are equally balanced with heartwarming stories centred on friendship and family. Perhaps the nicest part of this series, it was the last series they aired without a new team member/s joining midway through the series. This resulted in a lot of character development on the five heroines as they fought Pierrot and his evil forces aiming to bring on a 'Bad End'.
10 Standout Episodes:
Episode 06 - "Team Formation! Smile Pretty Cure!!"

Episode 08 - "Miyuki and Candy Switch Places~!?"

Episode 19 - "Thank you Papa! Yayoi's treasure"

Episode 22 - "What is the most important thing?"

Episode 23 - "Pierrot revived! Pretty Cure in a desperate situation!!"

Episode 24 - "The Pretty Cure become fairies-miyu~!?"

Episode 32 - "Hearts as one! The Pretty Cures' new power!!"

Episode 36 - "Hot-blooded!? Akane's first love life"

Episode 43 - "Reika's Path! I will go abroad for studies!!"

Episode 46 - "The worst ending!? Bad End Pretty Cure"

04. Suite PreCure♪
Series Premier: February 6, 2011 
Series Theme: Music

Series Synopsis: 
"Hibiki and Kanade are two friends who grew up together in Kanon Town. Though their personalities are very different, they share one thing in common: A connection to music. No matter how different they are or how much their differences cause them to quarrel, they both continue to share loving hearts. One day they meet Hummy, who is sent to the Human World from Major Land to collect the scattered notes of the Melody of Happiness. They have to instantly transform into Pretty Cures to resist the threats and evil music from Mephisto. Can they stop the Melody of Sorrow from disrupting their peaceful town, and can their warped friendship measure up to the bonds of Pretty Cure?"
Series Overview:
One of the Precure series to pay homage to the original series, Futari Wa Precure, this series started with just a pair of Pretty Cure. This wasn't the first series to do this; however, like the first series it did start with the pair not being close friends. In fact, it was quite the opposite—the pair really detested each other. This was due to events that occurred when they were younger forcing these friends to part ways. However, fate had other ideas for them and forced them to become the heroic duo, Cure Melody and Cure Rhythm. Unlike the original series, this duo were eventually joined by a Blue Cure, Cure Beat, and later a Yellow Cure, Cure Muse. Now unified, this team aimed to stop the Melody of Sorrow from being completed and performed.
Starting Line-Up of Precures:

Pink Precure - Hibiki Hojo/Cure Melody

White Precure - Kanade Minamino/Cure Rhythm

Fairy Mascot:
Hummy

The Fairytones - Dory (Pink), Rery (White), Miry (Orange), Fary (Yellow), Sory (Green), Lary (Light Blue), Shiry (Blue), Dodory (Purple) & Crescendo (Gold)

Mid-Series Precures:
Blue Cure - Siren/Kurokawa Ellen/Cure Beat - Worked for Minor Land Between Episodes 01-21, Became a Pretty Cure in Episode 21

Yellow Cure - Shirabe Ako/Cure Muse - Debuted in Disguise in Episode 11, True Identity Revealed in Episode 35.

Team:
The two starting characters had their own melody and rhythm, which made them an interesting duo. Cure Melody was far more athletic and had a tough streak to her personality. But she did have a creative and musical side that would emerge through her playing piano. She could also be far more carefree than her partner Cure Rhythm, who held her ground and spoke her mind but would express her creativity through baking. The additional Cures brought in new aspects for the original duo to help them through. The first addition of Cure Beat was the second reformed villain to turn into a Pretty Cure in the franchise, this gave them a mission to help her get through her guilt and fight for redemption. The second to join was far more mysterious, as she appeared in disguise to aid the original pair many times, often giving them key information to unlock new powers and abilities. When her identity as the Princess of Major Land was revealed Cure Melody, Cure Rhythm and Cure Beat guided the young heroine and fought hard to free her kingdom. 
Why it is worth watching:
What was a treat in this series was the artistry. This series saw some truly refined artwork, especially on the heroines' designs. It was also interesting having the mystery of Cure Muse play throughout the series, and considering she was the height of Cure Melody and Rhythm when in disguise, it was surely a surprise to many viewers when it was revealed she was officially the youngest Pretty Cure in the franchise. When you also couple in the added evil fairy turning human and into a Pretty Cure, you just get so many elements in a story to keep you watching as they unfold. Needless to say this series had a lot going for it, and is still very enjoyable to this day for its homage to its predecessors while creating its own unique story in the the Precure Universe.
10 Standout Episodes:
Episode 02 - "Gaga~n! Pretty Cure is in Danger of Breaking up Already-nya!"

Episode 06 - "Gamigami! Miracle Belltier Born Out of Sermon-nya ♪"

Episode 09 - "Hanyanya? What is Kanade Lacking-nya?"

Episode 11 - "Gyogyogyo! A Mysterious Pretty Cure Appears-nya!"

Episode 19 - "Gunyagunya~! Can't Transform into Pretty Cure-nya!"

Episode 22 - "Lala-♪ The Soul's Tune, The Name's Cure Beat-nya!!"

Episode 30 - "Wao-n! The Healing Chest's Mystery -nya!"

Episode 33 - "Howawa~n! Everyone's Dreams are Pretty Cure's Power-nya!"

Episode 36 - "Kirakira~n! Let Muse's Thoughts Reach His Heart Nya!"

Episode 43 - "Shiku shiku... The Melody of Sadness is Complete-nya!"

03. Hugtto! Precure
Series Premier: February 4, 2018
Series Theme: Future Goals

Series Synopsis:

"Nono Hana is a second year middle school student who aims to become a stylish, mature big sister like figure. When she realises she is late for her first day of school, she cuts her bangs in a hurry, causing her hair to look like a mess!
However, there's a nice turn of events when she meets Hugtan and her guardian, Harry, who had fallen from the sky. But suddenly, the Criasu Corporation appears in hopes of stealing Hugtan's Mirai Crystal, so they create a scary monster to attack them!
With the strong desire to protect Hugtan, a new Mirai Crystal appears and transforms Hana into the Pretty Cure of High Spirits, Cure Yell.The Mirai Crystals are a crystallised form of Tomorrow Power, the magical power overflowing this world that creates a shining future for everyone. If it's stolen, everyone's future will disappear, including Hugtan's future.
The story of Cure Yell who should protect important things is about to begin!"
Series Overview:
Hugtto! Precure was the series to celebrate 15 years of Pretty Cure and was filled with exciting treats for fans of the franchise. Literally fighting for the future, the starting team of three brought some old elements of Precure back to the franchise. The first being the Pink Cure being the only one to be able to purify the Oshimaida sent by the Criasu Corporation. However, this didn't last long as they gained new powers and abilities allowed the Blue and Yellow Cures the ability to take out a villain or two. Being joined by new allies, veteran heroines and villains turned friends to help them save tomorrow for everyone, the team are dubbed "the strongest Precure in history."
Starting Line-Up of Precures:

Pink Precure - Hana Nono/Cure Yell

Blue Precure - Saaya Yakushiji/Cure Ange

Yellow Precure - Homare Kagayaki/Cure Étoile

Fairy Mascots:
Mid-Series Precures:
Red Cure - Aisaki Emiru/Cure Macherie - First Appearance Episode 09, Became a Pretty Cure in Episode 20

Purple Cure - Ruru Amour/Cure Amour - Work for Crusai from Episode 01-17, Became a Pretty Cure in Episode 20

The Team:
The Cures themselves brought characteristics that are typical for their colours, but all had an added twist to make them unique. Cure Yell was extremely cheery in this series and would cheer on everyone, not unusual for a Pink Cure. But, with her maternal instincts towards the young Hugtan, she brought a lot of warmth and emotion that was different from many of her predecessors. Cure Ange followed multiple traditions for a Blue Cure, including her polite and refined manners. But she payed homage to a past Blue Cure, Cure Mermaid, and altered her future dreams from being an actress to becoming a midwife. Cure Étoile added some spice to the colour, having a tougher demeanour than the average Yellow Cure, and was the one to get feel the first flutters of love. Cure Macherie and Cure Amour were great additions to their team, being a clear dedication to Cure Black and White by always transforming, fighting and using their attacks together. With Cure Macherie being a younger Pretty Cure was a nice touch, but Cure Amour did make Precure history by being the first android Pretty Cure.
Why it is worth watching:
While the storyline of protecting the future does seem obvious for a franchise like Precure, this series was more about honouring the past while telling their own story. The series featured crossover appearances by all past Precures, even ones who appeared in only an episode of a past series. But, perhaps the biggest praise lays in their gender awareness running in the series with the character Henri. Henri was clearly gender-fluid and made a stand for boys to be allowed to wear dresses, and made history by being the first male Pretty Cure as Cure Infini. With it's own story to tell but thrilling moments to enjoy, such as the 55 Pretty Cure battle, makes this series one that stands out for all it holds.
10 Standout Episodes:
Episode 06 - "Smiles In Full Bloom! Our First Job!"

Episode 11 - "The Pretty Cure I Want To Become! Resound! Melody Sword!"

Episode 15 - "Odd Duo...? Emiru and Ruru's Day Out"

Episode 18 - "An Odd Pair! The Melody of the Heart!"

Episode 22 - "Our Song Of Love! Let It Reach! Twin Love Guitar!"

Episode 25 - "The Summer Festival, Fireworks and Harry's Secret"

Episode 31 - "Oh Time, Come Forth! The Memorial Cure Clock Is Born!"

Episode 36 - "Hooray Hooray! The Big Gathering of the Legendary Pretty Cure!!"

Episode 37 - "To The Future! Pretty Cure・All・For・You!"

Episode 48 - "I Can Do Anything! I Can Be Anything! Hooray, Hooray Me!"

02. Heartcatch Precure!
Series Premier: February 7, 2010
Series Theme: Flowers

Series Synopsis: 
"During the car trip to her new home, the introverted flower lover Hanasaki Tsubomi has a strange and mysterious dream, where the legendary warrior known as Cure Moonlight is defeated at the base of the "Great Tree of Hearts". Because of this, all the beautiful plants are destroyed, and two fairies from the Tree of Hearts take off.
It soon turns out to be real, and the fairies appear next to her. They want her to become the legendary warrior Pretty Cure and collect Heart Seeds in order to prevent the Great Tree of Hearts, the source of all human hearts, from dying. But Tsubomi, unsure of herself, thinks she is unable to do so and refuses. However, an enemy attacks her classmate Kurumi Erika and takes away her Heart Flower. To save Erika's heart, Tsubomi summons the courage she needs and transforms into the Pretty Cure warrior, Cure Blossom."
Series Overview:
This series returned to having two Pretty Cures being the starting roster in the series, with the quiet and timid Cure Blossom partnered with the direct and loud Cure Marine. Like many series that started with just two members, this pair were complete opposites, but a true friendship soon formed between them. They protected the Great Heart Tree, as its destruction would turn the world into a lifeless desert. To give them more power a new fairy was born from the tree and introduced the currently only Gold Cure, Cure Sunshine. Now as a trio, they began to uncover the truth behind what happened to the fallen heroine Cure Moonlight, who is the only Silver Cure to date. Through a miracle the trio became a quartet when Cure Moonlight regained her powers. But this team had to face Dune and his forces, which held its own evil Pretty Cure, Dark Precure. The story held many dark elements that are unexpected in Precure, as betrayals, deaths and even sacrifices were needed for this team to stop Dune from turning the world into an endless desert.
Starting Line-Up Precure:

Pink Precure - Tsubomi Hanasaki/Cure Blossom

Blue Precure - Erika Kurumi/Cure Marine

Fairy Mascots:
Chypre

Coffret

Master Coupe

Potpourri

Cologne - Killed Prior to the Start of the Series

Mid-Series Precures:
Gold Cure - Myoudouin Itsuki/Cure Sunshine - First Appeared in Episode 03, Became Cure Sunshine in Episode 23

Silver Cure - Tsukikage Yuri/Cure Moonlight - Defeated in Episode 01, Repeared in Episode 10, Repowered in Episode 33

White Cure - Hanasaki Kaoruko/Cure Flower - Wish Granted to Become Cure Flower One Last Time in Episode 44

The Team:
This team brought the first major changes to colour expectations in Precure. Cure Blossom went against the stereotyped perky and optimistic Pink Cure so often seen. Instead she was shy, timid and nervous. This was a brilliant adjustment, as this was the first leader you saw true growth and strength build from within over time. Cure Marine was far from the collected and mature Blue Cures of the past, and was quite the "in your face" character. Yellow Cures are quite often the quiet and polite members of the group, where Cure Sunshine brought a tough and disciplined style to the colour. Finally Cure Moonlight had no rules to follow when it came to the colours of silver and purple, as there had only been one Purple Cure prior, which some debate if she is a true Cure as her name was Milky Rose and lacked the typical "Cure" in the the heroine's name. But she was the first older Precure, being 17, and her backstory and importance in the series forced her to be a strong and tough fighter.
Why it is worth watching:
While some criticise this series for its simpler animation, it makes up for it in tone. Perhaps the darkest series of Precure, which is surprising as flowers were the theme, it took the heroines on a difficult journey to victory. This team faced some true threats with, to date, the only evil Precure to be an antagonist throughout the entire series. This series simply went places no other Precure series had gone before. You thought this series would have plenty of sunny moments for fans, and to be fair it did hold some happy and heartwarming episodes. However, it also held a lot of dark tones in the storyline and often took risks which few magical girl series will take. These risks paid off, and brought a series that had truly amazing moments in both storytelling and action packed fighting sequences. It is easily a series worth checking out, as it surprises many for how moments of laughter can suddenly end when a Dark Precure rears her head. 
10 Standout Episodes: 
Episode 06 - "A Scoop! Pretty Cure's True Identity Exposed?!"

Episode 10 - "Greatest Danger! Dark Cure Has Appeared!"

Episode 13 - "The Truth Revealed! Cure Moonlight's Identity!"
Episode 21 - "Fairy Adventure! The Pretty Cure Scouting Strategy!"
Episode 24 - "Crisis of the Heart Tree! Time to Fly, Pretty Cure!"

Episode 30 - "Potpourri Runs Away! Itsuki is Upset!"

Episode 33 - "Cure Moonlight is Finally Reborn!"

Episode 38 - "The Pretty Cures, Transform into the Super Silhouette!!"

Episode 45 - "It's of No Use Already...Our World Has Been Turned Into a Desert..."

Episode 47 - "Please tell me you're lying! The True Identity of Dr. Sabaku!!"

01. Go! Princess Precure
Series Premier: February 1, 2015
Series Theme: Princesses

Series Synopsis: 
"A long time ago, a young Haruno Haruka met a strange boy dressed in white named Kanata after being bullied by her classmates because her dream is to become a "princess". He gave her a strange ornamental key, and Haruka promised that she will never give up her own dreams. A few years later, Haruka, now at the age of 13, attends Noble Academy, a boarding school for girls and boys. But even now, she cherished her dreams of becoming a princess, like those from her precious picture books.
One day, she encountered two fairy creatures from the Hope Kingdom: Pafu and Aroma, who were followed by strange monsters. The fairies told her that they were created by a witch who turns dreams into despair and locks them away in the Gate of Despair. With no choice, the fairies gave Haruka a Princess Perfume, with her becoming Cure Flora, a Pretty Cure to oppose the dark witch.
Now being joined by Kaido Minami (Cure Mermaid) and Amanogawa Kirara (Cure Twinkle), they form the Princess Pretty Cure team in order to collect the Dress-Up Keys to open the Gate of Dreams and protect people's dreams from despair."
Series Overview:
A series that combined all the best elements of past series saw these heroines shine like no other. With Haruka eager to become a true princess, she is given the chance to learn the art of being a princess as Cure Flora. She was joined by Cure Mermaid and Cure Twinkle, with the three being the latest group of Princess Precure. However, Dyspear was ready to unleash her weapon, her daughter, on the Precure. In a proud Precure tradition, this villain was another villain turned heroine and became Cure Scarlet. Like past seasons, these Pretty Cures used elemental based powers and utilised form changes unlike any other Precure team. With a series focusing on princesses, you would expect an overly 'barbie' style series, with overly girly themes being thrown in the viewers face. However, this series did quite the opposite, and proved some princesses don't need a prince to come rescuing them.
Starting Line-Up Precures:
Pink Precure - Haruka Haruno/Cure Flora

Blue Precure - Minami Kaido/Cure Mermaid

Yellow Precure - Kirara Amanogawa/Cure Twinkle

Fairy Mascots:
Mid-Series Precure:
Red Cure - Twilight/Towa Akagi/Cure Scarlet - First Appeared as Twilight in Episode 13, Became Cure Scarlet in Episode 22

The Team: 
What was good about this team was how none had similar drives or personalities. Cure Flora was to be expected as the optimistic and perky Pink Cure, but she had a determination and never quitting attitude that just worked extremely well for her character. Cure Mermaid was mentioned earlier, and was the first Cure to change her future dream. But, she was perhaps the one who conducted and acted the most like how you would expect a princess to behave. Cure Twinkle was a breath of fresh air to the Yellow Cures, as she was driven and hardworking, even to the point where she originally declined the powers due to her busy modelling career. Then you had Cure Scarlet, who was nowhere near the first villain turned heroine. But, due to her brainwashing and childhood abduction there was a sign of confusion and vulnerability that she had to work through. 
Why it is worth watching:
Simply, it will surprise you. With the world "Princess" in the title, you probably have a preconceived notion of what this series will look like and how it will play out. Now, take that idea and throw it away. These heroes may be powered-up princesses, but the story held its own powerful messages and took fans on a rollercoaster of a story. One of the greatest moments in the series was when the girl are left with no choice, and actually reveal their identities before a crowd by transforming. This is a moment you always want to see in a series, where the heroes secret identity is revealed. You want to see that moment they decide their secret isn't worth the loss of life. These princesses give you that thrilling moment as they dish out some hardcore fights to stop despair from taking control of the world. It should also be noted that recently the fans voted for their favourite Cures of the various colours and every single one of the Go! Princess Precures came in either first or second place. Now with the series landing in number one, it is clear fans would tell you this is the series to check out, even if you don't watch another series from the franchise. 
10 Standout Episodes:

Episode 05 - "Three Girls Are Go! We Are Princess Pretty Cure!"

Episode 07 - "Reunion by Tennis! The Old Bully!?"
Episode 13 - "A Cold Timbre...! The Black Princess Appears!"

Episode 18 - "Secrets of the Picture Books! What is a Princess?"

Episode 21 - "Deliver the Feelings! Princess vs. Princess"

Episode 29 - "A Mysterious Girl? The Bequeathed Legendary Key!"

Episode 35 - "Meeting at Last...! Kanata and the Lost Memory!"

Episode 41 - "Yui's Dream! Thoughts Within a Canvas...!"

Episode 46 - "Beautiful...! The Wandering Shut and the Snow Castle!"

Episode 48 - "The Approaching Despair...! The Princesses in Grave Danger!"