Geeks is powered by Vocal creators. You support
Jacqueline Hanikeh
by reading, sharing and tipping stories...
more
Geeks is powered by Vocal.
Vocal is a platform that provides storytelling tools and engaged communities for writers, musicians, filmmakers, podcasters, and other creators to get discovered and fund their creativity.
How does Vocal work?
Creators share their stories on Vocal's communities. In return, creators earn money when they are tipped and when their stories are read.
How do I join Vocal?
Vocal welcomes creators of all shapes and sizes. Join for free and start creating.
To learn more about Vocal, visit our resources.
Show less
Best Gifts for Game of Thrones Fans
Know any Game of Thrones fanatics? Get them exactly what they would love as a present with any of these awesome gifts for Game of Thrones fans.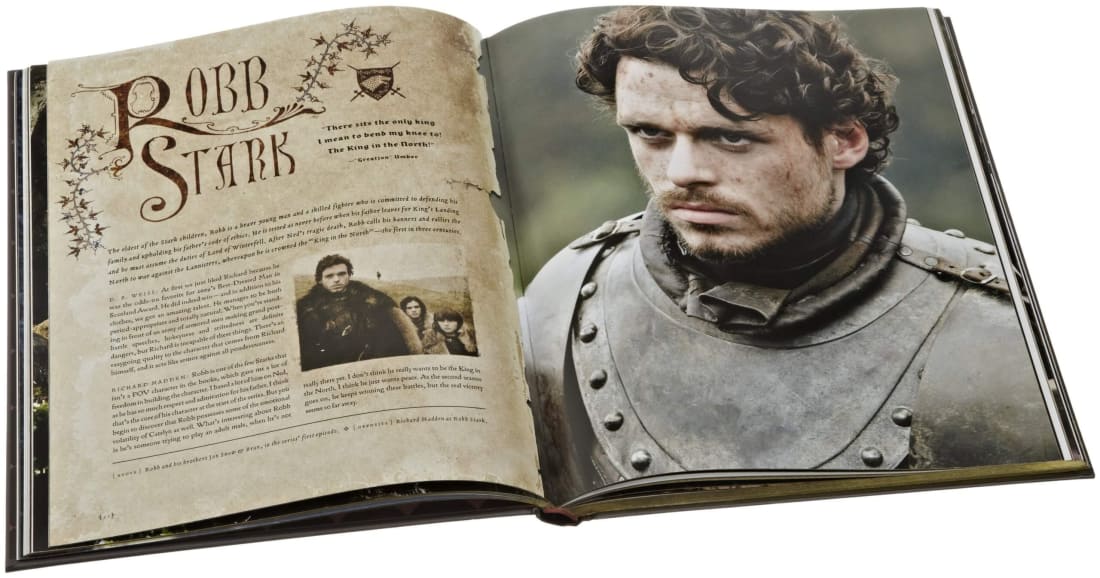 Most of us already know how crazy Game of Thrones fans are. From the immense love they have for the characters to constantly attempting to make fan theories true through clues in the show, these fans always find themselves sucked right into the popular television series. And no diehard fan doesn't own anything related to their favorite show. Either they own more than five t-shirts representing the show, posters of the show that's basically used as wallpaper in their rooms, or props that are exact replicas from the show, these fans love owning a piece of merch that expresses their love for Game of Thrones.
I'll admit it, GoT is easily one of my all time favorite shows. And I do own t-shirts, keychains, and even a red wine bottle similar to what Tyrion Lannister drinks in the show (which I never opened, because it was so expensive). Just owning one thing that represents the show really does mean a lot to us... because we're giant nerds.
But if you know someone who's a huge Game of Thrones fan and his birthday or a special holiday is coming up, get him something that symbolizes the show. I know for a fact that he'll be thrilled to be gifted something based on the show—what fan wouldn't? Make sure you "send your regards" to your friend with any of these great gifts for Game of Thrones fans. He'll surely be the happiest person in all seven kingdoms.
Game of Thrones Map Blanket by Rabbit Tanaka
You can never go wrong with gifting a blanket, but this Game of Thrones map blanket is literally what every fan will love. Despite the fact that it's really cozy, the full map from the show is printed on the blanket. So, instead of getting your friend the boring poster of the map, buy her this great blanket that will keep her warm while knowing the locations of each kingdom.
Made out of 100 percent polyester, this blanket is sure to keep your friend really toasty and comfortable to use for hours. This blanket is perfect to lay across the bed, place on the living room couch, or simply store it in the closet. Blankets are essential during cooler season, so allow your friend to have great use of this blanket by gifting him this! 

Game of Thrones House Sigil Shot Glass Set by Rabbit Tanaka
Shot glasses in general are perfect gift ideas, but what about GoT themed shot glasses? While this set is one of the coolest gifts for Game of Thrones fans, your friend can serve shots in these awesome glasses. Or if he's into collecting shot glasses, this set can be the perfect addition to his other glasses—since they're GoT inspired.
The set of four shot glasses feature the house sigils: House Stark, House Lannister, House Targaryen, and House Tyrell. In square shaped, no one who adores the show wouldn't want to take shots out of these glasses. 
Game of Thrones: House Sigil Coaster Set by Dark Horse Deluxe
Another gift idea that features the house sigils from the iconic show, but in the form of coasters! If your friend owns a home bar, or constantly drinks hot beverages and doesn't want to ruin his table surfaces, buy him this awesome set of coasters to avoid that from happening. For his birthday, buy your friend a present that he'll always use, but admire, too. Any fan of the show will find these coasters to be one of the best gifts for Game of Thrones fans.
Made from top quality ceramic, these coasters are very durable and won't ruin from the heat of a hot cup of coffee or the dampness of a glass of cold beer. The sigils of four different royal houses in this set include House Stark, House Targaryen, House Lannister, and House Baratheon. Serve beverages in a royal way with these unique coasters.
CLUE: Game of Thrones Board Game by USAopoly
Honestly, Clue was bound to have a Game of Thrones version, especially with so many deaths in the show. Even though we know the causes of the majority of the brutal deaths that occurs in the show, this version of Clue allows all players to unravel the murder of a specific character from the show. And I know how much GoT fans love finding clues to discover mysterious incidences—like Joffrey's legendary death. 
Yes, I did say that Joffrey dies in the show and it's not a spoiler, since everyone and those who don't even watch the show know that he dies. But I won't spoil who exactly killed him for the sake of those still catching up.
However, players can choose a mystery while deciding whether to explore the boundaries of the Red Keep or the streets of Meereen. Beautifully illustrated with stunning designs of exact locations straight from the show, the board game includes six weapons that were used for the murder and 12 suspects which are split six in the Red Keep and six in Meereen. This board game is easily among the coolest gifts for Game of Thrones fans ever.
Jon Snow's Backpack by ThinkGeek
Have your friend be part of the Night's Watch with this Jon Snow inspired backpack. I'll say, this backpack is an awesome gift idea among the other gifts for Game of Thrones fans, because it's completely drenched in everything Jon Snow. If your friend is a huge Jon Snow fan, I really suggest you purchase this backpack.
Pointing out the main aspect of this bag, the flap looks exactly like Jon's cloak, but made out of faux fur. Above the side pocket is an image of the Direwolf that represents House Stark. 
The backpack features adjustable and padded straps for comfortable wear. But what really caught our attention and ties the whole bag together is the Night's Watch Oath sewed right under the fur flap… I'm actually considering buying this backpack myself.
A Song of Ice and Fire Series by George R. R. Martin
What's a better way to really get into Game of Thrones than buying the novel series that inspired the creation of the show? If your friend doesn't own the book series by now and she's a huge fan of the show... is she really a fan? Make her the ultimate fan by gifting her the A Song of Ice and Fire series written by legendary author George R. R. Martin. 
Sure, watching the show is super captivating, but nothing beats reading the books and getting sucked right into the words. People find reading the story compared to watching it on screen to be a more thrilling experience, because you're reading and picturing in full details rather than viewing what the show creators want you to see.
This epic fantasy series includes all five novels: A Game of Thrones, A Clash of Kings, A Storm of Swords, A Feast of Crows, and A Dance with Dragons. Your friend will fall more in love with the story by getting right into and reading all five novels from the series.

Game of Thrones 3 Bottle Mixed Wine Pack by Game of Thrones Wines
Any wine lover would find gifting a bottle of wine the best, but a someone who's into both wine and GoT will mark this set to be one of the finest gifts for Game of Thrones fans to get. 
Whether your friend will indulge on the bottles in one sitting, drink them only during special occasions, or preserving them solely for display, I'm sure every fan of the show would want to drink the wine similar to what Tyrion Lannister always consumes.
This sampler pack features three limited edition bottles of Game of Thrones wines: Cabernet, Red Blend, and Chardonnay. Each label on the bottles are remarkably designed, fitting, and inspired by the show's theme. Don't let this wine set slide so easily. If your friend is a huge fan of both wine and the show, the consider this as his birthday gift.

Game of Thrones Longclaw Umbrella by ThinkGeek
Slay your way through the rain with this Longclaw inspired umbrella as your trusty weapon for the more dreary and wetter days. Jon Snow never went into battle without is Longclaw sword, and don't let your friend go out in the rain without this umbrella. 
Among the best and nifty gifts for Game of Thrones fans, the Longclaw umbrella can be used whenever the clouds decide to pour all of the rain right out of them.
The umbrella is very sturdy that can manage immense downpour and strong winds. The handle is carved to look just like the handle of the Longclaw sword that Snow always bears—with plastic gemstones for the eyes. And on the umbrella itself features the Game of Thrones logo. Let your friend constantly stay dry by whipping this umbrella out whenever "rain is coming."

Premium Game of Thrones Whiskey Glass by Integrity Bottles
Whiskey drinkers love drinking out of the finest and most unique glasses. But this GoT-inspired whiskey glass is certainly one of the more exquisite choices in gifts for Game of Thrones fans. Why? 
"That's what I do, I drink and I know things." 
Those who are fans of the show know exactly who said this and why, making this an awesome whiskey glass to drink out of. The iconic phrase engraved on the glass truly ties the whole idea together, and any diehard GoT fan would want this glass to be part of her home bar or in the kitchen cabinet.
This whiskey glass is great in quality, has a nice weight to it, and comfortably fits in anyone's hand. The quote engraved on the glass won't fade or come off after washing it by hand or by a dishwasher. Your friend can make every glass of whiskey taste its best with this GoT whiskey cup.

Game of Thrones Dragon Plush by Factory Entertainment
Your friend can how have her very own mini Drogon plush! Out of Daenerys Targaryen's three dragons, Drogon is seen to be the more well-know and epic looking with his pitch black scales and spikes and fiery red wings. 
But this plush of the famous dragon is actually really adorable, despite how vicious and blood-thirsty the dragon truly is in the show. Did I mention your friend can finally cuddle with a dragon? The stuffed animal is really soft and fluffy for ideal cuddling sessions.
The Drogon plush is perfect for fans of the show who are collectors, and even children will find this stuffed animal to be a great gift. Featuring poseable wings and neck, the plush represents Drogon in his infant form.
Dragon Egg Bookends by Dark Horse Deluxe
Even though these dragon egg bookends are last on the list of amazing gifts for Game of Thrones fans, they're still considered a great gift idea. No GoT fan would turn this down. 
Aside from holding books together, they're exact replicas of the dragons eggs that were given to Daenerys on her wedding day as a gift. If Daenerys was ecstatic by the gift of dragon eggs, so will your friend.
Your friend can hold up the A Song of Ice and Fire novel series with these fitting dragon egg bookends! Each egg stands seven inches tall and all together makes 13 inches wide. 
He can use these dragon eggs as bookends or simply use them as display pieces. Your GoT-obsessed friend can now become the Mother (or Father) of Dragons with this triple dragon egg bookends!