Geeks is powered by Vocal.
Vocal is a platform that provides storytelling tools and engaged communities for writers, musicians, filmmakers, podcasters, and other creators to get discovered and fund their creativity.
How does Vocal work?
Creators share their stories on Vocal's communities. In return, creators earn money when they are tipped and when their stories are read.
How do I join Vocal?
Vocal welcomes creators of all shapes and sizes. Join for free and start creating.
To learn more about Vocal, visit our resources.
Show less
Brian Bendis Leaves Marvel, Signing An Exclusive Contract With DC Comics
Brian Bendis, the mastermind behind so many of Marvel's greatest successes over the last 15 years, has signed an exclusive contract to write for DC Comics.
This is not a drill. Brian Bendis, the mastermind behind so many of Marvel's greatest successes over the last 15 years, has signed an exclusive contract to write for DC Comics. That means we can expect Bendis's current Marvel books to be changing hands, and it's going to be fascinating to see what's in store for the future of DC.
DC took the comic book industry by storm when they announced this on Twitter:
View image on Twitter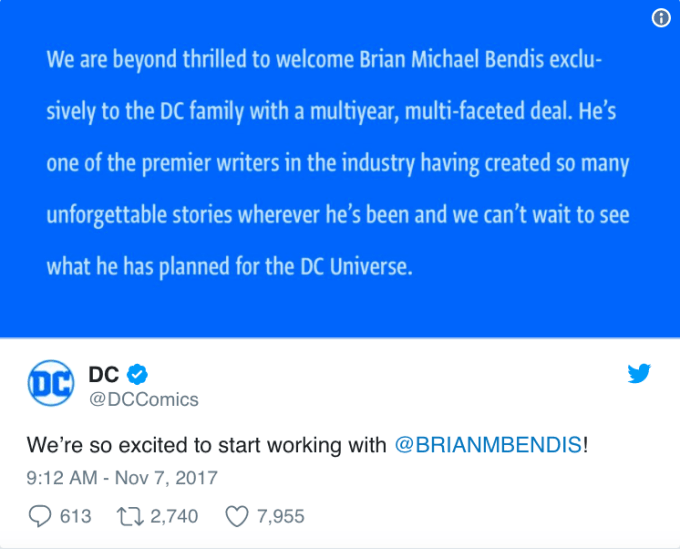 It didn't take long for Bendis to chip in himself, confirming that this report was genuine.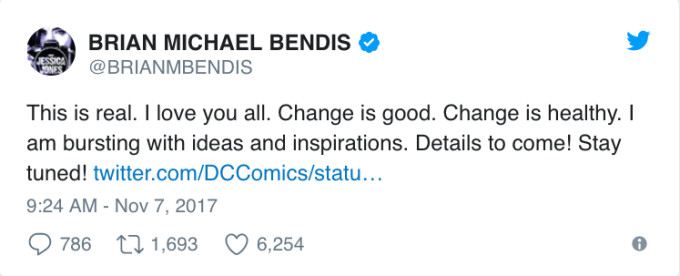 One of Marvel's most prolific writers, Bendis joined Marvel in 2000. He's one of those rare writers who's perfect for tightly-focused books, but also has an eye for the bigger picture. Back in 2010, #Marvel went so far as to dub him one of their "Architects," the writers who are most influential in shaping the Marvel Universe.
Bendis has been particularly important in creating Marvel's annual publication cycle, an approach that's essentially redefined modern comics. The basic pattern is that, every year, a Summer Event leads to a line-wide relaunch and jumping-on point. Each event resolves the previous status quo, and sets up a new one. Most famously, Bendis's Secret Invasion event series set the scene for the popular "Dark Reign" era, in which Norman Osborn took control of S.H.I.E.L.D.. This was then resolved a year later, in Bendis's Siege miniseries.
What does this mean for the comic book industry?
We can expect a major shake-up at Marvel, with Bendis bowing out of his current writing duties. That means Marvel will need to find new, high-profile teams for books like The Defenders, Invincible Iron Man, Jessica Jones, and Spider-Man. The last few years have seen the House of Ideas lose other key names too, so replacing Bendis on those titles isn't going to be easy. Of all the architects unveiled in 2010, only Jason Aaron is now left.

On the plus side, this also means that one of the comic book industry's greatest and most well-respected creators is headed over to DC. The last two years have seen DC's comic book fortunes reinvigorated by the success of #DCRebirth. Bendis will bring a fresh infusion of talent to the publisher, and he has experience writing a vast range of characters. He's worked on everything from gritty noir to the kind of cosmic adventures you'd expect from the Legion of Super Heroes, and so is sure to flourish in the DC universe.
The last year has already set up an interesting narrative. Broadly speaking, Marvel's in trouble thanks to shaky sales and poor interaction with fans. The recent "Marvel Legacy" relaunch is an attempt to fix this, but it's too soon to tell whether or not that's worked. At the same time, DC Comics has been on the rise, buoyed by the success of "Rebirth." Bendis's move has to be set against that backdrop, and is yet another sign that the comic book industry is changing. At San Diego Comic-Con, #DC teased that they have great plans for the future. It's going to be fascinating to see how Brian Bendis fits into those plans.