Geeks is powered by Vocal creators. You support
Tisha Eaton
by reading, sharing and tipping stories...
more
Geeks is powered by Vocal.
Vocal is a platform that provides storytelling tools and engaged communities for writers, musicians, filmmakers, podcasters, and other creators to get discovered and fund their creativity.
How does Vocal work?
Creators share their stories on Vocal's communities. In return, creators earn money when they are tipped and when their stories are read.
How do I join Vocal?
Vocal welcomes creators of all shapes and sizes. Join for free and start creating.
To learn more about Vocal, visit our resources.
Show less
Draw Me Like One of Your French Girls: Disney Couples Reenact Scenes From 'Titanic'
Artist Isaiah Stephens has created drawings of famous Disney couples as Rose and Jack from 'Titanic.'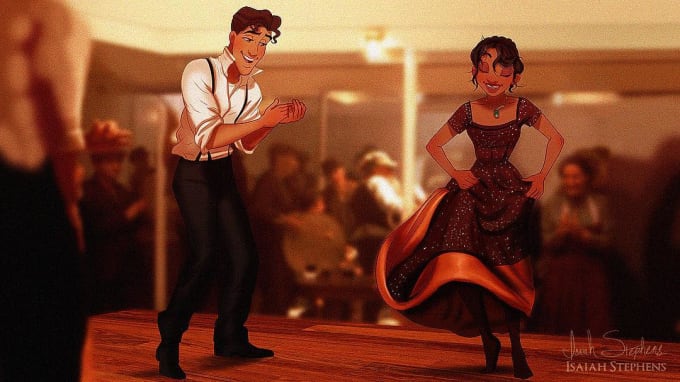 There is very little that I love more than a good Disney fan drawing. Combine that with one of the most romantic films of all time, Titanic, and this fangirl is 100% on board for the ride. Artist Isaiah Stephens has created many Disney drawings, including the princesses as Britney Spears, and he has impressed us once again with his drawings of the Disney couples as Rose and Jack from Titanic.

Snow White
Bringing the innocence of Rose from the beginning is the original Disney princess Snow White. She looks like she is ready for a new adventure.
Hans And Elsa
Hans is looking very diabolical and sneaky here as he shows Elsa the heart of the ocean.
Tarzan
He isn't just king of the jungle, he is king of the world! I wonder if he would have swung on some of the ropes?
Pocahontas And John Smith
Pocahontas literally shines in this image as John Smith greets her for dinner. He looks pretty good himself, though it is a little strange to see him with shorter hair.
Tiana And Naveen
Showing off some of those dance moves that would fit in well on Louisiana soil or a boat, they look like they are having a grand old time.
Aladdin shows Jasmine a whole new world on the deck, as they pretend to fly (since Carpet isn't with them).
Beast And Belle
Belle looks like a true beauty in the soft glow, where they could be in the library if not on the ship. Beast would be a perfect gentleman, though, and stay completely professional.
Mulan And Shang
They are ready to travel to the stars as they play in a car, before getting it all steamed up.
Flynn and Rapunzel
It is strange to see Flynn clean shaven for once, but still very handsome. I love how well the computer animation translated to this 2D drawing. I am sure in a moment like this, however, Rapunzel almost wishes she hadn't left her tower.
Ariel and Eric
This one is truly too cruel, given that she is a mermaid and could have stayed in the water besides him. I call foul!
Cinderella and Prince Charming
In this ending, where you can't be sure if she died and went to heaven or is just dreaming, these two show their love with a kiss.
Isaiah is an incredible artist, and you can find more of his art on his Instagram page.
[Credit: Instagram, Cosmopolitan]