Geeks is powered by Vocal creators. You support
Rachel Carrington
by reading, sharing and tipping stories...
more
Geeks is powered by Vocal.
Vocal is a platform that provides storytelling tools and engaged communities for writers, musicians, filmmakers, podcasters, and other creators to get discovered and fund their creativity.
How does Vocal work?
Creators share their stories on Vocal's communities. In return, creators earn money when they are tipped and when their stories are read.
How do I join Vocal?
Vocal welcomes creators of all shapes and sizes. Join for free and start creating.
To learn more about Vocal, visit our resources.
Show less
'Hawaii Five-0' Brings In More Diversity, But Will Ratings Suffer With Daniel Dae Kim And Grace Park Gone?
Hawaii Five-0 has made a lot of waves recently, and the turbulence has caused fan outcry since two of its stars opted not to return for Season 8.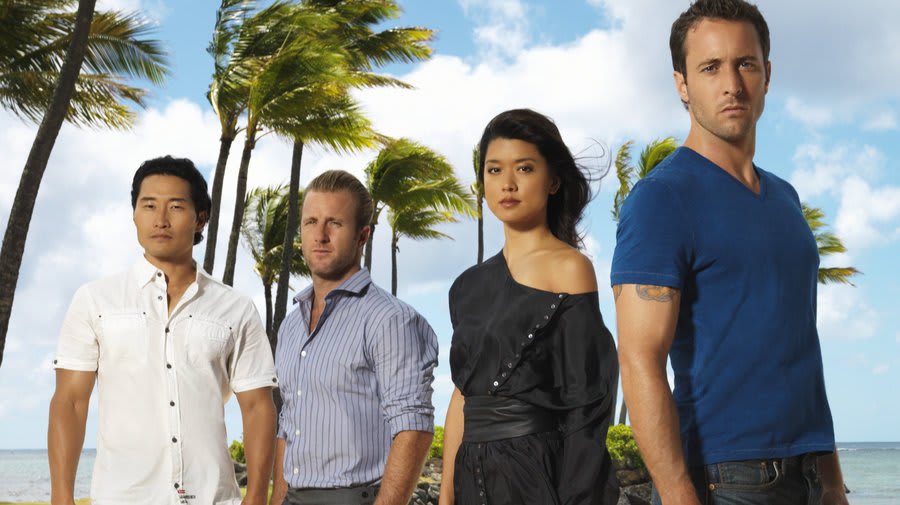 Hawaii Five-0 has made a lot of waves recently, and the turbulence has caused fan outcry since two of its stars opted not to return for Season 8.
Daniel Dae Kim and Grace Park chose not to renew their contracts because of pay disparity. Both Kim and Park were seeking pay equal to what series stars Alex O'Loughlin and Scott Caan earned per episode, but were offered 10 to 15 percent less.
Meaghan Rath (Being Human) and Beulah Koale (Salvation) will fill the two open cast positions, and Ian Anthony Dale was promoted to series regular. Though this will take the series in a different direction, Hawaii Five-0 executive producer Peter Lenkov tried to keep things positive in an interview with CBS.com:
"I'm excited to explore the new dynamics within our team and how everyone will bring their own unique set of skills to the table. Meaghan Rath and Beulah Koale have been doing such a great job getting into their characters, and we'll obviously see a lot more of Ian Anthony Dale this season while digging deeper into his character. ... Fans can expect even bigger set pieces this season, especially in the season premiere."
Fans, on the other hand, are not as optimistic, as evidenced by the series' Facebook page. After an article about the show's upcoming season was posted, unhappy viewers took to the comments to express their opinion and announce their own departures.
"Very disappointed to see that Grace Park and Daniel Dae Kim will no longer be on the show," wrote one viewer. "Not sure how you will write out two people that are so integral to the show, also not sure if I will continue watching. Very disappointed fan!"
"My wife and I have removed this show from our DVR and will no longer watch or support Hawaii Five-0," wrote another. "In our opinion Daniel and Grace deserved, and earned, equal pay."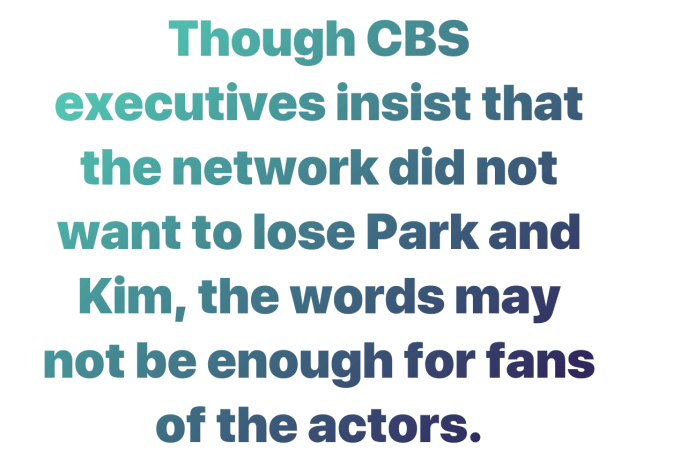 Fans particularly took issue with Lenkov's comments regarding "bigger set pieces this season," asking why the money wasn't being spent on meeting the pay demands of the two popular actors, Kim and Park.
With many more fans promising to abandon ship, could Hawaii Five-0 — which averaged nine million viewers last season — risk losing a spot on CBS's roster next year? Though CBS executives insist that the network did not want to lose Park and Kim, the words may not be enough for longtime viewers who were dedicated fans of the actors.
Only time and numbers will tell if Hawaii Five-0 makes it beyond Season 8.
[Sources: CBS, TVSeriesFinale and EW]