Johnny Depp: A True Artist and Humanitarian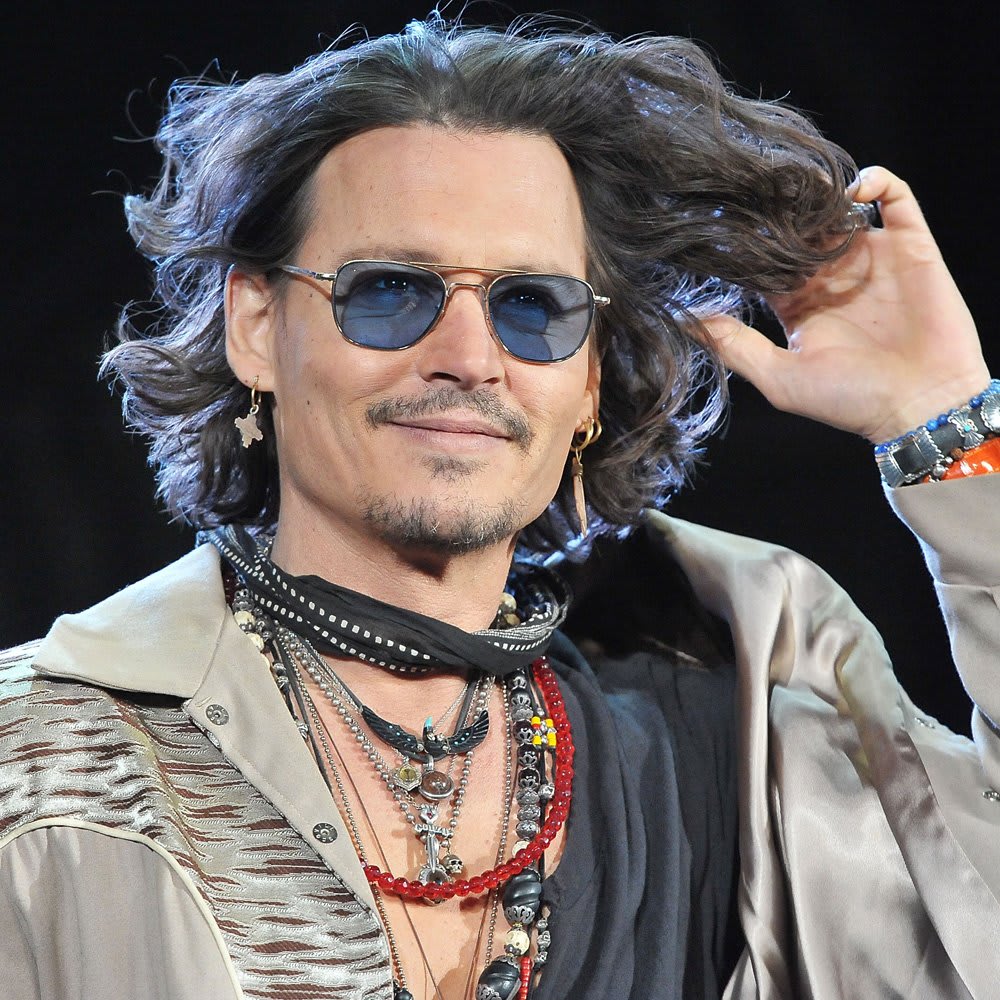 NOTE: This is largely an opinion piece based on research garnered through study of Johnny Depp's career and the recent scandals surrounding him. Sources for much of the information relayed are cited in the links I've shared. Any links that are missing, can be checked by Googling the information itself. I do not claim ownership or first-hand knowledge of anything I wrote here except my own personal speculations and feelings on this influential man who is either loved or reviled by so many millions of people.
~Kate Quinn, Philadelphia, PA.
America and the rest of the world are struggling to survive in the fluctuating chaos of politics and social issues. Pop culture is either a needed release of entertainment for some, or an annoyance many wish would disappear. For still more, watching what people who work in Hollywood go through, serves as a reminder that "celebrities", are not only human beings with real struggles. They are also people who have used their talent to do something good for this crumbling society that still tries to cling to some semblance of sanity.
It is also a place for social issues to be battled out.men and women , there is a similar war going on. A war between many Trump supporters and radical feminists, and those still passionately defending the human being and talented artist that is actor/musician Johnny Depp. The Trump supporters and feminists are still standing together in their campaign to boycott Depp. A more incredible alliance could not be imagined.

However, speaking for myself at least, this alliance feels like it's drawn more on fear of not being "politically correct," than actual research and knowledge of fact verses fiction. Even if the many petitions and movements to have Johnny Depp boycotted could, hypothetically, have just cause? The violent, derisive words leveled at Depp and even his family, whether on Twitter or YouTube videos, is really not all that different than what they are saying about him. Words, in many ways, have more power than a fist, or in some cases, an iPhone.
The disappointment of former fans of Johnny Depp began several years ago when his movies started to fail, but it is now a more personal feeling of disillusionment for many. The most recent hysteria exploded after Johnny's ill-fated joke about assassinating President Donald Trump at the Glastonbury Festival in England. Johnny was there to present several movies he considered important for the public to know about. This included his not-so-successful 2004 film, The Libertine. During his introduction to the movie screening, however, Johnny Depp was clearly nervous. Maybe he was also a bit drunk, but it was a festival, after all. Everyone was having fun and letting their hair down. However, in an attempt to amuse the crowd, Johnny let out a joke about the last actor to assassinate a president, which of course was the 1865 assassination of President Lincoln by actor John Wilkes Booth. Depp hinted that it might be time for that to happen again with Trump. While it was clearly meant to draw laughs rather than fear, naturally the Secret Service were informed, and people went mad with anger and fear. Johnny apologized immediately afterwards, stating that he intended no malice, and was only trying to amuse, not harm anyone.
Depp's joke did seem to have come off the top of his head at that time. It's a known fact that Johnny hates speaking in public, and has often admitted to high anxiety around it. This said, it is not unusual for people in that situation to say something that could be misinterpreted in sometimes horrible ways. However, not a lot of people, Trump supporters or not, seem to want to "make excuses" when it comes to jokes about killing a sitting president. Understandable as these feelings are, Johnny Depp is only one of several people who were attacked with smear campaigns after joking and/or making parodies of Trump's "death."
Regardless, I highly doubt Johnny Depp was using covert "humor" to hint at an actual plan to assassinate President Trump. I think everyone can relax on that note.
Johnny Depp has currently been embroiled in a bitter lawsuit with The Management Group (TMG) whom he alleges mismanaged his finances and cost him millions. There is no doubt, at least in my mind, that what we saw on the video from Glastonbury was the stress of the current lawsuit and so much else, taking its toll on Depp at last. The Management Group went on a full-blown personal attack of Depp in response to his suit of them. They even went as far as, on the very day Johnny made the joke about Trump, resurrecting the tale of his ex-wife Amber Heard's allegations of Domestic Violence during their relationship! Those allegations alone brought about highly emotional reactions last summer, 2016, especially from women. Johnny has been painted by Amber and TMG as words to this effect: a megalomaniac and a narcissistic, self-entitled rich man. One who had everybody "fooled" regarding his goodness and respect for humanity.
So, the question remains, who is the real Johnny Depp? Is he anything, truly, like that horrific person so many are declaring he is?
Since the dawn of time in Hollywood, many people in and out of Tinseltown have utterly thrived on scandals. It's no different today, as many on social media and other places salivate when they see rich folks, especially men, smeared and hated. No doubt, these same people envy the millions of dollars these celebrities have, and would certainly love to have that kind of money. However, since they can't, they'll settle for kicking people in Johnny Depp's position when they are down.
We all know that Johnny's many movies are either lauded or hated. Depp has not always had great successes with the critics and box offices, especially lately. Despite the success of Pirates of the Caribbean: Dead Men Tell No Tales, or Salazar's Revenge overseas, Depp is still being judged in the media for "failures" such as Mortdecai and The Lone Ranger. One thing no one can take away from him, however, is his fierce, strong spirit and need to live his truth. His insistence on doing things in a way that feels real to him, is nothing short of monumental in a world full of judgments and sometimes "politically-correct" demands. This individuality has inspired many on the outside looking in, including yours truly. There was a time when I felt like I was dying inside, having taken on a rather zombie-like role in society when I ran a non-profit business here in Philadelphia, PA. I served as both president and treasurer at separate times, and I tried to live up to demands that I carry myself in a "full-blown businesslike" manner. This included the way I dressed, and the way I talked. A simple quote I saw on Facebook by Johnny Depp changed all that.

"I think everybody's weird. We need to celebrate our individuality and not be embarrassed or ashamed of it."
This inspired me to drop the facade of the so-called "corporate" woman, and embrace my true nature. I am laid-back, have no issues with swearing, and I have always felt at my best in clothes that are deemed "odd" in society. I am happy with that, however, and no longer obsess or worry so much about what other people think of me. Whether in work or at play, I am most successful when I am being myself. That is what brings about real success, anyway. Look at Johnny Depp!
He is not only unique in how he approaches his characters, but how he lives his life. Whether he spends high amounts of money on islands, houses, and wine, or donates to charities and hospitals, Johnny Depp is who he is. Nothing I've read or seen of him tells me anything other than this. Johnny never once sold out or bought into the demands placed on him by society, his management, or whoever might be trying to control him at any given moment.
In a world where mental illness and suicide are still incredibly rampant, this is truly nothing to sneeze at. Human beings everywhere, especially now, would benefit greatly living their authentic truth, whatever that may be. Not get sucked into an unhealthy need for acceptance in society, and its rigid demands for "normalcy," whatever that is.
Ever since his life with ex-wife Amber Heard began and ended, Johnny Depp was branded with possibly the worst reputation in his thirty-plus year career. However, this still has not turned away those who see him for who he is, and love him for it, including directors, co-workers, and of course, family.
A bit of backstory: Johnny first fell in love with Amber on the Rum Diary movie set where she played his lover. The Rum Diary was taken from a novel based on Hunter S. Thompson's early life as a journalist. Thompson wrote the book but had it hidden away for years. Depp discovered it and was determined to not only publish the novel through his company Infinitim Nihil, but make a movie out of it. Hunter was one of Johnny's best friends and most inspirational muses. It was, as Depp expressed, quite devastating for him when Hunter committed suicide in 2004.
Apparently, Johnny had seen Amber somewhere before(she starred opposite Kevin Costner in Three Days to Kill" among other movies), and urged the Rum Diary's director to hire Amber as Johnny's co-star. Johnny would also talk well about Amber's acting abilities as well as her high intelligence and knowledge of blues music and social issues. Apparently, Depp was impressed with Heard not only as a potential romantic partner, but as a talent and voice which needed attention in Hollywood.
Love makes you do funny things sometimes.
Having dealt with a painful but amicable breakup with Vanessa Paradis, the mother of his two children, Johnny Depp began living with Amber in or around 2013. They were married in 2015, and that lasted for about 15 months. In May, 2016, Amber Heard filed for divorce, citing irreconcilable differences. After she was refused instant spousal support of 50,000.00 a month, Amber then accused Depp of domestic violence. She did this on Johnny's daughter Lily Rose Depp's 17th birthday, May 27th, 2016. To add insult to injury, Johnny's beloved mother Betty Sue Palmer had only just passed away from a long bout with cancer, a week prior to the allegations, May 20th, 2016.
Johnny Depp was never found guilty of violence against Amber. He was not even arrested when the police were called on that fateful night of May 21, 2016. Tillett Wright, one of Amber's best friends, was on the phone with Amber and, claiming to hear her friend screaming that Johnny was hitting her, called 911. However, let me repeat this. Although Johnny wasn't on the premises when the police arrived, he was never arrested. He spent no time in jail whatsoever for what was reported as Domestic Violence against Amber.
Instead, Johnny appeared on the Ellen DeGeneres and Jimmy Kimmel shows that following Monday, May 23rd. There was no mention, whatsoever, of the divorce, let alone any incident that past Saturday. No, despite the justice system in California, which states that even if there is no evidence of a crime, those accused of Domestic Violence MUST be arrested, Depp never was. The idea that he "paid" the LAPD off is legitimately absurd. Ever since the O.J. Simpson trials, no officer of the law in Los Angeles, California especially, has ever pandered to celebrities. Not even the wealthiest ones, when it comes to Domestic Violence, are exempt from at least spending one or two nights in jail preceding a trial.
After a long summer of horrific photos and a video that was to serve as evidence in Amber Heard's case, she and Johnny Depp settled out of court anyway. Heard even dropped the Domestic Violence charges with prejudice, meaning she can never refile them again. Depp agreed to give Heard 7 million dollars in spousal support. Amber then publicly declared she would donate the full settlement to ACLU's domestic violence awareness unit, as well as the sick children of L.A. Children's Hospital.
Johnny Depp attempted to honor Amber's pledge by sending the first of the settlement checks "in the name of Amber Heard," directly to both charities. Heard's response to this gesture was to accuse Depp of trying to obtain a tax deduction for himself. She and her lawyers halted the divorce finalization to fight Johnny in court until he paid the money directly to Amber—not the charities, whether in her name or not.
Before this extended court battle, Amber took another public opportunity to tell her story. The non-disclosure agreement she and Depp signed preventing either of them from discussing their marriage after the divorce was finalized, was still pending, thanks to her wanting to fight Depp's handling of the settlement. Amber Heard was highly praised in the media for writing to her "silent sisters," via Porter magazine, as well as a PSA video urging women to speak out against Domestic Violence.
In January of this year, 2017, Judge Carl Moor finally put his foot down and said words to this effect: the divorce needed to be finalized once and for all. No more delays. Johnny Depp wound up agreeing to pay Amber the 7 million directly, and she reiterated her promise to donate it to the charities herself. The divorce was finalized on January 13th, 2017.
While all this should truly have been enough to prove Johnny innocent in the "court of public opinion," regarding Domestic Violence? There are, nevertheless, still many calling for his blacklisting from Hollywood. Not that Johnny Depp wasn't always controversial in his way. This is what diehard supporters of Amber Heard keep drawing on to support their arguments.
From the start of his career, Johnny Depp refused to be a "cookie cutter" television actor or play on his almost celestial outer beauty. Instead, he made a point to challenge whatever he did as an actor in the most creative way possible, one that gave him pleasure, rather than boredom when working on a project. He was both praised and criticized for that alone.
His personal life which he'd always tried to keep private, became tabloid fodder, largely due to Johnny's tendency towards wild partying, and his incredibly passionate romantic relationships. He also became known for his volatile temper, although none of that included violence against women. Depp was arrested twice for trashing a hotel room in New York, which ironically, his then current girlfriend Kate Moss, was in. There was no mention by either Kate or anyone else involved, of any violence towards her by Johnny. The furniture in the hotel room suffered the most, and maybe a security guard, a male one, or two, that Johnny got into fisticuffs with. A similar incident happened when he first began his life with Vanessa Paradis who was then pregnant with Lily Rose. Johnny and Vanessa were spending time in a restaurant in a private room, when paparazzi invited themselves to their dinner and would not leave. Depp finally picked up a large two-by-four which was oddly nearby, and threatened the paparazzi with it. He was arrested, but in the end, no one was harmed, and Johnny was released after several hours.
Johnny Depp was arrested in both of these incidents but again... not for the May 21st "incident" where he allegedly threw an iPhone which hit Amber Heard in the face. I now move on from the topic of Heard, hopefully once and for all.
When Johnny lived with Vanessa Paradis in France (her native country) as well as the States, he was placed on a pedestal of having "finally grown up." Not only were his movies now dedicated to children (Pirates of the Caribbean, Charlie and the Chocolate Factory, Finding Neverland) Johnny Depp had become a father, which he'd always wanted to be. He was fiercely devoted to his children and Vanessa and highly protective of their privacy. Their firstborn, Lily-Rose, arrived on May 27th, 1999. Three years later, their son Jack (short for John Christopher Depp III) was born on April 9th, 2002. The kids grew up in France and L.A. in the most normal way Johnny and Vanessa could create for them. Their passionate protection of them, allowing no pictures, whatsoever (there were some paparazzi pictures that got through to the press), allowed Lily-Rose and Jack to live a life that was "somewhat" free and clear of Hollywood drama.
One unfortunate drama rocked the Depp-Paradis family in 2007, although it wasn't made public until much later. Hints of it leaked out, but not enough to cause a huge stir in Hollywood.
Johnny Depp had taken on his first singing role as the title part in Tim Burton's film adaptation of Sondheim's musical Sweeney Todd. During the making of that film, in which the singing terrified Johnny as he'd later relay... Lily-Rose had a frightening and devastating brush with death. She was seven years old, and had contacted E-Coli virus which, among other things, caused her kidneys to fail. She was rushed to Great Ormond Street Hospital, London, and Johnny later recounted that he and Vanessa practically lived at that hospital during her stay. At the time, no one, including the doctors, were even sure Lily-Rose would live! As fortune would have it though, the little girl made a full recovery. Johnny was so grateful to the doctors and staff there who worked tirelessly to save his daughter, he donated 1.5 million dollars to Great Ormond Street Hospital. He also recounted on the Graham Norton show in 2015, that Lily-Rose's 2007 illness was the "darkest period ever" in his life. Going to the children's hospitals as his iconic character Captain Jack Sparrow is something Johnny obviously lives for, having lived that same hell parents live when their children are sick and maybe dying. The visits to the hospitals, as he told Graham Norton, is a gift that he, himself receives.
Johnny Depp has made many amazing movies and done a lot of selfless deeds to help humanity through his work. Not only has he visited sick children, but he spent time in Rio and Portugal fitting hearing aids into the ears of those who cannot hear on their own. These are people who cannot afford hearing aids or other medical help. Johnny Depp has also donated a large bit of his multi-million dollar fortune to many, many needing causes. He once discussed wanting to purchase the Wounded Knee burial ground in which many slaughtered Native Americans are buried. It saddened and upset Johnny, who is legitimately part-Cherokee, that the horror of what these original land dwellers still go through, is seldom addressed. Johnny's passion project, Disney's The Lone Ranger, was a tribute to the Native Americans, with Tonto being presented as a teacher and warrior, not merely a "sidekick" to the Lone Ranger. Unfortunately, the tribute fell on deaf ears and blind eyes, as too many people panned the movie for not being "true" enough to the original show. As I write this, however, I feel certain that at least the Native Americans, who have barely any voice in society, appreciated Depp's gesture. He told David Letterman one night in an interview, that he hoped the Native Americans, especially the children, would see the movie and garner strength from Tonto to help them in their own real struggles.
Johnny Depp has also always been there for his fans. He will go out of his way to visit people who want to give him gifts, or otherwise might need some help. Johnny's band the Hollywood Vampires, which includes Alice Cooper and Joe Perry, were the foundation behind one fan's being able to attend their concert against many odds. Amanda Currie of had brain cancer, and complications from that had paralyzed her from the neck down. Johnny, Joe, and Alice sat beside her, comforting her before the show. Amanda's lifelong dream came true before the cancer finally took her to the other side in 2016.
These actions I'm describing by Johnny Depp, are not things narcissistic celebrities with a sense of entitlement do. One only has to look into his eyes to see the love and care he has for everyone on Earth, those who are innocent and just trying to survive. Others in the world who don't seem to care about anything but themselves, their personal fame and glory? Johnny Depp has no time for them and never has. However, he will go above and beyond to protect people and even animals, who could otherwise be harmed by the system and its perpetrators. These perpetrators could be anyone from self-entitled ex-financial managers and ex-wives, to government officials in or out of the United States. Johnny Depp is a man who fights for the justice and well being of all beings. Especially his family and loved ones, which include people he's never met, but have always had his back.
He has handled the adversity of the past few years with pure strength and love. He always has a smile on his face at every event he goes to, be it an interview, a charitable event, a premiere, whatnot. Johnny Depp has survived challenges I myself don't know if I could cope with. He is an inspiration to many, many people from all walks of life. There is no way Johnny Depp will go away any time soon. And thank goodness for that!
There. The real Johnny Depp is standing up, HAS been standing all along. Let us all truly remember who he is. May whatever Divine force there is bless his courage, his strength, his talent, his tenaciousness, and his Love. Bless him, and may he continue to thrive and inspire those of us who never lost sight of him.
CLOCKWISE FROM TOP LEFT: Alice Cooper, Joe Perry, Johnny Depp and Amanda Currie, who had her dream of seeing Johnny Depp perform realized, despite being paralyzed by her illness.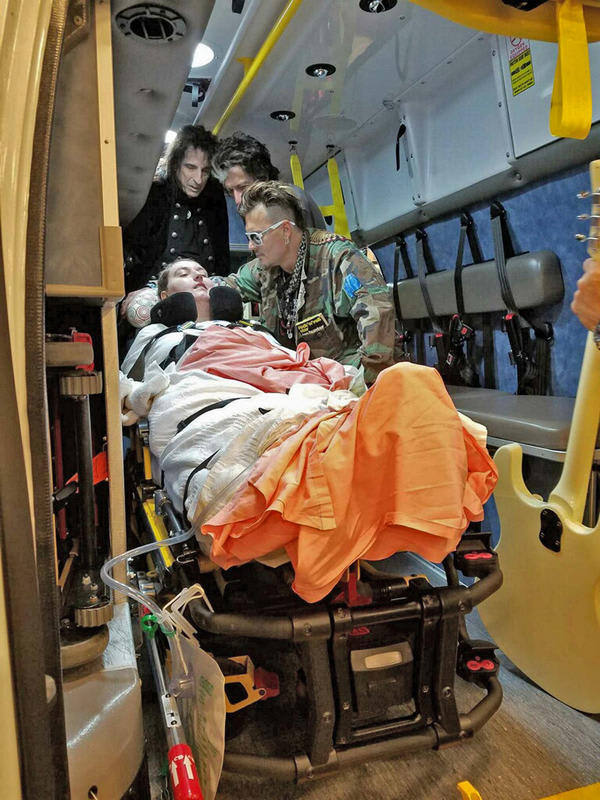 Johnny Depp accepts the Rhonda's Kiss Award for his dedication and donations to cancer patients, and the quest to find the cure for this disease.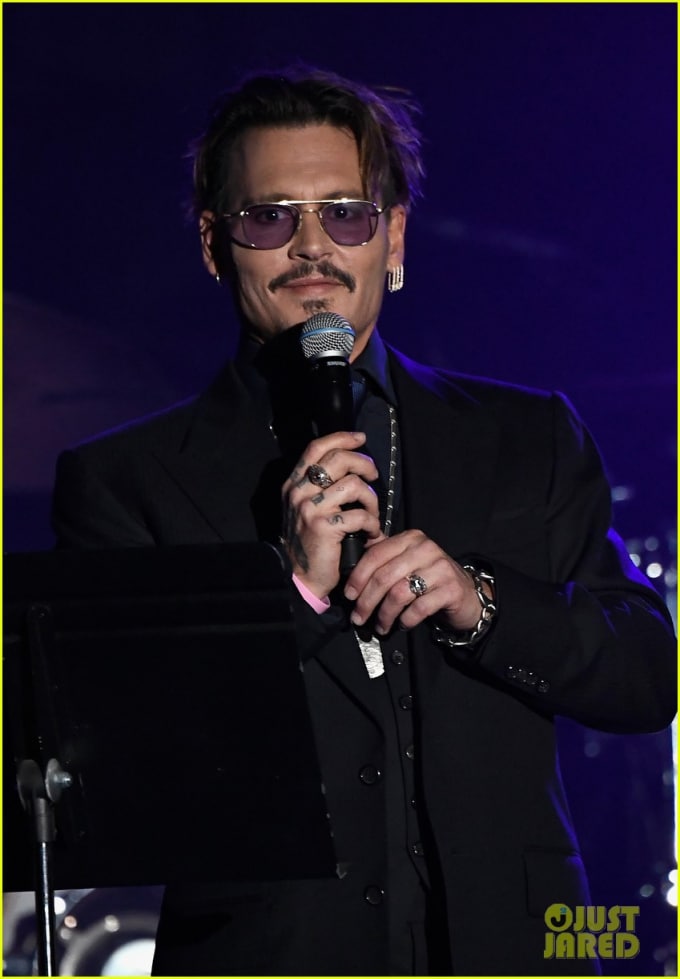 Johnny Depp accepts the People's Choice Award for Favorite Movie Icon in 2017. In an emotional speech, he thanks those of us who supported and encouraged him in tough times.