Geeks is powered by Vocal creators. You support
Matthew Bailey
by reading, sharing and tipping stories...
more
Geeks is powered by Vocal.
Vocal is a platform that provides storytelling tools and engaged communities for writers, musicians, filmmakers, podcasters, and other creators to get discovered and fund their creativity.
How does Vocal work?
Creators share their stories on Vocal's communities. In return, creators earn money when they are tipped and when their stories are read.
How do I join Vocal?
Vocal welcomes creators of all shapes and sizes. Join for free and start creating.
To learn more about Vocal, visit our resources.
Show less
Kit Harington Discusses Sexual Tension Between Jon And Daenerys As The Two Rulers Finally Meet
With fans wondering how the pair will get along, the episode gave us a initial meeting which showed Jon and Dany's opposing priorities.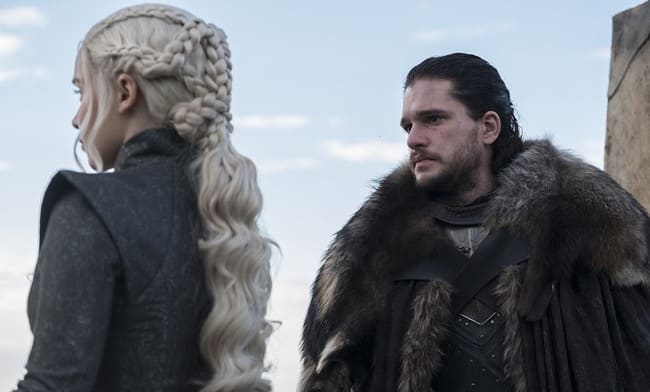 George R. R. Martin called his book series A Song of Fire and Ice for a reason, and most fans believe that Jon Snow (Ice) and Daenerys Targaryen (fire) will band together to defeat the White Walkers. However, just how they'll do this has been up for debate, particularly now that the two have finally met in Season 7, Episode 3 - 'The Queen's Justice'.
With fans wondering how the pair will get along, the episode gave us a initial meeting which showed Jon and Dany's opposing priorities. We see Daenerys demand House Stark's allegiance to her Targaryen claim for the Iron Throne, while Jon continues to press the importance of the White Walker threat. So, it's not surprising that their initial meeting, shall we say, didn't go smoothly.
Although the meeting was a political affair, Kit Harington gave Entertainment Weekly a little insight into what was going through Jon's mind when he first entered Dragonstone's throne room - specifically noting Jon's attempts to hide his surprise when faced with a beautiful young queen.
"I predicted, like everyone, they would meet this season, but I don't think I predicted it quite as quickly. But then again, you've got to take yourself out of the mindset of the viewer. As far as Jon knows, he's just meeting this queen he's heard of and trying to negotiate with her — he's not meeting Daenerys, who the audience has been watching for so many years. That helps with the surprise of it.
He walks into the room and doesn't expect to see such a beautiful young woman of similar age to him. Any young man's reaction is going to be, 'Okay…' but he puts that aside, because he has to."
Daenerys may have somewhat imprisoned Jon and Davos on the island, but their eventual agreement will surely make them stronger allies in the show's upcoming episodes. Although the scene wasn't a typical first encounter for two lovers, fans have been 'shipping' Jon and Dany for years and since the episode's release, the demand to see these two get together have intensified.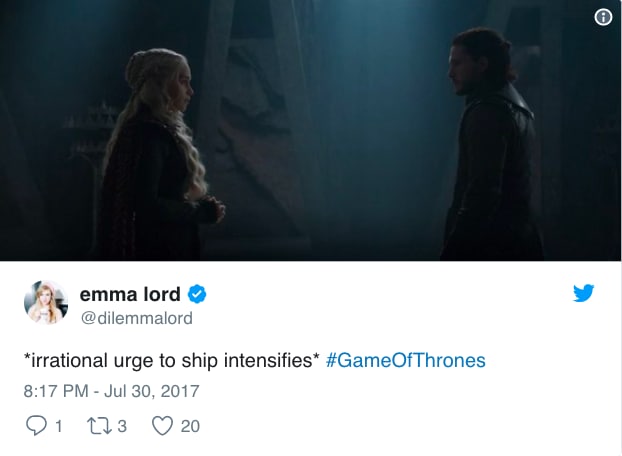 However, there's also a slight reluctance to ship these two characters, given that Jon Snow is (albeit unknown to them both) the son of Rhaegar Targaryen, Daenerys's brother. This was somewhat addressed by Dany during the episode when she claimed to be the last Targaryen in existence - a detail that didn't go unnoticed by fans.
With this in mind, fans are desperate to know whether HBO's Game of Thrones will really be pairing the two fan favorites together, despite being related. As those who have read the books will know, Targaryens are known to be incestuous throughout the House's lineage, so it's no stretch of the imagination to say that these two could be getting together.
So, what's next for Jon and Dany?
Despite the sexual tension between these two leaders, Jon chose to stand strong against the Mother of Dragons, ensuring that the fight against the White Walkers takes precedent over his own sexual desires. Having said that, Jon has been granted his wish to obtain Dragonglass, which will surely work to build trust between the pair. Meanwhile, Jon's skill as a strategist could come in handy now that the Lannisters have taken Highgarden - and all the gold that comes with it.