My 2015 Quick-Fire Challenge!
It's already 2016 in my side of the world (at the time of writing), so first I'd like to wish you a Happy, healthy and prosperous New Year!
It's already 2016 in my side of the world (at the time of writing), so first I'd like to wish you a Happy, healthy and prosperous New Year!
I was nominated by Ashraf Sidd to do this challenge! And anyone else, feel free to join in! These are the questions of the quick fire challenge.
1. Best trailer of 2015: Share a trailer released in 2015 that made the most impact on you, got you pumped for a movie and made you count down the days until the movie's release.
2. Your Favorite Movie Moment of 2015: Whether it's an incredible stunt, a great joke or heartbreaking dialogue - which movie moment was your favorite of the year?
3. Your Favorite Character of 2015: Choose a character (preferably one that is new to the big screen) that you loved this year, and tell us why!
4. Entertainment Person of the year: In the world of entertainment, who is your 'Person of the Year' for 2015?
5. What Was Your Favorite Article (Created By You) in 2015?: This doesn't have to be the post with the highest reads. Instead, choose the one you are most proud of and share your reasons why!
1. Best trailer of 2015
Ever since I found out about Victor Frankenstein, especially that Daniel Radcliffe will play Igor, one of the main characters of the film, I got excited. I've been waiting for a year for a trailer release, and it surely didn't disappoint. The U.S. version of the trailer isn't that good, but the U.K. version (above) made me look forward to see this film more. This film won't be showing until some time in January here in Thailand, but despite what critics say, or its performance domestically, I think this film will do well in international box office. In one way, or in another. It's Professor X and Harry Potter, after all!
2. Favorite Moment from 2015
Yeah. Every Finn and Poe moments from Star Wars Episode VII: The Force Awakens. I loved it. Han and Chewy's scenes are the the close second. I think I'll be a fan of this and the upcoming Star Wars movies in the future. I never really liked this series when I was a kid (bad CGI is my pet peeve). But now, it finally caught up with great technology.
Anyway, surprisingly, even though I think Rey and Finn will make a cute couple - Poe Dameron and Finn will make an even better one.
3. Favorite Character of 2015
It's so hard to choose which is my favorite character of 2015! There were so many great movies last year! However, the one character that left me a lasting impact, that is, until Lady Lucille and Thomas Sharpe in Crimson Peak was Alejandro. I didn't like the way he tortures criminals to lure answers from them, but his intimidating presence is what makes these people cringe when they hear his name. Had there been an English version of Pan the day I went to the theaters, I would never make this surprising pick. Benicio del Toro is a phenomenal actor, and the depths of his character Alejandro onscreen is heartfelt.
On one hand, you're appalled by his methods, but on the other, you empathize with him. Because I certainly would go to great lengths just like he did, to avenge, and so that others won't have to go through the same as me.
4. Entertainment Person of The Year 2015
Ariana Grande! 2015 has been a busy year for Ari! Busy and phenomenal. Her beautiful Honeymoon Tour will continue this year. She also came to my country (Philippines) in August for a concert (which I unfortunately missed), starred in Scream Queens, lent her voice to the animated film Underdogs had a duet with Andrea Bocelli, and so much more.
5. What Was Your Favorite Article (Created By You) in 2015?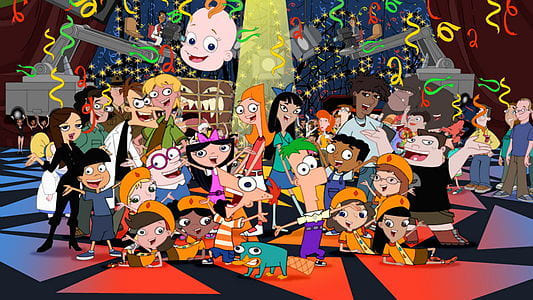 I wrote three Phineas and Ferb related articles this year, and a lot more articles following that. However, this emerged as my favorite. I wrote it when I found out that PnF was about to end. This was pre-MPU so it's a little bit erratic, but as far as good memories go... I can consider this one like a Patronus. You can read it right here.
Bonus Question: What Are You Most Excited For In 2016?:
I'm excited for a lot of movies in 2016. 'Tis the year I'm probably going to spend a lot of money to watch movies! The movie I'm most excited is the upcoming Pride and Prejudice and Zombies! I haven't read the original Jane Austen novel, or watched the adaptations, but this mash-up is certainly something that I began to look forward to after seeing the trailer!