'Orange Is the New Black' Season 4 Most Shocking Moments (SPOILERS)
Here are the most shocking moments from the latest season.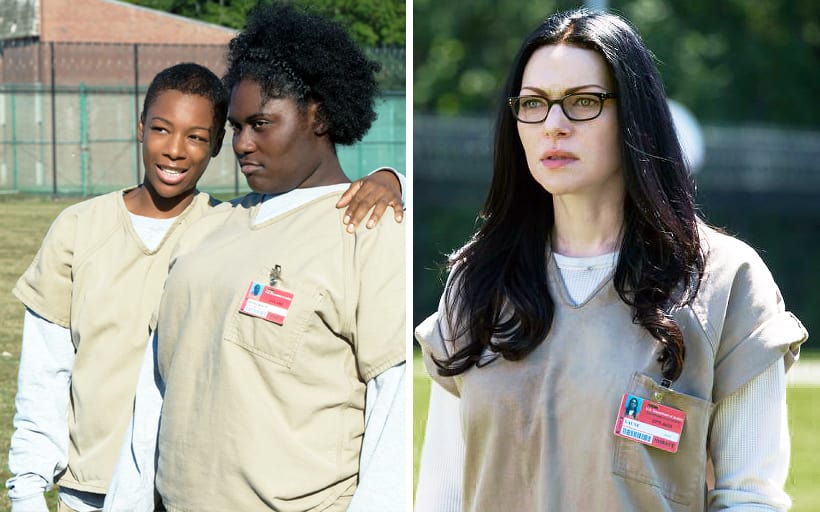 Fans and audiences around the world are still reeling after Orange Is the New Black's shocker of a season. Season four of the Netflix show delivered a range of funny, emotional and shocking moments, with a handful of our favorite Litchfield inmates being put through the wringer. Some prevailed and others didn't. With the lyrics of Regina Spektor's song "You've Got Time" on a loop in our heads after hours of binge watching - trap trap trap 'till the cage is full - here are the most shocking moments from the latest season.

How to Hide a Body Litchfield Style (Episode 1)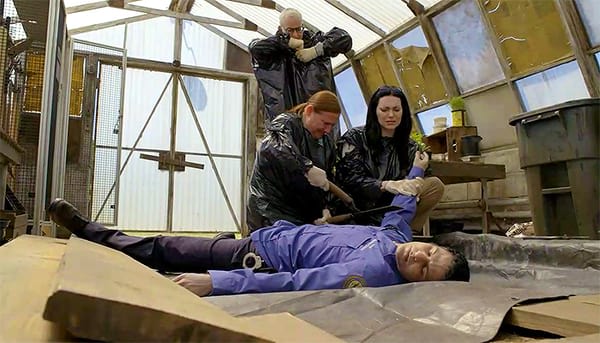 Wow, the things prisoners can do with a pair of garden sheers. Picking up from where we last saw the inmates in the season three finale, Lolly (Lori Petty) comes to the rescue of Alex (Laura Prepon) who is being attacked by a hit-man her ex-boss sent. Beating him until presumably dead, Alex and Lolly are interrupted by the sound of the prison alarm before they can dispose of the body. Alex returns to the greenhouse during the night, to discover that he is still breathing. She hesitantly finishes him off. Frieda (Dale Soules) discovers the body, which leaves Alex and Lolly no other choice but to follow Frieda's plan - chop him up and bury the pieces in the garden.
The scene is shocking as expected, and filled with blood - so if you are squeamish - you have been warned. You would think this to be a dark scene, but Orange adds its own comedic spin, such as the song choice and the shots of Lolly's reaction. Who knew a scene with three prisoners cutting up a body would make you laugh? It is so shocking and absurd that you just can't help it.
When God Gives You a Swastika (Episode 7)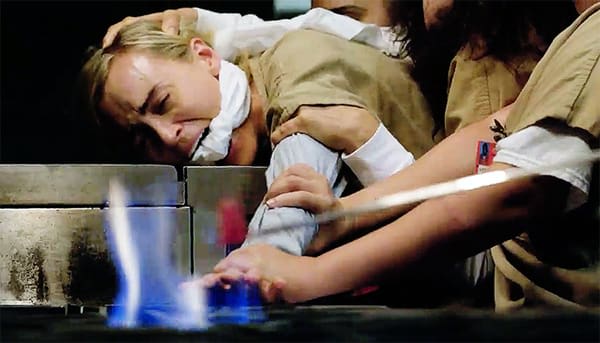 I personally found Taylor Schilling's bad ass Piper persona incredibly annoying this season, but I couldn't help but feel sorry for her when she was branded with a swastika. As a result of Piper accidentally creating a White Supremacist group and getting Maria's (Jessica Pimentel) sentence extended, Maria has her gang drag Piper into the kitchen, and with a scolding tool deems Piper a Nazi sympathizer
I really didn't see that shocker of a scene coming. Sure, I thought a full on fight may ensue, but not being branded with a swastika! Both actresses have said that the scene was difficult to shoot, as it was as a viewer. All in all, Schilling gave a chilling performance with her blood-curdling cries and Pimentel does a fine job of scaring the shit out of you with her intimidating death stares.
Would You Rather? (Episode 9)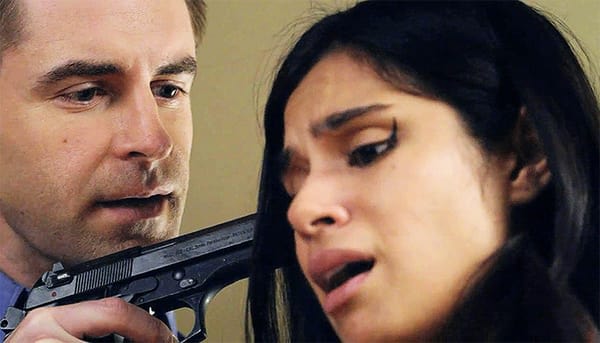 Maritza (Diane Guerrero) and Flaca (Jackie Cruz) are seen playing a harmless game of would you rather. Maritza poses the question "Gun to your head, would you eat a baby mouse or ten dead flies?" Now, remember this is all hypothetical right? Well not to CO Humphrey. Whilst on a van run, Humphrey takes Maritza into the house where all the new officers stay. On the table she is led to are - you guessed it - 10 dead flies and a baby mouse. When she refuses, he takes his gun and points it to her head. Fearing for her life, Maritza swallows the baby mouse.
Poor Maritza. Sure she has been deemed a comedic relief on the show, but we see so much more of her in season four. It was truly shocking and very disturbing to watch her go through that. It's even more emotional when we see a later scene of her telling Flaca about the whole ordeal.
The Death of Poussey Washington (Episode 12)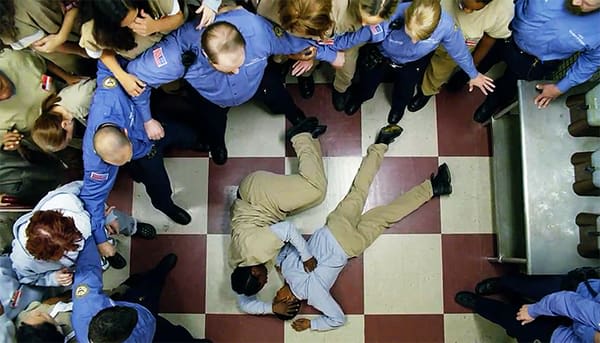 Hands down the most shocking thing Orange has ever thrown at us. Fan favorite Poussey was killed off during a peaceful protest that went wrong. The inmates stand in solidarity on the tables, to send a message that they no longer want Piscatella around. When he orders the officers to get them down, Suzanne a.k.a Crazy Eyes (Uzo Aduba) looses it and Poussey jumps down to calm her. Things escalate and CO Bayley pins Poussey down with his knee to her back, leading to her suffocation. Taystee (Danielle Brooks) breaks from the hold of an officer and runs over to Poussey, before falling to the ground in tears.
The shocking moment that no one saw coming, caused widespread heartbreak and rage, but actress Samara Wiley understood why it had to happen. In an interview with THR, it was explained that "The storyline echoed the real-life death of Eric Garner and the subsequent "I Can't Breathe" and Black Lives Matter movement."
Caught in a Crossfire (Episode 13)
Though Pousseys' death was the most shocking moment this season, we can't forget the intense and agonizing cliffhanger. Outraged by the fact that the prison covered up the death, tempers ran high and the prison breaks into a full blown riot. In order to gain control, CO Humphrey pulls out a gun but is knocked down by Maritza. Daya (Dascha Polanco) grabs the gun from the floor and aims it right at Humphreys' head. The surrounding prisoners encourage her to shoot.
What made the final moments more emotional than shocking, was that the camera circles around Daya then fades out to a flashback of Poussey looking on at the city of New York. It ends with a shot of a happy Poussey, staring straight into the camera, breaking what we call "the fourth wall" in acting - separation of the actor and the audience. It definitely heightened emotions, as the audience are left to reflect on how Poussey had so much potential to live a full life when she was released from Litchfield. Unfortunately that day would never come.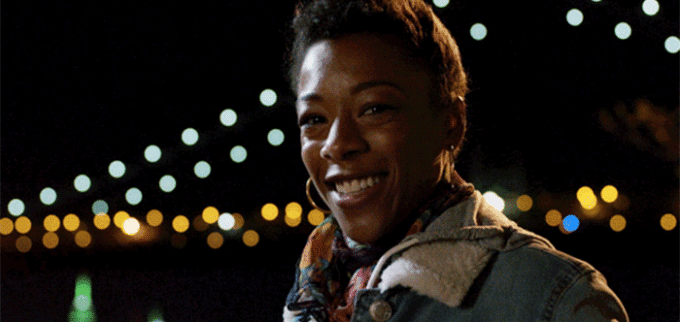 Now the question(s) on everyone's minds is where to next? Does Daya pull the trigger? How will Soso and Taystee recover? Will we see more of Lolly, Judy King and Sister Ingalls? All the answers are up in the air at the moment, and sadly fans will have to wait another year. On a positive, it is safe to say that with Netflix renewing the show for three more seasons, all our burning questions are sure to be answered.