Preeminent Among Gay Activists And Actors, Harvey Fierstein Discusses Career At The Harvey School
Tony Award winning writer and actor delights Bedford audience.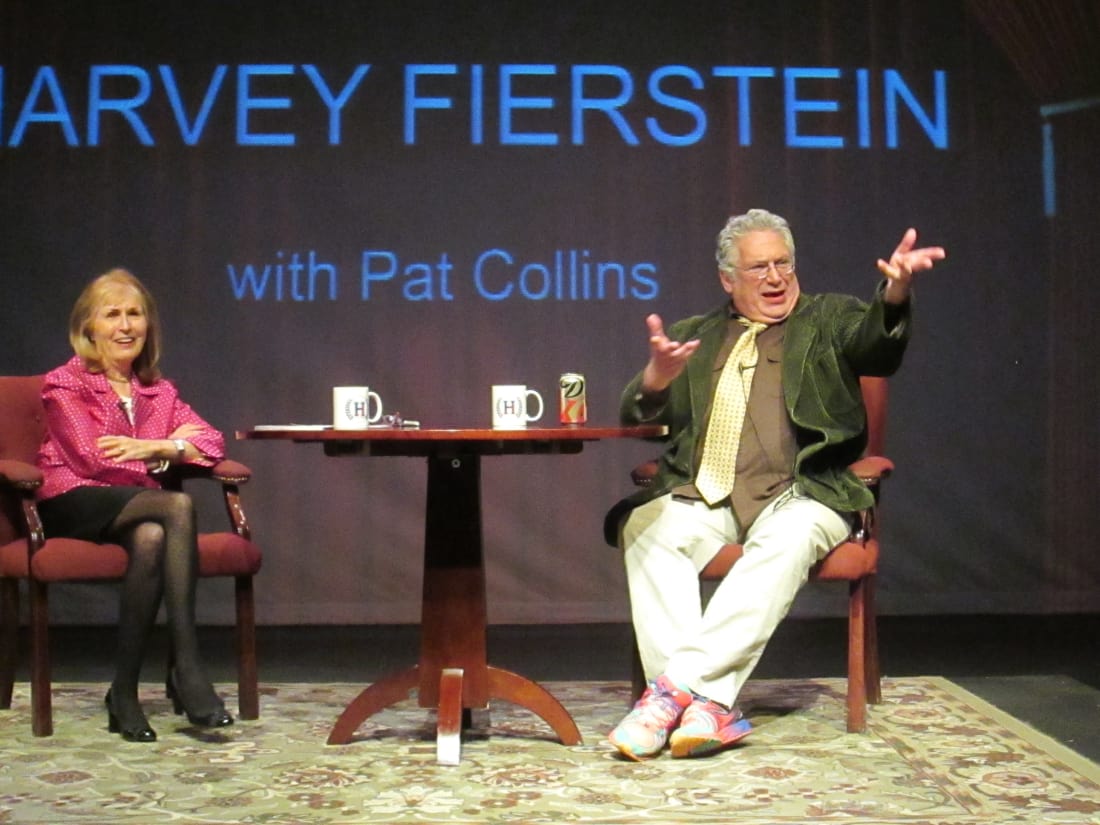 Last Friday, Harvey Fierstein entertained approximately 100 fans at the Harvey School and detailed his life as an actor, playwright and four-time Tony Award winner. But he admitted to Pat Collins, moderator and theater critic, that it was not by design.
More inclined toward art, he said, "I never wanted to be an actor."
On the other hand, the many trips with his family to the Great White Way certainly planted a seed, and seeing Fiddler on the Roof proved a revelation that took flower later. "A whole stage full of Jews," remembers the Brooklyn native.
A friend too shy to audition for Andy Warhol's only play at the La Mama Experimental Theater resulted in Fierstein's first role. "I auditioned and got the role. My friend never forgave me, and even though he's dead now, he probably still doesn't forgive me," Fierstein joked.
Torch Song Trilogy Is His Big Break In Career Making Broadway Musicals
Fierstein's breakout role was in 1982's Torch Song Trilogy, which he also wrote. Exploring a gay man's longing for love and family, the play is set against the permissive sexual attitudes that was found among many in the gay community. Thus challenging those notions, Collins praised Fierstein for creating a cultural game changer, and asked if he considered the impact as he was writing. "You don't really write for an audience. You write for yourself," said Fierstein.
At the same time, Fierstein admitted he was attacked by some in the gay activists for his take. "You're trying to turn us into heterosexuals," he recalled, "but my feeling was why wouldn't you want the love of a family like everyone had growing up."
Today's movement toward gay marriage, Collins asked whether the playwright received vindication from his peers in the creative community. "Artist don't apologize," he said with a mix of irony and love.
He can relate unapologetically to the lump sum he received for writing on La Cage aux Folles. "I couldn't ever imagine owning $10,000 in my life," he remembers.

Fond Memories of Robin Williams
Working with Broadway legends Arthur Lawrence (West Side Story) and Jerry Herman (Mame) didn't hurt either. Fierstein also fondly remembers getting to know Robin Williams during the filming of Mrs. Doubtfire. "We got close really fast," he said.
On tour to promote the film, Fierstein was actually able to keep pace with William's endless stream of comedy consciousness and further grew the bond. "On one flight, I was Charo the entire way, and Williams was her boyfriend's pet Chihuahua. We argued who loved Charo more," said Fierstein.
More Broadway Reflections
Collins returned the conversation to Broadway by getting Fierstein's thoughts on turning movies into plays – especially in consideration of the chatter involving The Devil Wears Prada. "You can't just put a movie on the stage, and forget whether you can get Anne Hathaway, what really matters is you're not getting Meryl Streep," he stressed.
The same goes for exploiting New York City backdrop on stage and all the high end fashion. But he did see a translation for Kinky Boots and Tony Awards to come.
Unfiltered Harvey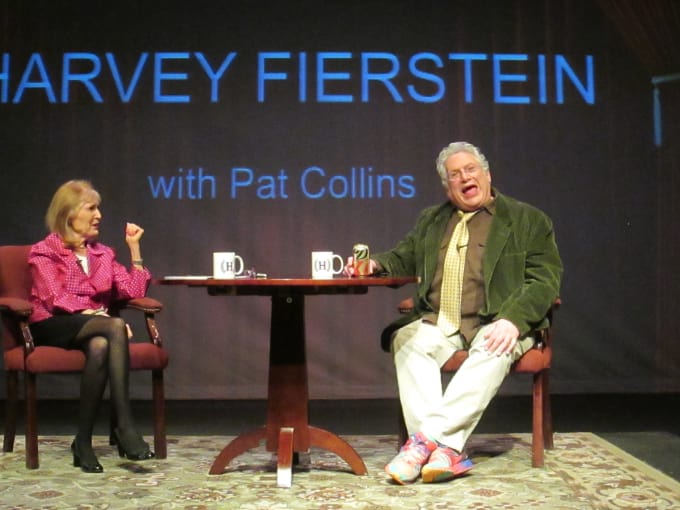 The drag numbers in the film version had him in step upon the initial viewing, but the relationship between the son of a shoe factory owner and a transgendered former boxer solidified his interest. "Their commonalities push them to a point where they nearly kill each other, and I saw I could do something with this," he said.
Collins then let the audience have their say. "What play is the most meaningful for you?" asked a teenage student.
He stood pat with the standard line about each being like his children, and you love them all for different reasons. Of course, Fierstein couldn't resist being cute with an addendum. "I really love the one that paid for my house," he joked.
His advice for young actors off a question from a drama teacher was more sincere. "Never fake it. Do it from the heart and the truth will reveal itself," said Fierstein.

Collins closed the evening by keeping it close to the soul. "The feel here is like Inside the Actors Studio with James Lipton, but instead of asking what you hope God says to you upon entering heaven, how about, what would you ask God," she queried the self-proclaimed atheist.
"So I was wrong," he concluded to the audience's delight.