Geeks is powered by Vocal.
Vocal is a platform that provides storytelling tools and engaged communities for writers, musicians, filmmakers, podcasters, and other creators to get discovered and fund their creativity.
How does Vocal work?
Creators share their stories on Vocal's communities. In return, creators earn money when they are tipped and when their stories are read.
How do I join Vocal?
Vocal welcomes creators of all shapes and sizes. Join for free and start creating.
To learn more about Vocal, visit our resources.
Show less
'Rampage' - Movie Review
A Dumb, Yet Enjoyable Popcorn Flick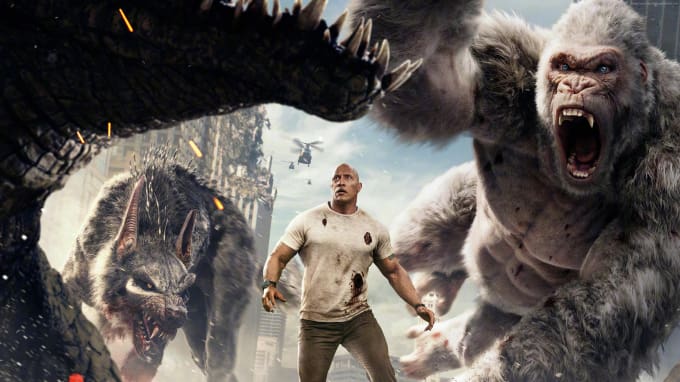 Movies like Rampage hit the big screen many times each year, but they never stand out from the rest, because they're meant to appeal to the lowest of demographics. Kids between the ages of 10 and 16 fall in love with movies like this and then ask themselves why about 10 years later. That being said, Rampage has a little extra flair this time around, due to the star power in Dwayne Johnson. He has become the man to open movies as of late and honestly one of the few remaining big movie stars. Audiences seem to love everything he does, even if they love him for the fact that you're not supposed to take him very seriously. Rampage is exactly the movie that you expect it to be when watching the trailers, but here's why you may get a little more out of it in terms of entertainment.
Based on the popular arcade game that was made famous decades ago, Rampage follows the military, animal trainers, and scientists as they track down and prevent catastrophe after an experiment goes wrong and multiplies the size and anger of a few animals. Yes, the premise is as silly as it sounds when talking about it, so you definitely have to go in ready for a corny ride from beginning to end. With that said, when certain characters say silly lines of dialogue, everything is still taken fairly seriously, so if you can sit back and have a good time with a dumb popcorn flick, then this may be the movie for you.
Dwayne Johnson will continue to be the big star that he is for years to come because his on-screen charm doesn't seem to be going anywhere, at least anytime soon. I would recommend going to see this film for his interaction with everyone, yes, but his relationship with the main genetically-enhanced animal in George is great. This relationship is what will make or break the movie for you because the driving force of the story lies with these two characters. The final act of the movie is all about the culmination of where they started together at the beginning of the film, so if their chemistry doesn't work for you, then you may want to leave the theatre before it really dives in.
This is where I'll dive into my negatives with this film, even though there really aren't many to discuss. The main issues are that the story itself is very familiar and the jokes have been told throughout countless blockbusters throughout the past. This is just about as safe as you can possibly make a movie like this, so I walked out not really complaining but wishing it provided much more than it did. The action is fun and the effects are surprisingly detailed and realistic, but the spectacle is really all this film has to offer for its audience.
In the end, there isn't another way of saying it other than stating that this film is exactly what you are expecting it to be. Animals are mutated and destroy the city. You care about one of them and hope that Dwayne Johnson's character in Davis can work with him to stop everything from getting worse and I'll leave the rest up to your imagination. The conclusion you're probably coming up with is most likely what happens here. Yes, the charisma of Johnson is great, the secondary characters are likable enough, and I can really see this movie appealing to young teenagers, so it does receive a mild recommendation from me, but if you're looking for something innovative in terms of Hollywood blockbusters, then I would suggest looking elsewhere. If you're in for a dumb, but fun ride, then I think you'll appreciate it for what it is like I did.
Rating: 3/5