Ranking The Many Faces Of 'American Horror Story' Star Sarah Paulson
How many versions of Sarah will we see?
Without hesitation, Sarah Paulson is one of the strongest actors on #AmericanHorrorStory — and thanks to her role in Ryan Murphy's The People v. O. J. Simpson: American Crime Story, Paulson is now an Emmy, Golden Globe and Screen Actors Guild Award winner! Finally, she is getting the recognition she rightly deserves.
#SarahPaulson has continually wowed AHS audiences with her various roles, playing eight different characters over the course of six seasons. (Before you type that comment — yes, conjoined twins count as separate people!)
She is now confirmed for Season 7 of American Horror Story, along with Evan Peters. How many versions of Sarah will we see? Until we get answers, here is a ranking of all of her current characters from the show. Who will make it out on top?
(These are all based on personal preference. Spoilers follow for Seasons 1-6 of American Horror Story.)
7. Billie Dean Howard (Season 1)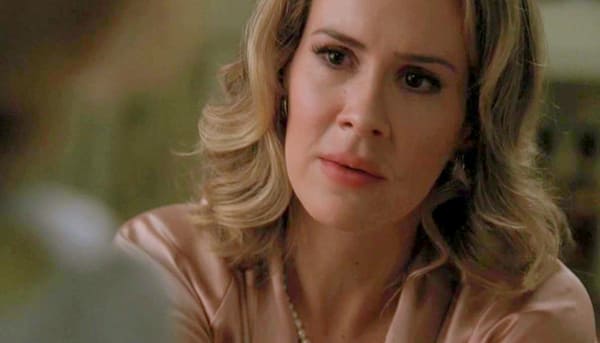 We didn't see much of the medium Billie Dean, other than the three episodes from Season 1 (Murder House). She isn't the worst or a bad character in any sense; I just prefer the other characters because we got to see more of them. In all honestly, I don't think Sarah Paulson has ever had a bad role on the show.
Favorite Quote: "Don't take it out on me just because your dead daughter's mad at you."
Trivia: Billie Dean Howard made a guest appearance in the finale of Season 5 (Hotel).
6. Shelby Miller (Season 6)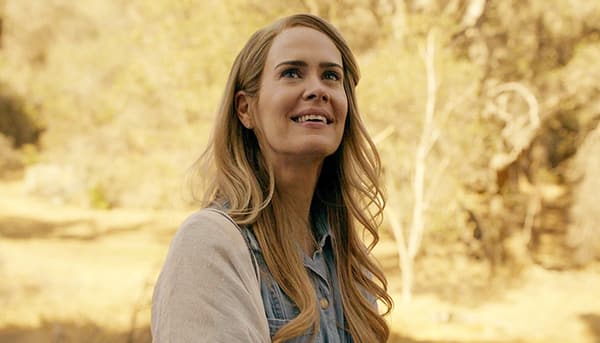 Season 6 received many mixed reviews from audiences, yet Sarah Paulson was nowhere to be found on any negative review. Although she is most memorable for constantly screaming "Matt!", the role of Shelby Miller was still a pretty solid performance from Paulson.
Favorite Quote: "They are desperate to scare us away, Matt. We can't let them."
Trivia: Sarah Paulson has expressed how uncomfortable she is, with fans pairing her and longtime friend, Lily Rabe as a romantic couple. Being the meta season, Paulson playing Lily Rabe's re-enactor in Roanoke sent those fans into a frenzy.
5. "Hypodermic" Sally McKenna (Season 5)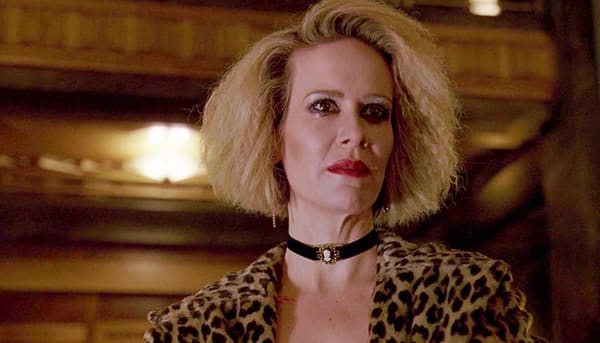 Sally is the darkest role Sarah has gotten to play so far on American Horror Story. Her grunge aesthetic, was a complete departure from the looks we had previously seen her don. Sarah Paulson completely embraced the skin of the tormented junkie — and fans loved it!
Favorite Quote: "The point of being dead is that there are no rules."
Trivia: Sarah Paulson was shooting Hotel at the same time as The People v. O. J. Simpson. This meant that Paulson was going back and forth between being Sally and Marcia Clark, sometimes even on the same day. Check it out below!
4. Audrey Tindall (Season 6)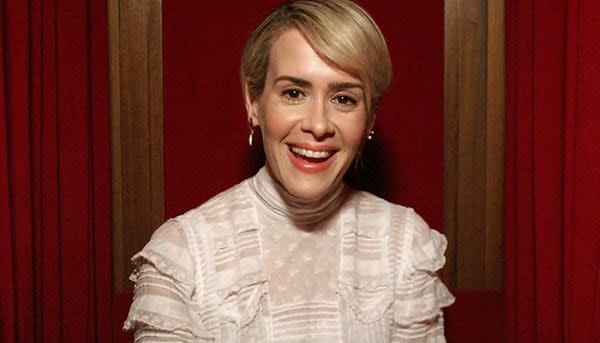 Am I the only person upset that Audrey went out via a police shootout? Well, besides that, I loved Audrey! Her one liners were absolute comedy gold. Who didn't laugh when she exclaimed "Oh, leave me alone! I'm not American — I'm not used to all this carnage"? Audrey could have easily become a throwaway character, but she actually managed to keep me interested in the season.
Favorite Quote: "If I die, I just want you all to know I had so many wonderful performances waiting for you."
Trivia: The tattoo you see on the back of Audrey's neck isn't a part of her character; it's a real-life tattoo that Sarah Paulson has.
3. Bette and Dot Tattler (Season 4)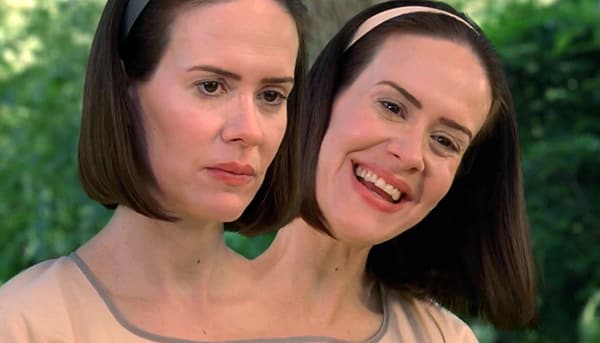 Yes, I am very aware that Bette and Dot are two very different characters and I could rank them separately, but my opinions are pretty much the same for both. Sarah Paulson deserves a whole lot of praise for her skills on Season 4. I can imagine the hard work she had to do in order to tap into the psyche of two completely different people. Just think about the scene where Bette stabs their mother — Paulson had to be in two states of mind simultaneously!
Favorite Quote (Bette): "I want to see the movie. I want to see it now! In glorious technicolor!"
Favorite Quote (Dot): "I'm sure that's not the only thing you give away for free"
2. Cordelia Foxx (Season 3)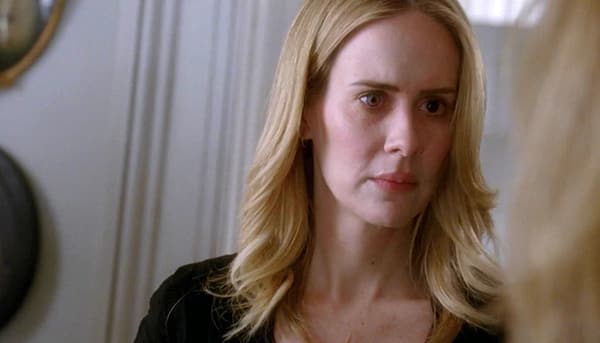 I know that her last name became Goode after she divorced her witch-hunting husband, but she is forever burned into my memory as Cordelia Foxx. Though I have mixed feelings on Coven as a season, I can't fault the character of Cordelia or the performance by Sarah Paulson whatsoever! She was pretty much put through the ringer this season — who could forget the intense moment where she gouged out her own eyes? Yet she rose to the top, the true Supreme indeed. Speaking of survivors...
Favorite Quote: "I have half a mind to enchant the locks after you leave."
Trivia: If she could play another character from the show, Paulson said she would choose fellow witch, Myrtle Snow.
1. Lana Winters (Season 2)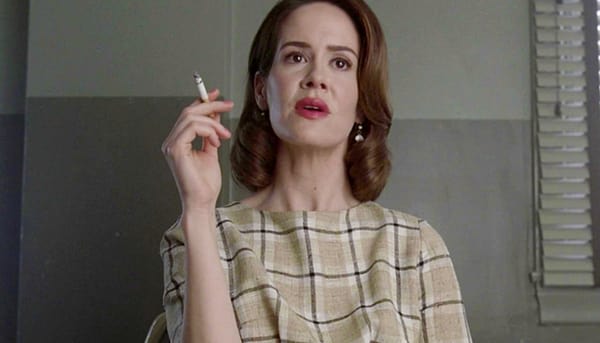 Everyone now — Lana Lana bo bana! I honestly think Lana Winters is one of the most iconic female characters in the show's history or TV in general. I certainly know that I am not the only person who thinks Lana Winters is by far the best character that Sarah Paulson has ever played! Even Sarah herself has stated that Lana is her fave.
A strong and powerful lesbian reporter who goes through the most traumatic situations, she still manages to rise from it all. A true survivor. Plus, who can forget one of the most iconic scenes in American Horror Story history?
Favorite Quote: "I'm goddamn plucky, remember?"
Trivia: Sarah Paulson reprised her role of Lana Winters in the season finale of Roanoke. This meant we saw three different versions of Sarah in one season!