Geeks is powered by Vocal creators. You support
Jashan Boparai
by reading, sharing and tipping stories...
more
Geeks is powered by Vocal.
Vocal is a platform that provides storytelling tools and engaged communities for writers, musicians, filmmakers, podcasters, and other creators to get discovered and fund their creativity.
How does Vocal work?
Creators share their stories on Vocal's communities. In return, creators earn money when they are tipped and when their stories are read.
How do I join Vocal?
Vocal welcomes creators of all shapes and sizes. Join for free and start creating.
To learn more about Vocal, visit our resources.
Show less
Spider-Man Swings Into Feudal Japan With This Bizarre Action Figure
The good folks at Bandai and Entertainment Earth are bringing us a Feudal Japan-era samurai Spider-Man action figure.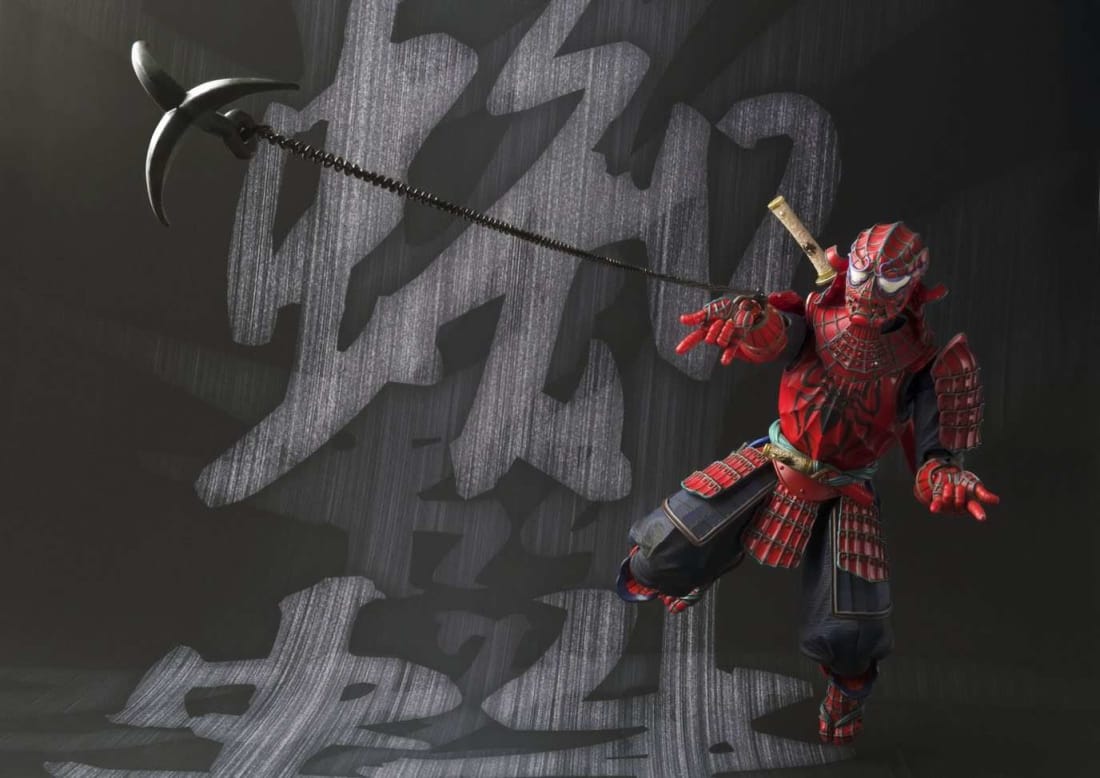 Just like every other major superhero cinematic release, Spider-Man: Homecoming is dominating the toy aisles of every store. Shelves are overflowing with merchandise from the upcoming Marvel movie, ranging from tie-in items to toys based on long-forgotten costumes and villains. Even little-seen variant costumes are getting toys, perhaps hoping for the popularity overflow from their characters.
The good folks at Bandai and Entertainment Earth are getting in on the action by bringing us a samurai Spider-Man action figure, which almost definitely won't be seen in the #MCU movie.
Samurai Spider-Man Meisho Manga Realization Action Figure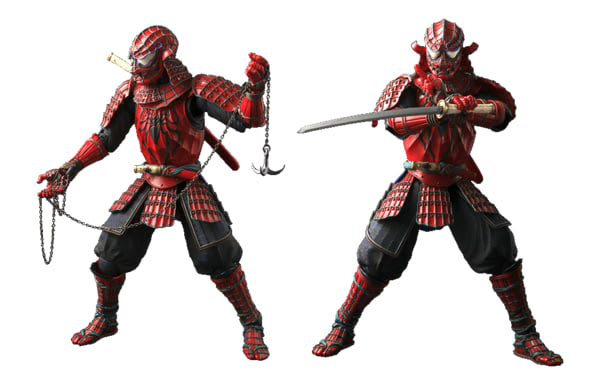 From the Entertainment Earth website:
The hit Meisho series from Tamashii Nations reimagines Marvel's iconic superhero, Spider-Man! Leave it to top sculptor and designer Takeya to take Spider-Man back to Feudal Japan in full, web-like Samurai warrior armor design. True to the feudal spirit, Samurai Spider-Man's ninja kaginawa-style grappling web hook is crafted as chain-like firing mechanism. Like other figures in the Meisho Realization line, Samurai Spider-Man is crafted with semi-soft materials that allow for superior articulations and dynamic posing. Set includes 3 interchangeable hands, Japanese katana set, and kaginawa web hook set (left and right wrist parts)! Measures just over 7-inches tall.
We were fortunate enough to receive one of these action figures to review, so read on for our thoughts on Bandai's dramatic reinterpretation of Marvel's biggest character.
The Packaging
The box isn't anything out of the ordinary, but its design is a thing of beauty to behold. The front features a hyper-stylized photo of the figure slashing around in his signature Thwip! pose, with streaks of white and brown surrounding it. The bottom left corner simply says, "Samurai Spider-Man," with a warning written in Japanese that the product may differ from the images. The back of the box shows the figure in three different positions, highlighting the design, material and different accessories. That's all the information Google Translate can relay to me.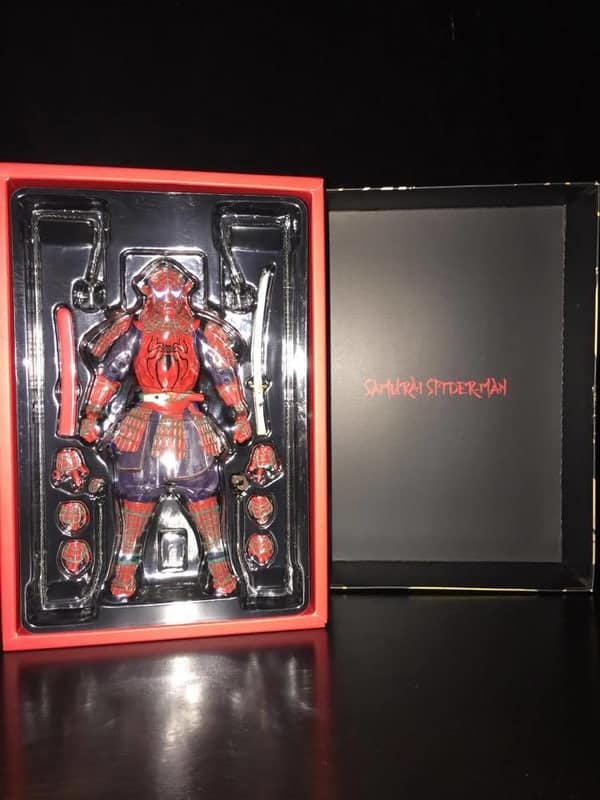 The content inside the box is kept in a black tray, held in place by a molded sheet of clear plastic. #SpiderMan (or should I say, Spider-Manga) is in the middle, with three hands, a katana set, and a web hook on either side of his person. The accessories are easy to pop out and put back in, so it's worth keeping the box.

The Design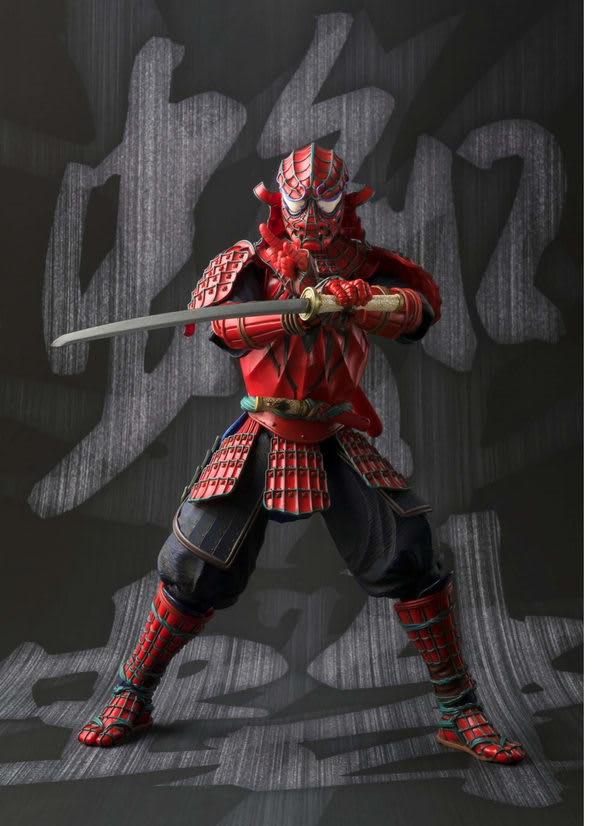 When you decide to turn a teenage superhero from Queens into a samurai from feudal Japan while keeping the same aesthetic, you better knock it out of the park. Luckily, that's exactly what the designers at Bandai Tamashii Nations have done.
First of all (and perhaps most importantly), the key concepts are carried over from the traditional Webslinger costume by way of the red and blue color scheme, the Spider-emblem, and the large white eyes on the mask. Generally, the armor is red and the underlying fabric is navy blue. Save for the lower half of the legs and armor, the entire back is blue. Most of the armor can be adjusted, and some can even be removed completely (like the red plates just below the waist). The textured webbing on the costume is teal and not nearly as jarring as you would think.
Mechanically, the figure is just as fascinating. There's 16 points of articulation, allowing you to create even the most specific poses.
The Accessories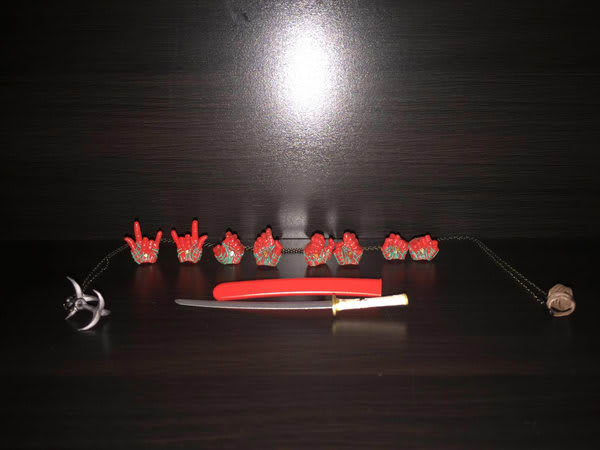 Just like the figure itself, the accessories are well designed and made from durable materials. There's a total of four pairs of hands, a katana and its sheath, and a pair of grappling hooks to replace Spider-Man's webs. The hands and katana is made of the same dense plastic as the figure, while the grappling hooks are metal.
The four pairs of hands include a closed fist, an almost closed fist, an almost open hand, and the quintessential Thwip! hand. Attaching and detaching the hands is a pretty straightforward task, as they can just be pulled off their ball joint. This is also how the web hooks are attached. One end has a brown ring that can be slid onto the figure's forearm when a hand is detached, and is held in place by putting a hand on the arm again. You have to be a little careful with the hook end, though, as it's pretty sharp. The katana is the simplest accessory and can be held by two of the four sets of hands. It can also be held in the sheath, which can be attached to Spider-Man's back.
Shipping and Cost
The #Samurai Spider-Man Meisho Manga Realization is considered a high-end action figure, hence the $91.99 price tag. While that may seem a little steep, it's important to remember the figurine is geared toward collectors and cross-cultural toy enthusiasts (I'm sure they exist), and not so much a seven-year-old Spidey fan. The last thing you need is a kid with a mini grappling hook through his lip. The product offers free shipping, and ships from the warehouse in one business day.
And if you're looking to recreate Spider-Man: Homecoming in Japan, there's a samurai Iron Man figure, too. Because of course there is.