Stephen Merchant And Dwayne Johnson Prepare To 'Rock' In WWE Wrestling Film
Stephen Merchant will be taking his anger out in the ring as he wrestles Dwayne 'The Rock' Johnson in upcoming movie 'Fighting With My Family.'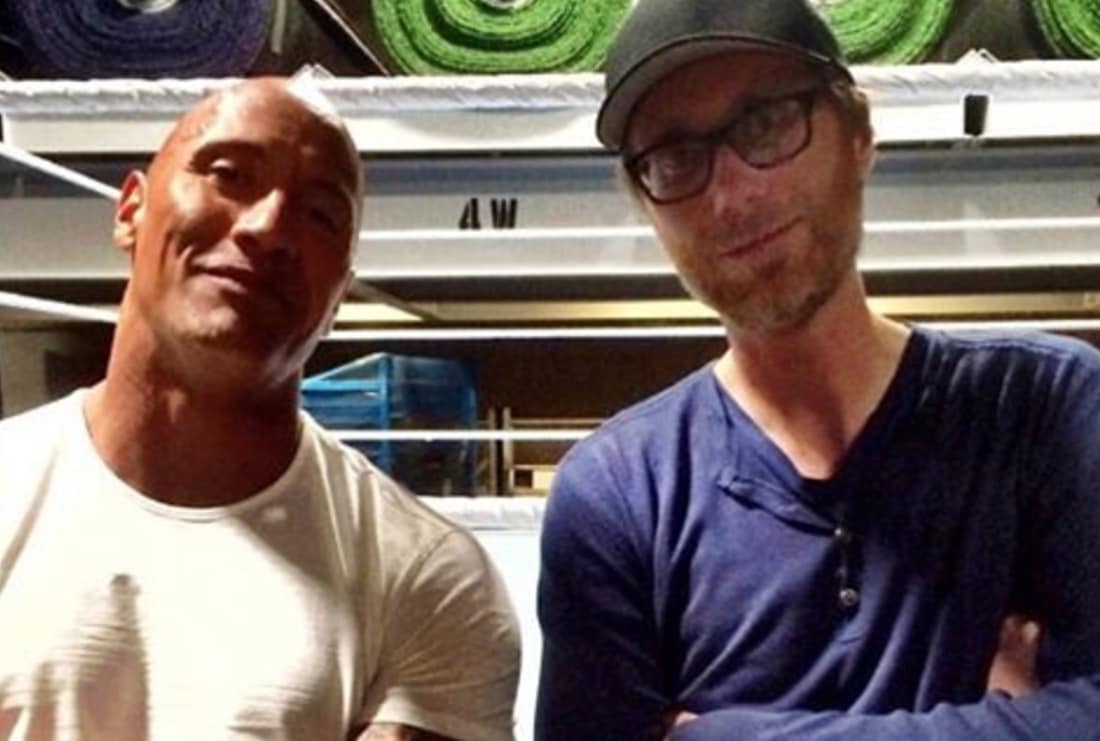 No, this isn't some weird charity fundraiser, British comedian Stephen Merchant will be taking his anger out in the ring as he wrestles Dwayne #TheRock Johnson in upcoming movie Fighting With My Family. After Johnson has finished playing board games in Jumanji and oiling his pecs in Baywatch, his next film venture will be to bring to life the story of British WWE wrestler Paige.
Merchant announced the news on his Instagram, with the comment:
I know what you're thinking: when will @therock and I finally make a movie about a family of wrestlers from Norwich, England. Good news -- we are! Seriously.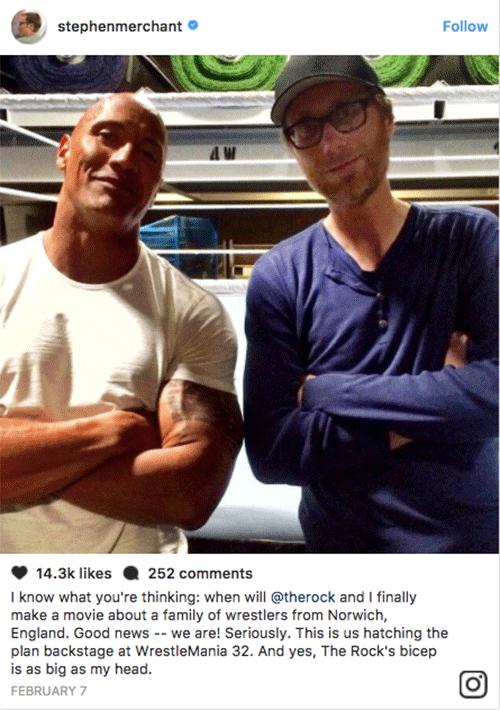 It has since been confirmed that Merchant will write, while Johnson will star and produce under the banner of Seven Bucks Productions, the company he founded with his ex-wife Dany Garcia.

Ding Ding, Round One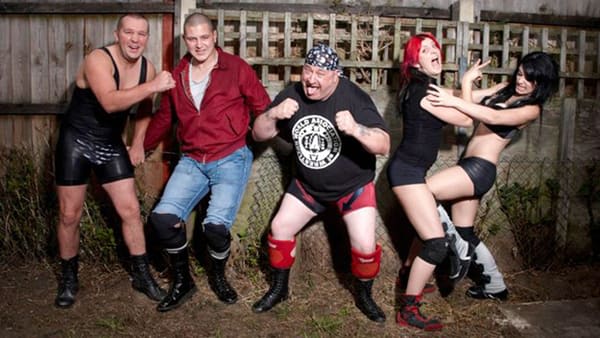 The true story of Saraya-Jade Bevis, a.k.a Paige, and her family of wrestlers was previously told by Film4 documentary The Wrestlers: Fighting with My Family, which Johnson unashamedly watched. Speaking to Deadline, The Rock said that his reason for creating the project has to do with his ongoing passion for wrestling:
"Back in 2012, I was in my hotel room in London and stumbled across a documentary on a local UK channel. Not only was I intrigued by this loving and wild family, but I also felt it's the kind of narrative that would make an amazing movie."
Dubbed a comedy-drama, it is good news for Merchant, who is no stranger to dark comedies; his previous credentials include The Office (UK) and Cemetery Junction. The project has seemingly been in the works for a while, with the pair apparently hatching the plan back at Wrestlemania 32 in April 2016. Showing that he isn't just "rock hard," Johnson said his main motive for bringing Paige to theaters is that he shares an affinity with her:
"The journey is a universal one that all families are familiar with. I relate to Saraya and her wrestling family on such a personal level and it means so much that I can help tell their story."
Jack Lowden, the lead from Christopher Nolan's Dunkirk, will play her brother Zak, with British actress Florence Pugh taking on the role of Paige. Johnson's role is still undisclosed, but let's be honest, he will probably play a wrestler (duh).
We Will Rock You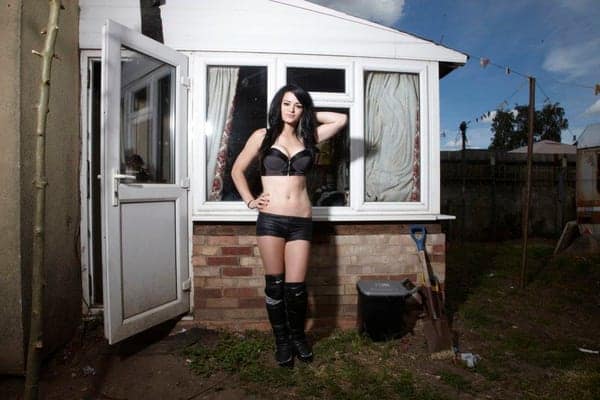 Paige won't be the only focus though, expect the story to look at the rest of the madcap family from Norwich. The story follows retired wrestler/former gangster Ricky and his wife Julia; together with Saraya and Zak, they tour small venues across the country and fight for their supper. As the two children focus on their dreams to be professional wrestlers, it soon becomes clear that their road to the top won't be as easy as they think.
WWE Studios President Michael Luisi will also lend a hand producing, and seems delighted with the project:
"What an incredible opportunity for WWE Studios to partner with revered WWE Superstar Dwayne 'The Rock' Johnson to bring the compelling, heartwarming and often hilarious family story of WWE Superstar Paige to audiences worldwide."
Merchant is also known for his acting, but it is unclear whether he too will have a part — probably as a weedy wrestler. His previous acting work includes parts in Hot Fuzz, and The Invention of Lying, while his next role is as Caliban in James Mangold's Logan. As for The Rock, it will be hard to prise him away from his busy schedule to fit in Fighting With My Family, but I'm sure he will be "cooking" up something good!