Geeks is powered by Vocal creators. You support
Sammi Curran
by reading, sharing and tipping stories...
more
Geeks is powered by Vocal.
Vocal is a platform that provides storytelling tools and engaged communities for writers, musicians, filmmakers, podcasters, and other creators to get discovered and fund their creativity.
How does Vocal work?
Creators share their stories on Vocal's communities. In return, creators earn money when they are tipped and when their stories are read.
How do I join Vocal?
Vocal welcomes creators of all shapes and sizes. Join for free and start creating.
To learn more about Vocal, visit our resources.
Show less
Thoughts I Had During 'Age of Ultron'
This Nightmare of a Movie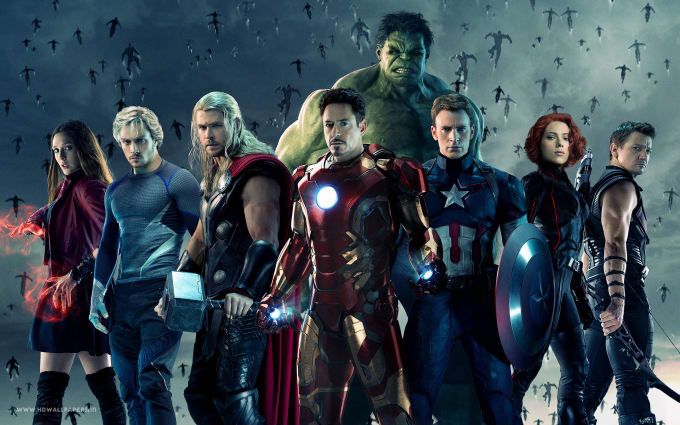 This movie is not good. It's one of the weakest ones in the Marvel Cinematic Universe. It's been some time since I've watched it, so I had to carefully document my thoughts while re-watching it after a few years. It's just as bad as I remember, but don't worry, there's some good in it. Hopefully you can find some nuggets of wisdom in here. These are the thoughts that went through my head during this movie.
OOOOOOOOOH (Thor's legs came into the shot and we all love Chris Hemsworth)

Why does Cap look so rubbery, I don't remember the CGI looking this bad…oh wow it looks even worse now.

Do Sokovians speak English?

Strucker saying, "I'm going to surrender" literally two minutes after confidently saying "My men can hold them" is not funny. It's writing a joke while forgetting what you wrote into the script on the page before.

Cap isn't a superhero, he's a super-gymnast!

Why is Thor taking Hawkeye to the quinjet? Why isn't it Cap? THOR YOU COULD LITERALLY JUMP AND CRASH THROUGH THE ROOF AND TAKE THE SCEPTOR YOU'RE LITERALLY THE STRONGEST ONE THERE.

So everyone who's seen this has already asked this ten million times, but it can't be asked enough, WHEN DID NATASHA AND BRUCE HAPPEN??????

FATHER!! (I refer to Mark Ruffalo as my "celebrity dad" so every time he appears on screen I scream "Father")

Alright, Tony's nightmare vision sets up Infinity War so well. You can really see Thanos and the attack on New York really affected him and he's terrified of the devastation that could happen if he fails.

It's more like the "Three-Day-Weekend of Ultron" if we're being honest.

CHRIS HEMSWORTH'S ARMS DESERVE TO BE WORSHIPPED

Thor is the best part of this movie. They actually let him be so funny in this one it makes me want to go watch Ragnarok instead. God can I please watch Thor Ragnarok now…

Oh my God… I never realized how bad the background of the Avengers tower hanger looks when Maria and Cap are walking and talking about the Maximoff twins, like… this is Justice League levels of horrible.

Helen Cho whispering, "Will Thor be there?" makes her the real hero of this movie.

I love how excited Bruce gets when he starts talking about neurons and other scientific stuff, it's one of the few times when he gets really happy and passionate in the MCU. Tony and Bruce doing science work is amazing and so much fun, science bros for life!

We're at my biggest problem with this movie; artificial intelligence is the newest scientific breakthrough all these sci-fi movies are into and it has potential to be terrifying. Ultron could have been the scariest villain in the MCU and they blew it. That part where he shushes Jarvis and you see his energy-ball-form-thing expand and grow, that's scary. He was a predator taking down the most advanced tech in the world, and then they ruined it and made him a terrible joke machine

That blue shirt on Cap is hot, everyone say thank you to Chris Evans

YOU'RE CAPTAIN AMERICA ARE YOU TELLING ME PEOPLE IN BROOKLYN AREN'T JUST LOOKING OT GIVE YOU AN APARTMENT? WHAT DO YOU MEAN YOU CAN'T AFFORD BROOKLYN? YOU. ARE. AN. AVENGER.

I cannot stress how much I don't understand Nat/Banner

Who else laughed at Cap leaning on the bar looking at Bruce like "ooooh Nat is flirting with you" as if he's a dad watching teenagers being stupid.

I forgot about that "prima nocta" line and I think I just threw up in my mouth a little bit. (Note: prima nocta is a lord's "right" to sleep with any wife on her wedding night if he wants. It's fuzzy if this really was a thing in medieval history, I know they used it in Braveheart, but basically this is a rape joke)

"You're all not worthy." DAMN RIGHT. Thor is honestly the most balanced and fair of all the Avengers. I can imagine him being the most sensible one in Civil War and he can make decisions without personal bias but instead on what is best for the good of everyone. I love Thor.

Cap spins around a lot in this movie when he's fighting, why is this a thing?

RIP Jarvis, you didn't deserve this.

Scarlet Witch's accent is so bad I'm happy she's slowly dropping it as the movies go on.

Ultron saying, "smaller people…children! Lost the word" is the moment that broke me and made me realize they had no intention of exploring the dangers of AI and how machines can take over etc.

And that above line is even more infuriating because while Pietro is telling the story of why they hate the Avengers you can actually see some expression in Ultron's eyes, and the way he listens and tilts his head shows there's some deeper character development and emotion that we never got.

SO CAP IS WEARING A TIGHT SHIRT WITH HIS UNIFORM PANTS AND DAMN SAY THANK YOU AGAIN TO CHRIS EVANS

"What comes out of Wakanda?" SEXY PEOPLE.

The little Wakanda reference here is the most exciting part of the movie because now I'm thinking of Black Panther. God can I please watch Black Panther now…

Andy Serkis is underrated. This guy does brilliant motion capture work and can do so many different voices and accents, can we find a way to get him an Oscar?

While I don't like Ultron's humor, "Ooh, I'm sure that's gonna be okay" after chopping off Andy Serkis' arm is hilarious.

Cap's flashback portrays PTSD so well and how every normal thing from spilling wine to a camera flash can bring a veteran back into their war experiences.

PEGGY CARTER I LOVE YOU.

I hate sad/tortured Bruce.

The Hulkbuster is wicked cool.

That Staples truck with the boxes coming out of the back looks fake as hell.

"Go to sleep go to sleep go to sleep" is iconic.

WHY ARE YOU SMASHING AN ELEVATOR ON THE HULK WHEN THERE ARE LITERALLY PEOPLE STILL RUNNING AROUND THE AREA.

The destruction in this scene is actually excessive, I guess Whedon really wanted to destroy a city.

Lazy writing alert: Tony says "we took a hit" when they're recovering from their fight and Clint reuses that line again to his wife a few minutes later. It's not used like a callback line or anything, it's another instance of lazy writing and not checking what you wrote before shooting the scenes.

Chris Evans has a nice butt.

I won't even go off about that tone-deaf "monster" line because it's been done to death, but I will say screw you Joss Whedon.

"I don't trust a guy without a dark side," Tony said. Cap, glaring at Tony, "Maybe you haven't seen it yet." This is so much better after watching Civil War.

CAP. RIPPING. A. LOG. IN. HALF. IS. SO. SEXY. DAMN.

Watching this again I can't wait to see Fury interact with Captain Marvel.

Why is Thor the only one with it? He figures out the whole Infinity Stone plot by the end of this movie, as stupid as his subplot is, and he just rocks. Also I'll take this weird water scene because shirtless Chris Hemsworth is good for everyone.

Did he just refer to the internet as "the net?" Hello, the 90s called, they want their vocab back.

Ultron has become an emo child yelling at Vision. "You shut me out? Do you think I care?!" Okay, son, go back to your room.

Thor saving that woman in the falling car is the most green-screened thing I've ever seen.

Cap and Thor have a great bromance.

Rhodey's "yes" reminds me of Captain Falcon.

Between "I'll hold your own" and "I'm sending the package" and "How do you want me to take it?" I think a lot of this movie is repurposed porn dialogue.

HOW CAN THE GREEN SCREEN LOOK SO SHIT? NAT AND CLINT ARE DRIVING THEY COULDN'T BUILD AN ACTUALLY SET FOR THIS?

There are too many gratuitous cleavage shots of Scarlet Witch and Black Widow in this movie.

A brother and sister reading together on the same couch is the most fictional part of this movie.

Clint's soon to be dust wife and dust kids are safe for now, but if they don't turn into dust at the beginning of Infinity War part 2 I'm rioting.

I'm drinking Blue Moon while watching this and I don't like this movie.

*screaming profanity at the screen when Joss Whedon's name came up*

THANOS IN THE END CREDITS HECK YEAH LET'S GO IT'S A GREAT VILLAIN. God can I please watch Infinity War now…

I hope you enjoyed my commentary more than you did the actual movie, even though that's not very hard to do.