Geeks is powered by Vocal creators. You support
Christopher Hales
by reading, sharing and tipping stories...
more
Geeks is powered by Vocal.
Vocal is a platform that provides storytelling tools and engaged communities for writers, musicians, filmmakers, podcasters, and other creators to get discovered and fund their creativity.
How does Vocal work?
Creators share their stories on Vocal's communities. In return, creators earn money when they are tipped and when their stories are read.
How do I join Vocal?
Vocal welcomes creators of all shapes and sizes. Join for free and start creating.
To learn more about Vocal, visit our resources.
Show less
What We Need from Joaquin Phoenix's Joker Film
Ha-Ha-Ha-How many Joker's do they need?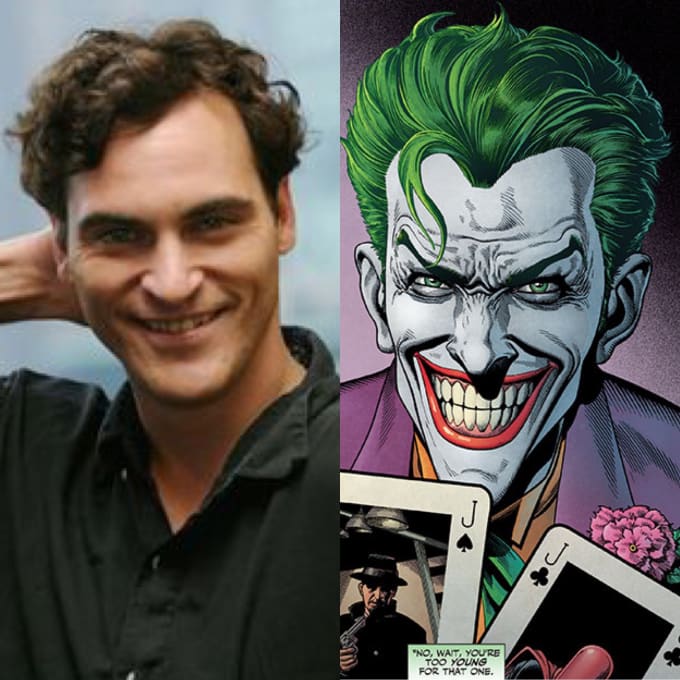 So after all of the rumours, it has finally been confirmed that Joaquin Phoenix will be playing The Joker in a new film for DC Films. The film is to be directed by Todd Philips of The Hangover Trilogy fame, and it is to be set in the 1980's, watching the rise of The Clown Prince of Crime's grasp on Gotham City.
Now, I don't think I'm alone in thinking 'what the f*ck' when thinking of Warner Bros. giving us two Jokers. Jared Leto's version is established in the DCEU whilst Phoenix's will be established in his own standalone film. Each actor to have played the character have brought something unique, but for a Joker film with him as the lead and no Batman, what do we need and expect?
An Origin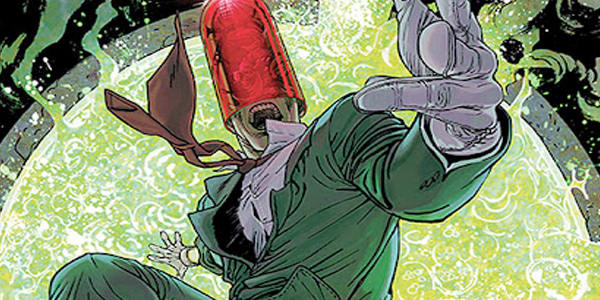 We've had the origins of The Joker hinted at. Of course I am only speaking of the film versions (The Killing Joke gives us a full take on the character's origins). 
For us to have an entire film centred on The Joker, we are being given a chance to really dig deep on him. In the fashion that the first half an hour of a superhero film is dedicated to how the hero starts to become the hero, why can't the same be done with the joker?
Chances are Philips may only touch upon, if at all, the failed comedian/Red Hood side of the classic origin from The Killing Joke. My thought is that he'll go mainly in a new direction that fits his vision for the character; either way I'm sure it'll be fun.
A Reason for His Obsession With Batman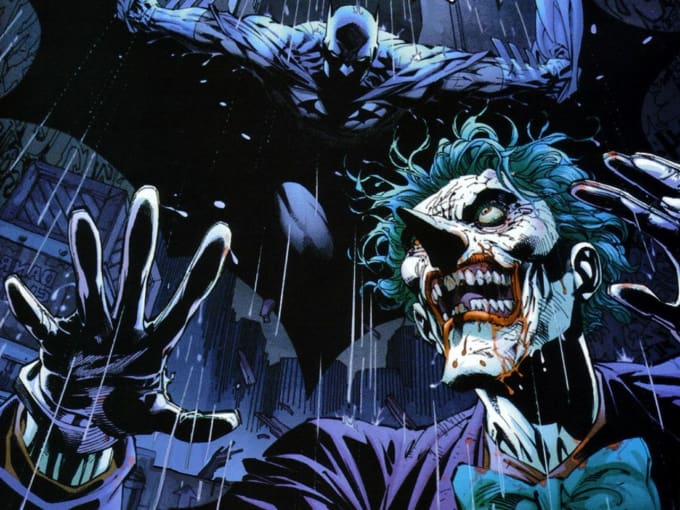 Now let's not forget, this is a Joker film. Not a Batman film. I don't think if would be right to include The Dark Knight, in all honesty. However, to offer a hint as to why Joker becomes so obsessed with him could give us much more depth to their relationship.
Gotham tried to offer us that (and failed in my opinion), as did The Dark Knight in a way, but for this film it would be great to offer even just a tiny scene as to why there's some form of connection and be done with it. Maybe some kind of connection to the Wayne murders (not to copy Tim Burton's version) or a kind of obsession with breaking people's spirits. 
My perfect idea would be that, like The Killing Joke, Batman is indirectly one of the reasons The Clown Prince of Crime is the way he is. But hey, it's Todd Philips, I think whatever avenue he POTENTIALLY goes down with a Batman hint, it'll be a good'n.
When Harley Met Joker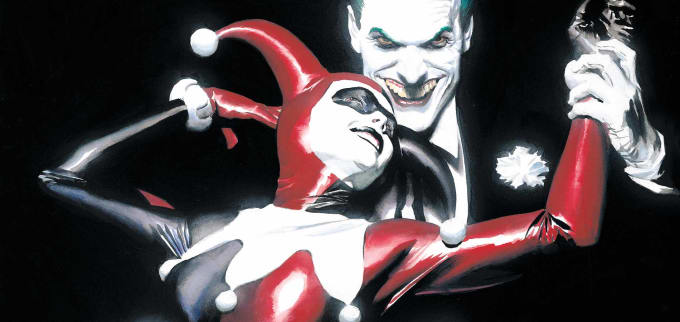 Yes, I know, Suicide Squad, it's been eluded to, it's known, blah blah blah. Hear me out. Suicide Squad offered us Harley Quinn's side of the relationship with her being one of the main characters...not Joker's, plus, whose to say we see all of it?
The introduction could be the perfect ending to the film. The Joker but in Arkham Asylum, and he introduced to Harleen Quinzel, he says something like 'I think I'll enjoy my time here', big wide smile and CUT TO BLACK! It would offer a nice nod to the characters future and the chaos he is known to cause in Gotham. 
HOOOOOOOWEVER. Replacing Margot Robbie? Which they would probably do? Not an easy decision. Be wary, Warner Bros. Be. Wary.
The Joker in His Most Private Moments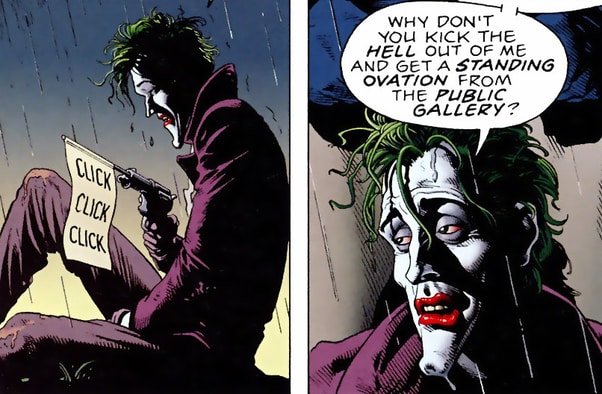 Something interesting about The Joker? We never see the guy on his lonesome. We never see him when there is no show to put on, no façade to mask himself. 
Wouldn't it be interesting, given he is the main character, to have a few scenes where Batman's most popular villain is maybe vulnerable? Maybe, dare I say, human?
It could be an unpopular opinion, but it may work. Many people believe The Joker is truly a lunatic and should just be a constant personification of in insanity. But, this is a Joker film; surely that gives us licence to delve more into his behaviour from all aspects? Everyone's seen Sleeping Beauty, we all think we know Maleficent, then her solo film with Angelina Jolie was released and we got to see a whole new side to the character. We shall see, we shall see.
A Truly Fearsome Joker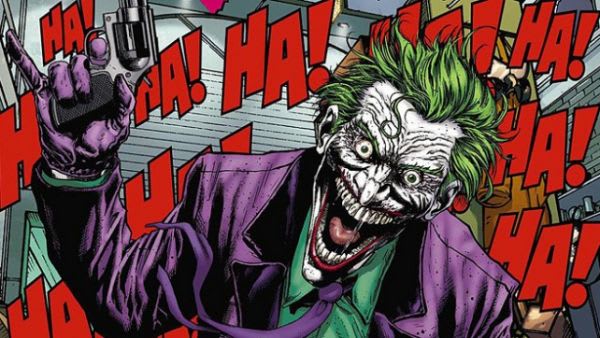 Come on. It's The Joker. In his own solo film. There's going to be a lot going on but COME ON! This is a chance to go full crazy. Full energy. Full Joker, you might say. 
Of course we've seen the character be entirely gruesome and evil before, but for a film where he is the lead, we need to go through the roof. Show us how truly demented he can be. There is no word yet on what age rating the film will be, but we can hope it's lead to have more mature themes to tackle a truly messed up Joker.
Whatever Todd Philips and his guys do, we're in for a treat. We just NEED some things to make it stand out. It's the first time the character had been truly centre stage. So let's hope and pray he is given the cinematic experience that he AND WE deserve!
The Untitled Joker Film begins filming in September with an expected 2019 release.