Geeks is powered by Vocal creators. You support
Tom Chapman
by reading, sharing and tipping stories...
more
Geeks is powered by Vocal.
Vocal is a platform that provides storytelling tools and engaged communities for writers, musicians, filmmakers, podcasters, and other creators to get discovered and fund their creativity.
How does Vocal work?
Creators share their stories on Vocal's communities. In return, creators earn money when they are tipped and when their stories are read.
How do I join Vocal?
Vocal welcomes creators of all shapes and sizes. Join for free and start creating.
To learn more about Vocal, visit our resources.
Show less
You've Got Us 'Dead' Excited: 'The Walking Dead' Gets Its Own Cartoon Series From AMC
While the show had become synonymous with the #horror genre, there is no denying that the comic book takes the violence and the gore to a whole new level.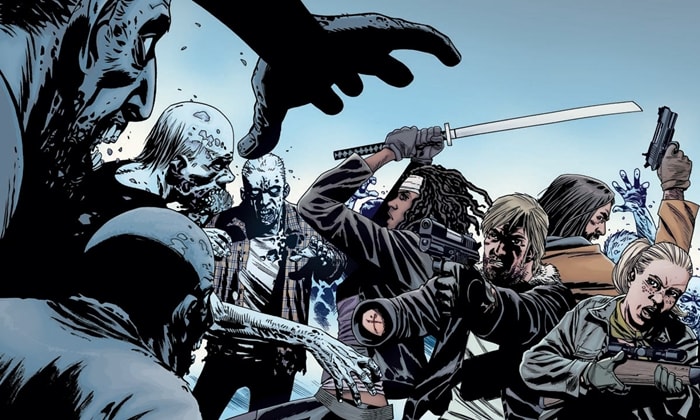 For the past seven years and seven seasons, we have watched Andrew Lincoln superbly act as Rick Grimes on AMC's #TheWalkingDead, but now there is someone else playing the gruff sheriff. Don't worry, Lincoln hasn't quit the popular zombie apocalypse in favor of the bright lights of Hollywood, however, he does have some competition in the acting stakes.
#ImageComics is going back to 2003 to bring their monthly title The Walking Dead back to life. In a move that is definitely not one for the kids, AMC's YouTube channel has released the first issue of the series in motion comic form, effectively giving us The Walking Dead as a cartoon. 
Starting Again
#RobertKirkman's brilliant story is there in all its black and white glory, with AMC promising to turn the first six issues into the "Days Gone Bye" arc. The video was originally uploaded back in 2012, but it looks like AMC is officially kick-starting the series again and this time for keeps. You can marvel in Phil LaMarr's uncompromisingly graphic artwork, so if the channel continues to adapt all of the issues, prepare for some of the most violent events ever to grace our computer screens. More death, more decay, and more eyepatch-wearing, bat-wielding, dick-biting maniacs.
Where Kirkman's show has frequently come under fire for losing its way or lacking the spark of the comic, his work on the page is almost universally accepted as fantastic. With 166 issues currently under the franchise's belt, a The Walking Dead cartoon could be the perfect addition to cash in on the hype of AMC's show and appease its critics.
While the show had become synonymous with the #horror genre, there is no denying that the #comicbook takes the violence and the gore to a whole new level. There are incredibly graphic scenes of rape and torture (including the Governor having his little guy nailed to the floor), which you just wouldn't be able to show on network television. Sure, The Walking Dead on TV may be a brutal head-basher of a time, but is a watered-down version of Kirkman's source material.
At just eight minutes long, it is the perfect bite-sized morsel to feed our hunger for brains. Although the first part is free on AMC and promises to be continued, it is unknown whether future installments will also be gratis. You can easily see the episodes being available on iTunes to milk a healthy profit — I know I would pay.
The only downside, personally, is that I think AMC has missed a trick by not bringing the show's actors back to voice their old roles. While we might not be fussed about Sarah Wayne Callies coming back as Lori, a motion comic would certainly right the wrongs of Laurie Holden's tenure as Andrea.
Releasing the issues as an animated comic is one hell of a way to do the story justice, so here's hoping that we get all the way to Issue #166 and beyond before someone pulls the plug.