Geeks is powered by Vocal creators. You support
A. D. Cullum
by reading, sharing and tipping stories...
more
Geeks is powered by Vocal.
Vocal is a platform that provides storytelling tools and engaged communities for writers, musicians, filmmakers, podcasters, and other creators to get discovered and fund their creativity.
How does Vocal work?
Creators share their stories on Vocal's communities. In return, creators earn money when they are tipped and when their stories are read.
How do I join Vocal?
Vocal welcomes creators of all shapes and sizes. Join for free and start creating.
To learn more about Vocal, visit our resources.
Show less
Cinema Trips - 'The Meg'
The Latest Film About a Giant Shark Based on a Book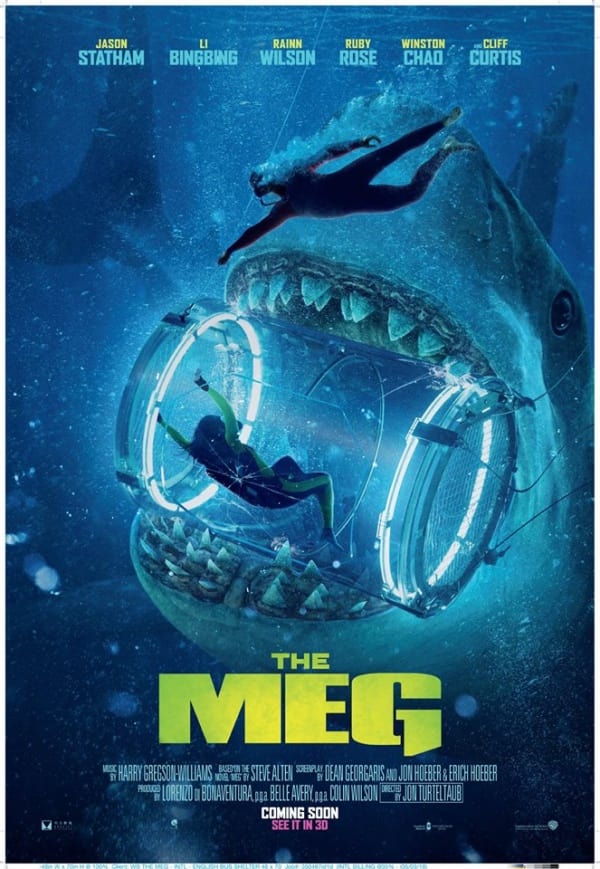 When The Meg was announced and Jason Statham was cast in the film, the thought of him fighting a prehistoric shark alone was enough to get me interested in the film. Thankfully having seen it, I was glad to find that it was a film that knew exactly what it was, and was completely unapologetic about it.
There are two very different films intertwined within this single film. One being the story of the humans and their interactions along with how they all develop their relationships and get to know each other better, the story taking place on the surface. The other being the one that takes place in water and directly involves the shark.
The story that revolves solely around the humans is barely serviceable, attempting to create some amount of emotion and a connection between them and the audience to drive up the tension when the shark is close by. Suffice it to say, I found that to be unsuccessful as I never felt a strong connection or a sense of dread for the characters, though what I did find myself doing was enjoying every single interaction between them. They were a mixture of humorous and playfully awkward, whether it was intentional or not, I found that it really worked for me. 
Where it did not always work was when the characters were being overly serious with each other. That is to say not all did not work, as there were a couple of dramatic scenes that did, however a vast majority ultimately fell flat in my experience of the film when I compare them to the rest of the film.
The romance subplot was not one that needed to be there, however the awkward line delivery and the awkward acting between Jason Statham and Li BingBing really worked for me and would not have, personally, changed anything about it.
The little girl in the film was a true highlight of the film as a whole, she brought on a level of sheer adorableness that the levels were over 9,000, and it is very possible my heart melted anytime she was interacting with the rest of the cast. Another stand out in the cast was Ruby Rose, who from the first frame looked as if she belonged in this film more than any other actor present. It was always a joy whenever she was on the screen in this film. In addition Cliff Curtis is Cliff Curtis and so is great to watch.
In contrast to the majority of the lighthearted scenes with the humans, whenever the film goes underwater and directly involved the shark it switches over to a completely different film. The moments underwater when are quite intense, and the filmmakers managed to drive the intensity up to such a degree that there were a couple of jumps that actually got us. Thankfully they do not overly use jump scares and reserve them to only a few times in the film. 
The scale of the shark was large indeed and they did a great job of conveying that by using other marine life to compare to, in addition the visual effects on the sharks I found to be quite well done and matched the overall tone of the film fantastically. The shark was quite menacing and seeing the characters reactions anytime it is close by or directly attacking them is fantastic.
What I do find quite baffling is the budget of the film. Reported at $150 million, I struggled to see where all that money went. Ultimately this would be one of the deciding factors to it's success and the high budget I feel is a massive huddle to clear. 
My recommendation is to watch as there is a thoroughly good time to be had with the film. However, because of the type of film it is I cannot recommend full price and would rather say to watch on a bargain day when tickets are half priced as it is a film you will really enjoy or really would not.