Impressions on 'Diary of a Madman'
A Mono-Drama Directed by Victor Sobchak and Performed by Arturas Ustinovas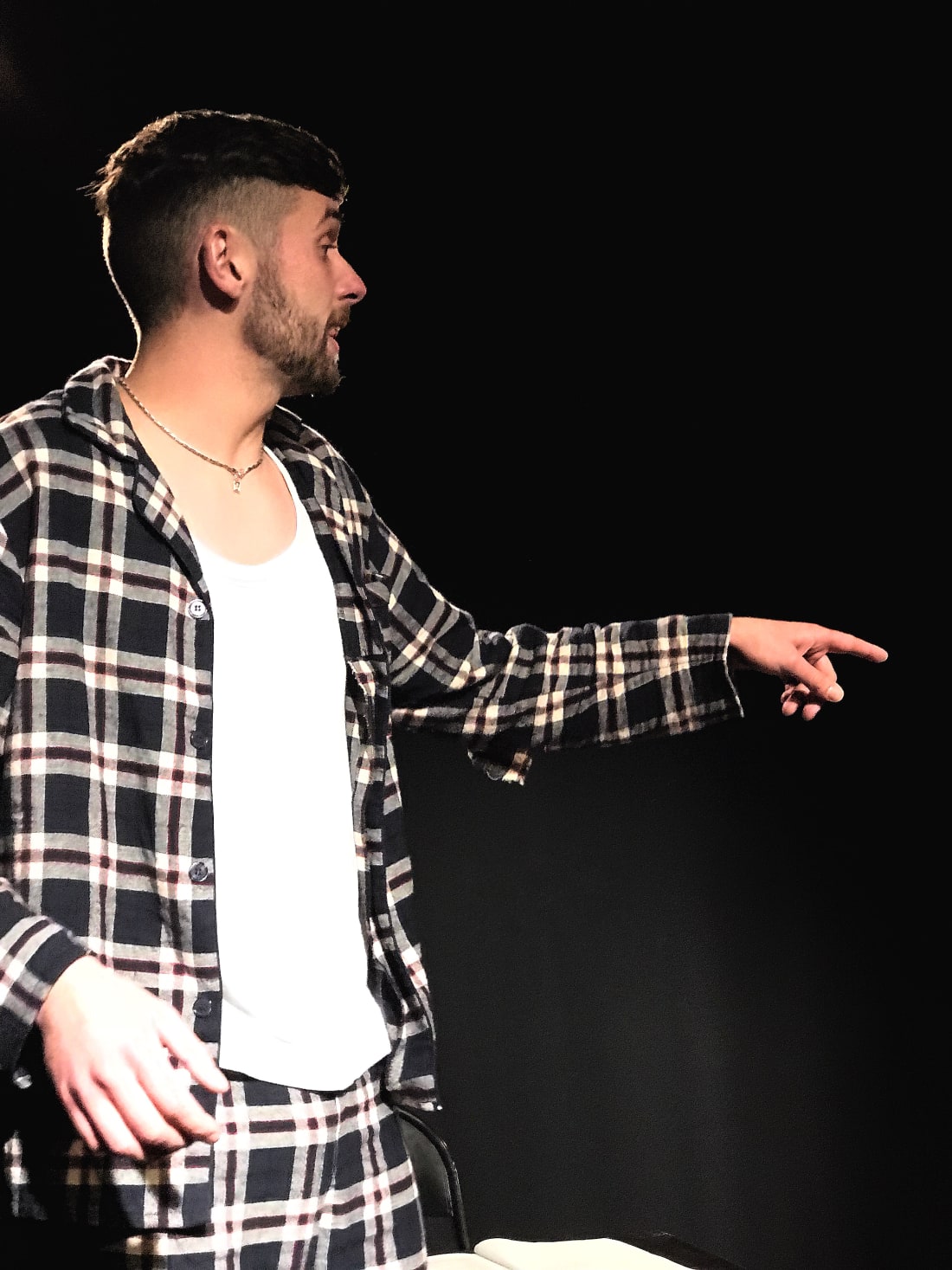 Yesterday, I went to see "The Diary of a Madman" written by Nikolai Gogol, directed by Victor Sobchak, Artistic Director of ART-VIC, the only Anglo-Russian Theatre in the UK and brilliantly performed by Arturas Ustinovas at the Etcetera Theatre, one of the Top 10 fringe venues for theatre and comedy in Camden.
In the following write-up (I do not dare to call it a review, as I am far away from being a critic) describing my impressions from the 45-minute long performance, I will explain why I so bluntly used the word "brilliantly" in the opening sentence in such an impudent and brassy way.
Enthralling Physical Theatre Elements Mixed with Fascinating Vocal Diversity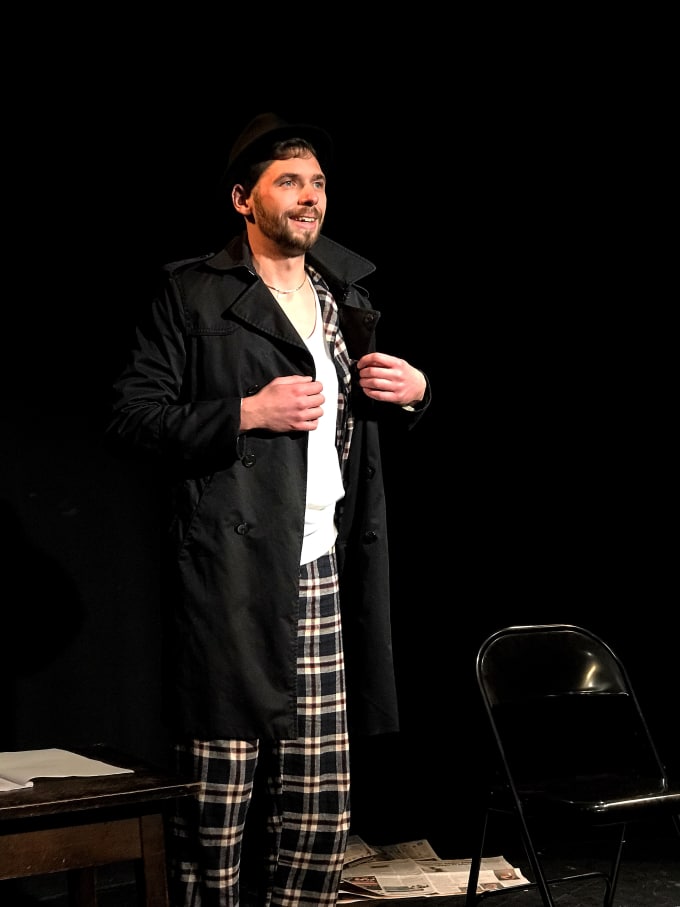 Starting with the basics—the surroundings and the scenery—the director's decision to use a very minimalistic set consisting of two black plastic chairs and an old wooden table against the background of a heavy black curtain and a scratched floor with a few torn papers lying around, in combination with blue, red, yellow, and purple lights, makes the small stage instantly resemble, unequivocally, a cold room in an asylum, which is the place where Aksenty Ivanovich, the main (and only) character in this play, reads from his diary to an imaginable (and the real) audience.
Aksenty, a titular councilor in modern Russia ("modern" at the time; the piece was written in 1835, but I dare say, the events could have been happening today in the same way) tells the story of how he met his boss's daughter and her lapdog. (Yes, it could have been happening today in the exactly same manner!)
When demonstrating what the characters from his memories were doing, Arturas changes his voice and the movements accordingly, impersonating those different people using diverse, clashing facial expressions and gestures to help the audience better see the different characters he is telling about. I suppose, being a musician, it is quite easy for him to change the levels of his voice from an alt to a baritone and bass to nearly a soprano and it undoubtedly sounds very natural and effortlessly. Arturas presenting the individuals from his story in such multiform ways, and using elements of physical theatre, creates very comic moments, especially looking at how he is changing his whole body posture and facial expressions. And then, when he reads from the lapdog's letter, noting that it is "too doggy" and crawling on all fours, mimicking a dog's movements, it provokes even more laughter from the audience diluting this rather sad and depressing piece with some funny bits.
Minimalistic Set in Combination with Colourful Stage Lights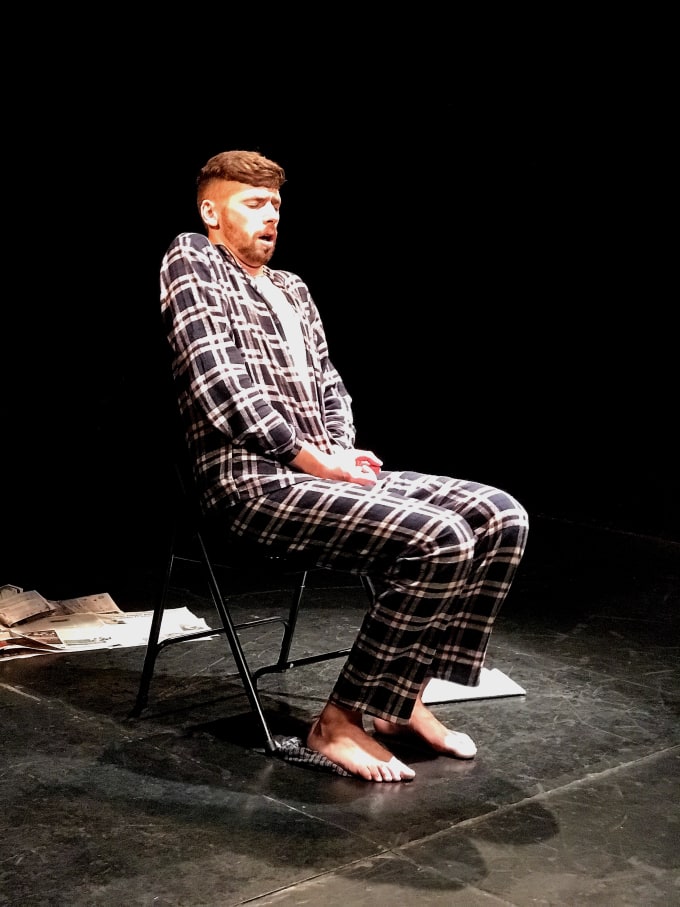 During the short episode, when Arturas, aka Aksenty, talks about how much he longs to peek into Her Excellency's boudoir, hiding behind a chair and peeking over it, you could genuinely see him peeking through the key hole and watching the little, colourful bottles with perfume on the shelves and her long dress glowing in the sun rays coming through the window. Withal, very vivid images are evoked when Aksenty says that he finally realised that he had never been a clerk, but instead Ferdinand VIII, King of Spain, proclaiming which Arturas changes his posture completely. Before long, you could clearly see the heavy golden crown sinking into his soft, brown hair and a long, wine red mantle hanging from his shoulders, which in reality were both made out of old newspapers, leading to the scene becoming even more tragic (demonstrating how much mental illnesses such as schizophrenia can make people suffer).
Going back to the physical movements on stage, when Arturas runs around the stage telling the audience about the soldiers in Spain detaining him, his gestures reminded me a little bit of Johnny Depp displaying Jack Sparrow in Pirates of the Caribbean (not in a bad way!), showing again how passionately Arturas uses elements of physical theatre, entirely changing his whole posture throughout the different moments in time when his character undergoes certain changes (of mind).
A Sad and Depressing Story Diluted with Comic Moments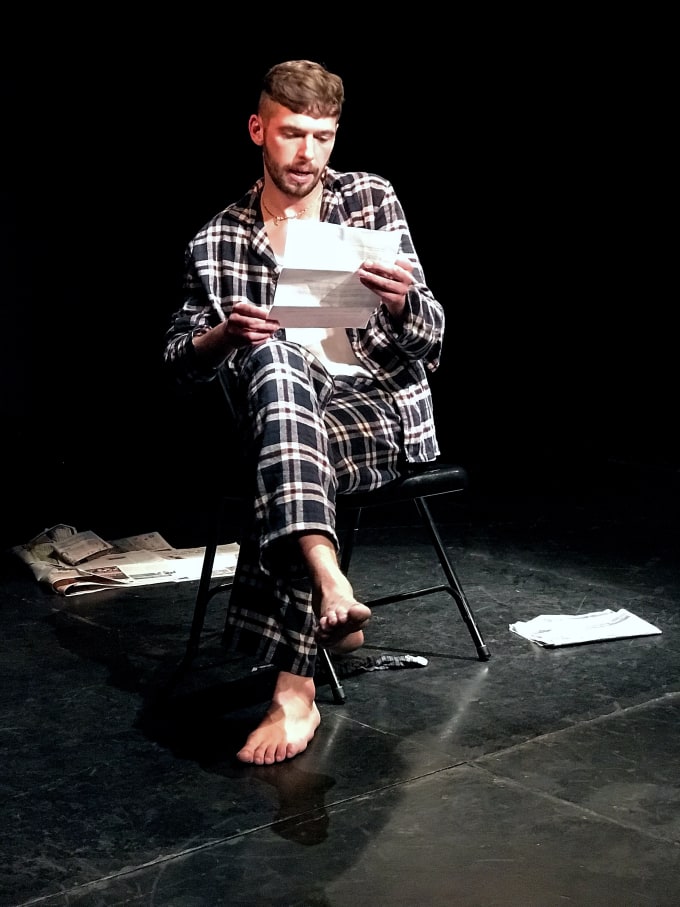 Even though I was constantly taking pictures, trying to find the best moment to capture the emotions streaming from the stage into the audience, in the penultimate scene I completely forgot about my camera. I utterly focused on those few minutes of Aksenty'a final breakdown presented by Arturas in such a heartrending way that it forced tears into my eyes. This scene was the culmination of all the suffering Aksenty went through, talking about his father and mother. I could genuinely see somewhere, in the far end of the room, where Arturas' gaze was fixed at, a small wooden house standing lonely in a vast field of high green grass and a woman sitting on the porch knitting and a man working in the field.
Beyond the shadow of doubt, this was an amazing and heart-stirring evening full of moving associations and vivid imaginary with this one man show virtuously directed by Victor Sobchak and breathtakingly acted out by Arturas during those 45 minutes.
Comparing Arturas' performance yesterday with other roles I have seen him play this year, such as the professor in "Morphine" in January or the English officer Edstaston in "Catherine the Great" in April or Dr. Bormental in "Heart of a Dog" in September and October, I must emphasise that he appeared to be an absolutely different person. The movements, the gestures, the changes in facial expressions and the voice, the whole appearance...
I believe it is very hard to perform solo, not only to be on stage, but to live the life of a different person and to capture the audience with only yourself, using nearly no props whatsoever, with nothing but your body and your voice, which Arturas certainly managed to do very well. There was no single moment during the whole time that the audience was bored or distracted (even when my dog, who was sitting next to me, barked at the moment when Arturas was mimicking a dog on the floor, everyone was still fixated on what was happening on stage, rather than noticing unnecessary background noises). There were funny moments and sad moments but the audience was always waiting for the next step, the next word, the next movement, hanging unreservedly on the protagonist's every word.
45 Minutes of an Heart-Rendering Piece of Art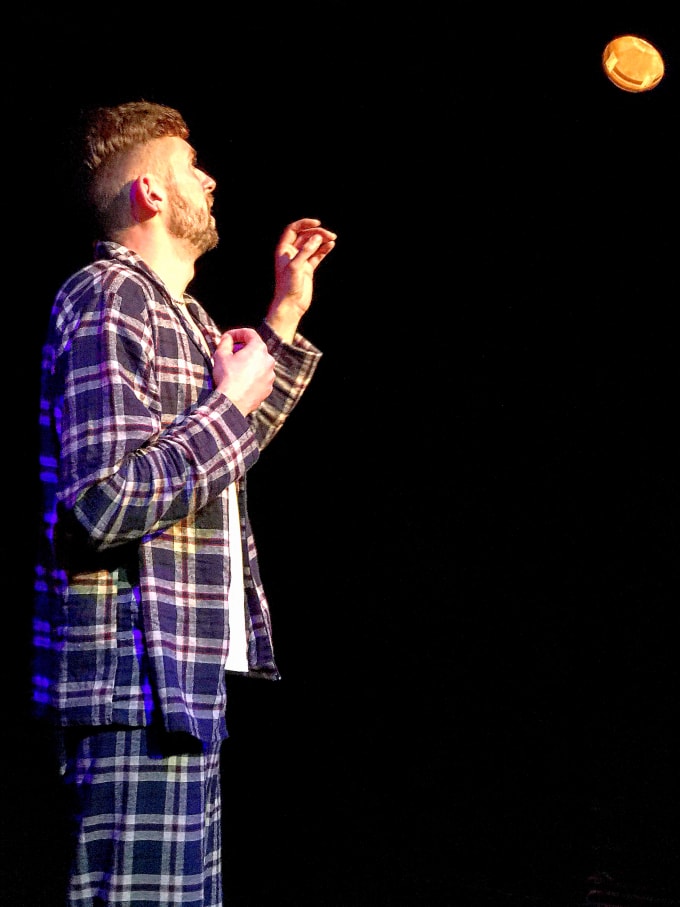 After the show, Dima Sol (who also watched the performance for the second time, same as me) and I trailed off into a long conversation about the performance on our rather long way home (which is the norm for London), which provided us with plenty of time to compare this performance to the first time we saw Arturas "reading" his diary entries in July during the Solo Festival of Mono-Drama at the London Improv Theatre.
Our conversation quickly transformed into a discussion about the meaning of life and happiness, us being specifically hung up on Aksenty's phrase, "Today is the day... Ah! Who cares what day it is today!" This is a very powerful moment which opens up for interpretations to many philosophical things: sanity and insanity, social responsibility, meaning of life, happiness... the list is endless. He is a madman because the society sees him that way, however if he found his meaning in life, which is being the King of Spain as he is persuaded himself to be, then he must be happy, which is probably the most important thing in life. He truly believes that he is the king and that it is his purpose and this fact gives him meaning, which leads to the question: Who cares about what other people think or say, who cares what day it is and who cares about anything else, if you are happy? Does it matter that the world around you is collapsing if you found your purpose, your meaning, your goal—your happiness?!
At last, I just would like to say that whoever came to the performance was able to embrace 45 minutes of a piece of art. Whoever couldn't make it should plan to come next time (and I am sure Arturas will repeat this performance sometime soon again). And, of course, a big THANK YOU to the director Victor Sobchak and the actor Arturas Ustinovas—it is a very riveting piece and it was very enthralling to watch it.
Thank you everyone for reading and pardon me my arrogance for taking the right to "review" this tantalising performance.