Geeks is powered by Vocal creators. You support
Anime Geek
by reading, sharing and tipping stories...
more
Geeks is powered by Vocal.
Vocal is a platform that provides storytelling tools and engaged communities for writers, musicians, filmmakers, podcasters, and other creators to get discovered and fund their creativity.
How does Vocal work?
Creators share their stories on Vocal's communities. In return, creators earn money when they are tipped and when their stories are read.
How do I join Vocal?
Vocal welcomes creators of all shapes and sizes. Join for free and start creating.
To learn more about Vocal, visit our resources.
Show less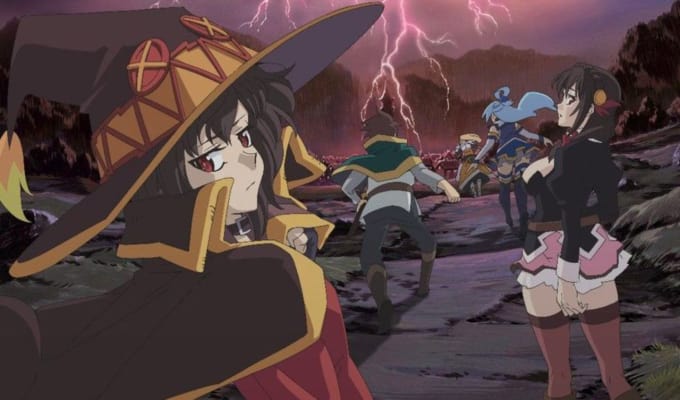 Alright, here it goes. There will be no season 3 for Konosuba, that's right there will absolutely no season 3. What most consider to be one of the best comedy/fantasy anime of all time, will not have an upcoming season. But that is alright. Why? Because there will be a movie coming out next year! Even though there will not be season 3, fans can expect a movie to hit the theaters in Japan next year. It was expected that right after season 2, there would be a season 3 but that is not the case. Could this change be because of a different producing company that has taken over? Possible. Who knows! But what we do know is that a movie will be coming out. The first official visual artwork has been published (the artwork above). There has been no official date of the month and day of its release but there is still plenty of time for that!
The new producing company is none other than J.C Staff productions. If you are not aware of their work, then perhaps anime series like Food Wars, Toradora, and Maid-Sama right a bell? These previous works have been successful hits from J.C Staff, so it is pretty safe to say that Konosuba the movie is in safe hands.
Aqua, Kazuma, Megumin, and Darkness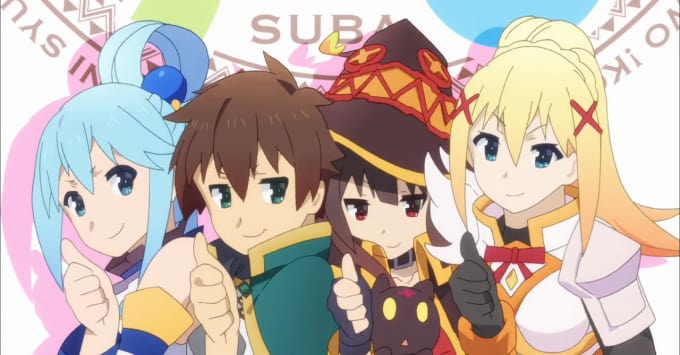 The difference between the production companies can be easily detected. As seen in the above image, that is the work of Studio Deen and the movie's first visual work is very different than the season 1 and 2. Perhaps this change will be accepted by fans or disliked by fans. Animes that have made a switchover of production companies have lost fans due to the change of graphics. A good example of that is High School DxD that had a major graphics change and got a lot of negative feedback from fans. Yikes! Hopefully, Konosuba will not follow into those murky waters and will result in a positive film for fans. The same director, Kanasaki Takaomi, will be working on the movie project, so there is still hope for a successful film.
It will also announce that the Tokyo New City Orchestra will be holding a special concert event on February 9, 2019. Their music had been featured in the anime series, and in the event of the movie release, they will be holding the special concert.
So far we know about the new movie, who will direct it, and which studio is in charge of the project. However, what we do not know is what the new movie is about. There is still no news to date that has given fans any clue as to what the movie will be about. There is yet to release a summary of what to expect from the movie. The only guess that can be made is that the gang will be going to fight the Devil King. Of course, for our fans, we know that the storyline will continue to have hilarious comedy breaks that will end up lightening the mood! So there is much to expect from Konosuba! 
In the end, we do know that Aqua does not return to her godly duties and is currently residing with the other guild members. Mayhaps we will see 
Aqua-bid Kazuma and the rest farewell and return to doing her goddess responsibilities. What will happen with our beloved comedy characters? We will find out soon.