Queer Celluloid Necrology
The "Bury Your Gays" Trope Needs to Die
As a queer person, I have always had to dig for representation. In fact, queer representation in films and television shows helped me, as a kid, figure out important aspects of my identity. Without seeing characters like me on the screen, it would have taken me a lot longer to sort through these confusing feelings I had about myself.
However, looking back on characters I loved as a kid, I can't help but feel bittersweet about them, for various reasons: either the character was stereotypical or written terribly, or they were only a guest character, or—more often than not—they died.
It wasn't until a few years ago that the term "bury your gays" made its way into mainstream use. Up until I heard the term, whenever an LGBT+ character I liked died I just called it "disappointing, but not unexpected." That's how prevalent the trope is. In short, for those unfamiliar with the trope, "bury your gays" essentially means that queer characters in film and television will most likely die rather than have the happy endings that straight characters so often get. I was interested in looking further into how far back this trope goes, and I wasn't surprised to find that the trope has pretty much always existed in some form or another. So, over the past few weeks, I did some research into how queer death has been portrayed throughout history. What I found was worse than I expected it to be.
I started by compiling a list of LGBT+ characters in movies and TV shows who had ultimately died. I managed to find about 347 characters, starting in 1919 with the film Anders als die Anderen and ending all the way up until the present day. (That's nearly 100 years of movies and television shows, so I've most likely missed a few.) Of those characters, I noted how they died, what film or show the character was in, and either what year the film was from or what year the episode the character died in was released. Then, I did some math.
A staggering amount of queer characters from my list were murdered. Many were shot, stabbed, bludgeoned, or were beaten or tortured before they were killed. Many more on the list died of suicide, or some sort of medical condition, or some kind of horrific accident: car wrecks, falling to their deaths, drug overdoses, being hit or run over by some kind of vehicle, the list goes on. Of the 347 characters on this list, only one died of old age.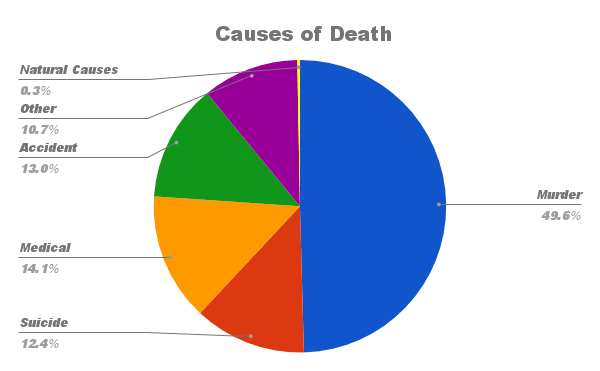 There seemed to be an uptick in queer deaths on the screen in the nineties, but the numbers soar starting in the year 2000. In fact, of all the characters on my list, over half are from the last seven years alone. This begs the question: why are writers suddenly so eager to kill us off? More specifically, why do they want their queer characters to be so brutally murdered?
It may not seem like an issue to some, but when LGBT+ representation is already so slim, character deaths are a big deal. Especially when most of them are being murdered. Whether it's the writers' intentions or not, murdering queer characters over and over gives the idea that real queer peoples lives are worthless, or that being killed is the only thing we have to look forward to. Or that we might die of injuries sustained from being brutalized, or from getting sick with something. Or being so miserable that we end up killing ourselves. When this is the representation an entire community of people receive, for pretty much all of film history, the message is loud and clear: we are expendable, easily thrown away, and our lives and experiences are better for gimmick-y shock value than in-depth exploration.
Representation matters. It's maddening to fall in love with characters who reflect your lived experiences only to see them killed off, over and over again. So, if writers wanted advice on the best way to include LGBT+ characters in their films and shows, they can start with this: stop killing us.
Here is the list:
1900-1919
Paul Kӧmer, suicide (Anders als die Anderen, 1919)
1920-1929
Countess Gerschwitz, murdered (Pandora's Box, 1929)
1930-1939
Manuela, suicide (Madchen in Uniform (European Version) 1931)
Countess Alesca, staked (Dracula's Daughter, 1936)
1940-1949
None
1950-1959
Evelyn Harper, murdered (Caged, 1950)
Sebastian Venable, murdered (Suddenly Last Summer, 1959)
1960-1969
Barrett, suicide (Victim, 1961)
Hallie Gerard, murdered (Walk on the Wild Side, 1962)
Brig Anderson, suicide (Advise and Consent, 1962)
Rosa Klebb, murdered (From Russia With Love, 1963)
Dr. Clancy, murdered (Caprice, 1967)
Alexandre, suicide (The Special Friendship, 1967)
The entire SA, mass murder (The Damned, 1969)
Teddy Lineman, murdered (The Detective, 1968)
Colin Maclver, suicide (The Detective, 1968)
Felix, execution (The Detective, 1968)
Jill, suicide (The Fox, 1968)
Sergeant Callan, suicide (The Sergeant, 1968)
Homosexual, murdered (Justine, 1969)
1970-1979
Wint, murdered (Diamonds are Forever, 1971)
Kidd, murdered (Diamonds are Forever, 1971)
Rocky, suicide (Fortune and Men's Eyes, 1971)
B.Z., suicide (Play It as It Lays, 1972)
Meredith, murdered (Theatre of Blood, 1973)
Mommy, murdered (Cleopatra Jones, 1973)
Nameless Homosexual, murdered (The Day of the Jackal, 1973)
A Transvestite, murdered (Freebie and the Bean, 1974)
Myles, murdered (The Eiger Sanction, 1975)
De Marigny, castration (Drum, 1976)
Lord Durant, murdered (Swashbuckler, 1976)
Julie, hit by car (Executive Suite, 1976)
Gay H.S. Student, murdered (The Choirboys, 1977)
Beverly LaSalle, murdered (All in the Family, 1977)
Colin, murdered (The Long Good Friday, 1979)
J. Edgar Hoover, old age (The Private Files of J. Edgar Hoover, 1978)
1980-1989
Loren Haderman, Jr., suicide (And Justice for All, 1980)
Ted Bailey, murdered (Cruising, 1980)
Loren Lucas, murdered (Cruising, 1980)
Joey, murdered (Cruising, 1980)
Franky Doyle, shot (Prisoner: Cell Block H, 1980)
Sharon Gilmore, pushed down stairs (Prisoner: Cell Block H, 1980)
Ted Dinard, murdered (Dynasty, 1981)
Douglas, murdered (The Fan, 1981)
The Golden Youth, murdered (The Road Warrior, 1981)
Richie, murdered (Streamers, 1983)
Mack Crawford, murdered (Celebrity, 1984)
Channing Capwell, Jr., murdered (Santa Barbara, 1985)
Luke Fuller, murdered (Dynasty, 1985)
Eddie Greg, AIDS (Hill Street Blues, 1986)
Chris, murdered (The Boys Next Door, 1986)
Geni, murdered (Opera do Malandro, 1986)
Karen O'Malley, head injury (Casualty, 1987)
Cecília, car accident (Vale Tudo, 1988)
Bret Johnston, AIDS (St. Elsewhere, 1988)
1990-1999
Javier Fernandez, poisoning (Eldorado, 1992)
Cicely, shot (Northern Exposure, 1992)
Talia Winters, killed by sleeper personality (Babylon 5, 1995)
Beth Jordache, heart condition (Brookside, 1995)
Emmett, heart attack (Grace Under Fire, 1995)
Susan Ross, toxic glue (Seinfeld, 1996)
Naomi "Tracey" Richards, suicide (Band of Gold, 1996)
Lucy, hanged (The Fortunes and Misfortunes of Moll Flanders, 1996)
Frederick Hackett, slashed throat/infection (Bramwell, 1996)
Jimmy Gold, AIDS (Beverly Hills 90210, 1996)
Ferdy, killed offscreen (This Life, 1996)
John Hanley, AIDS (General Hospital, 1996)
Kathy, shot (NYPD Blue, 1997)
Sondra Westwood, murdered (Pacific Drive, 1997)
Matt Fielding, car accident (Melrose Place, 1997)
Jadzia Dax, murdered (Star Trek: Deep Space Nine, 1998)
Sonia Besirky, drug overdose (Lindenstrauẞe, 1998)
Leila, explosion (Torre de Babel, 1998)
Rafaela, explosion (Torre de Babel, 1998)
Susanne Teubner, shot (Hinter Gittern, 1999)
Larry Blaisdell, neck snapped (Buffy the Vampire Slayer, 1999)
Richie Hanlon, murdered (Oz, 1999)
Brandon Teena, murdered (Boys Don't Cry, 1999)
2000-2009
Nat Ginzburg, AIDS (Oz, 2000)
Shaz Wiley, bomb (Bad Girls, 2000)
Laura Hall, heart attack (Shortland Street, 2000)
Tim Bayliss, suicide (Homicide: Life on the Street, 2000)
Pauline "Paulie" Oster, suicide (Lost and Delirious, 2001)
Ronald Barlog, murdered (Oz, 2001)
Diamond, used as lab rat and killed (Dark Angel, 2001)
Xena, beheaded (Xena the Warrior Princess, 2001)
Beate "Bea" Hansen, explosion (Hinter Gittern, 2001)
Jule Neumann, suicide (Hinter Gittern, 2001)
Frankie Stone, murder mystery (All My Children, 2001)
Bridgit, shot (24, 2001)
Tara Maclay, shot (Buffy the Vampire Slayer, 2002)
Kellie Hurst, pushed down stairs (Family Affairs, 2002)
Brandon White, tortured/murdered (The Wire, 2002)
George Shickle, heart attack (Queer as Folk, 2002)
Megan Hartnoll, electrocuted (At Home With the Braithwaites, 2003)
Juliet Becker, stabbed (The Bill, 2003)
Tina Greer, impaled (Smallville, 2003)
Roy Cohn, AIDS (Angels in America, 2003)
Chris Keller, broken neck (Oz, 2003)
Vic Grassi, heart attack (Queer as Folk, 2004)
Tom, beheaded (Hex, 2004)
Sandy Lopez, died from injuries (E.R., 2004)
Al Mackenzie, poisoned (Bad Girls, 2004)
Hanna Novak, stroke (Verbotene Liebe, 2004)
Ines Führbringer, throat slit (Hinten Gittern, 2004)
Thelma Bates, murdered (Hex, 2004)
Flora, beaten/shot (Deadwood, 2004)
Brenda Castillo, stabbed (Charmed, 2004)
Tosha, shot (The Wire, 2004)
Lance Powell, murdered (The Bill, 2005)
Keith Charles, murdered (Six Feet Under, 2005)
Beverley Leslie, fell to his death (Will & Grace, 2005)
Marissa Cooper, car accident (The O.C., 2005)
Servilla, suicide (Rome, 2005)
Dusty, bomb (Queer as Folk, 2005)
Jack Twist, explosion or hate crime (Brokeback Mountain, 2005)
Dana Fairbanks, breast cancer (The L Word, 2006)
Vito Spatafore, Sr., murdered (The Sopranos, 2006)
Cassidy "Beaver" Casablancas, suicide (Veronica Mars, 2006)
Salim, failed bomb attack (Sleeper Cell, 2006)
Cory, magic (Dante's Cove, 2006)
Helena Cain, shot (Battlestar Galactica, 2006)
Manuela Wellman, stabbed (Hinter Gittern, 2006)
Maya Robertson, hit by car (Hex, 2006)
Natalie, bludgeoned (Bad Girls, 2006)
Gina Inviere/#6, set off nuclear weapon (Battlestar Galactica, 2006)
Eva Jacobson/Zoe McAllister, inside blown up building (Home & Away, 2006)
Van, murdered (Dante's Cove, 2006)
Angie Morton, suicide (Strictly Confidential, 2006)
Sir William Compton, plague (The Tudors, 2007)
Marco, murdered (Dante's Cove, 2007)
Tom Friendly, shot (Lost, 2007)
Rae Thomas, stabbed (Passions, 2007)
Jay Copeland, strangled (Shortland Street, 2007)
Lily Baker, murdered (Supernatural, 2007)
Walker McElroy, heart attack (Sordid Lives: the Series, 2008)
Alex, suicide (In Treatment, 2008)
Omar Little, murdered (The Wire, 2008)
George Boleyn, decapitation (The Tudors, 2008)
Mark Smeaton, tortured/decapitation (The Tudors, 2008)
Steve, building collapsed on him (Reaper, 2008)
Alan Corbett, murdered (Supernatural, 2008)
Agent Phil Schlatter, tortured/murdered (Weeds, 2008)
Neil Grayling, heart attack (Bad Girls, 2008)
Toshiko Sato, shot (Torchwood, 2008)
Nicole Wallace, murdered (Law and Order: Criminal Intent, 2008)
Franzi Reuter, gas explosion (Gute Zeiten, schlecte Zeiten, 2008)
Snoop, shot (The Wire, 2008)
Jack Lira, suicide (Milk, 2008)
Felix Gaeta, execution (Battlestar Galactica, 2009)
Ianto Jones, murdered (Torchwood, 2009)
1112, suicide (The Prisoner, 2009)
909, murdered (The Prisoner, 2009)
Joseph Laslie, suicide/possible murder (Kings, 2009)
Kash Karib, house fire (Shameless, 2009)
DEA Agent Ray Till, murdered (Weeds, 2009)
Sarah Barnes, skydiving accident (Hollyoakes, 2009)
Olivia Nord, cardiac arrest (Nip/Tuck, 2009)
Jenny Schecter, murdered (The L Word, 2009)
D'Anna Biers/#3, stayed on toxic wasteland (Battlestar Galactica, 2009)
Dr. Marina Ranieri del Colle, shot (Terapia D'Urgenza, 2009)
2010-
Dale Tomasson, suicide (Big Love, 2010)
Barca, murdered (Spartacus: Blood & Sand, 2010)
Pietros, suicide (Spartacus: Blood & Sand, 2010)
Dan, bitten by vampire (Being Human, 2010)
Dr. Reid Oliver, hit by train (As the World Turns, 2010)
Eddie Fourinier, murdered (True Blood, 2010)
Talbot Angelis, murdered (True Blood, 2010)
Godric, suicide (True Blood, 2010)
Ray Fiske, suicide (Damages, 2010)
Gustavo Fring, bomb (Breaking Bad, 2010)
Silvia Castro León, shot (Los Hombres de Paco, 2010)
Isabella Kortenaer, infection (Goede Tijden, Slechte Tijden, 2010)
Dahlia, confessed (Legend of the Seeker, 2010)
Amy Tyler, shot (Sons of Anarchy, 2010)
Sophia, suicide (Skins UK, 2010)
June Stahl, shot (Sons of Anarchy, 2010)
Chad Warwick, shot (American Horror Story: Murder House, 2011)
Lionel Trane, car accident (United States of Tara, 2011)
Roman Wild, brain tumor (Alles was zählt, 2011)
Fer, shot (Física o Química, 2011)
Patrick, murdered (American Horror Story: Murder House, 2011)
Lee Fallon, cancer (The Big C, 2011)
Jackson Walsh, euthanized (Emmerdale, 2011)
Auctus, killed in combat (Spartacus: Blood & Sand, 2011)
Max Arciniega, murdered (Breaking Bad, 2011)
Mansour Al-Zahrani, bomb (Homeland, 2011)
Tyler Barrol, shot (Revenge, 2011)
Marissa Tasker, shot (All My Children, 2011)
Patty O'Farrell, suicide (La Reina del Sur, 2011)
Veronica Cortes, car accident (La Reina del Sur, 2011)
Susan Grant, septic shock (Private Practice, 2011)
Bizzy Forbes, suicide (Private Practice, 2011)
Queen Sophie Ann Leclerq, shot (True Blood, 2011)
Gaia, murdered (Spartacus: Gods of the Arena, 2011)
Angela Darmody, shot (Boardwalk Empire, 2011)
Louise Bryant, shot (Boardwalk Empire, 2011)
Paul, AIDS (Don't Ever Wipe Tears Without Gloves, 2012)
Rasmus, AIDS (Don't Ever Wipe Tears Without Gloves, 2012)
Bill Forbes, murdered (The Vampire Diaries, 2012)
Issak Sirko, shot (Dexter, 2012)
Jesús Velásquez, murdered (True Blood, 2012)
Renly Baratheon, murdered (Game of Thrones, 2012)
Freya Wilson, house fire (Doctors, 2012)
Nadia, stabbed (Lost Girl, 2012)
Laure, disappeared/assumed dead (Les Revenants, 2012)
Cat Mackenzie, hit by car (Lip Service, 2012)
Charlie, life support shut off (Home & Away, 2012)
Wendy, murdered (American Horror Story: Asylum, 2012)
Lucretia, murder-suicide (Spartacus: Vengeance, 2012)
Maya St. Germaine, bludgeoned (Pretty Little Liars, 2012)
Russel Edgington, staked (True Blood, 2013)
Steve Newlin, murdered (True Blood, 2013)
Kyle Bishop, hit by car (Smash, 2013)
Doug Carter, bomb (Hollyoakes, 2013)
Rick Macey, murdered (In the Flesh, 2013)
Jacob Wells, murdered (The Following, 2013)
Paul Torres, murdered (The Following, 2013)
Daniel Davenport, suicide (Dracula, 2013)
Stephen James Laurent, executed (Dracula, 2013)
Nora Gainsborough, Hep-V (True Blood, 2013)
Beate, poisoned (Bron/Broen, 2013)
Natalie, found dead in woods (Siberia, 2013)
Annie, shot (Siberia, 2013)
Helen Bartlett, suicide (Scott & Bailey, 2013)
Clementine Chasseur, eaten (Hemlock Grove, 2013)
Nan Flanagan, staked (True Blood, 2013)
Saxa, sword wound (Spartacus, 2013)
Shana Fring, fell off stage (Pretty Little Liars, 2013)
Naomi Campbell, cancer (Skins UK, 2013)
Cristina, head injury (Tierra de Lobos, 2013)
Alisha, shot (The Walking Dead, 2013)
Emily, ancient druidic "triple death" (Teen Wolf, 2013)
Alice Calvert, heart attack (Under the Dome, 2013)
Bullet, murdered (The Killing, 2013)
Tricia, drug overdose (Orange is the New Black, 2013)
Texas Longford, shoved out window (Hollyoakes, 2013)
Tina Patterson, murdered (Boss, 2013)
Adam Torres, car accident (Degrassi, 2013)
Thomas Hamilton, suicide (Black Sails, 2014)
Paxton Curtis, suicide (How to Get Away With Murder, 2014)
James Novak, shot (Scandal, 2014)
Stanley, murdered (American Horror Story: Freak Show, 2014)
Dell Toledo, murdered (American Horror Story: Freak Show, 2014)
Andy, murdered (American Horror Story: Freak Show, 2014)
Dr. Johann Pryce, murdered (Hemlock Grove, 2014)
Alejandro Rubio, murdered (Devious Maids, 2014)
Deniz Öztürk, AIDS (Alles was zählt, 2014)
Joscha Degen, murdered (Alles was zählt, 2014)
Daniel Douglas Langston, murdered (Scandal, 2014)
Lucy, bludgeoned (American Horror Story: Freakshow, 2014)
Alice, bludgeoned (American Horror Story: Freakshow, 2014)
Jana Murphy, suicide (The Following, 2014)
Uriel, airstrike (Dominion, 2014)
Claire Bennet, dies in childbirth/cardiac arrest (Heroes Reborn, 2014)
Victoria Hand, shot (Agents of S.H.I.E.L.D., 2014)
Isabelle Hartley, car accident (Agents of S.H.I.E.L.D., 2014)
Catriona, suicide (Doctors, 2014)
Nadia Petrova, werewolf venom (The Vampire Diaries, 2014)
Reyna Flores, shot (Matador, 2014)
Tara Thornton, bullet/true death (True Blood, 2014)
Leslie Elizabeth Shay, pipe collapse in fire (Chicago Fire, 2014)
Kenya Rosewater, poisoned (Defiance, 2014)
Rose, throat slit (Crossbones, 2014)
Michael Corrigan, political protest/suicide (House of Cards, 2015)
Will Drake, murdered (American Horror Story: Hotel, 2015)
Alex/Alistair Turner, murdered (London Spy, 2015)
Lance Sullivan, murdered (Cucumber, 2015)
Elias Harper, suicide (Quantico, 2015)
Will Horton, murdered (Days of Our Lives, 2015)
Paul Woodrugh, shot by police (True Detective, 2015)
Aiden, murdered (The Originals, 2015)
Lucas Parker, murdered (The Vampire Diaries, 2015)
Varick Strauss, murdered (Ray Donovan, 2015)
Rachel Posner, ran over (House of Cards, 2015)
Elise Beaupré, cancer (Unité 9, 2015)
Tituba, murdered (Salem, 2015)
Jenna Dickerson, neck broken (Supernatural, 2015)
Kate, hit by car (Last Tango in Halifax, 2015)
Natacha Rambova, shot (American Horror Story: Hotel, 2015)
Destiny Rumaneck, head injury/broken neck (Hemlock Grove, 2015)
Adele, throat slit (The Lizzie Borden Chronicles, 2015)
Connie Ward, sinking ship (Home Fires, 2015)
Denise/Simone, shot (Felizes para Sempre?, 2015)
Wendy Ross-Hogarth, bludgeoned (Jessica Jones, 2015)
Samantha Krueger, shot (Ascension, 2015)
Maddie Heath, explosion/died in hospital (Coronation Street, 2015)
Lillian Moss, shot (Murdoch Mysteries, 2015)
Tamsin, died in childbirth (Lost Girl, 2015)
Carolyn Hill, crushed (Under the Dome, 2015)
Vivian, cancer (Mistresses, 2015)
Sam, suffocated (Scream Queens, 2015)
Sophia Varma, suicide (Blindspot, 2015)
Sally, pushed out window (American Horror Story: Hotel, 2015)
Charlie, stabbed (Supernatural, 2015)
Rachael Murray, broken neck (Scream, 2015)
The Countess, shot/decapitated (American Horror Story: Hotel, 2015)
Ruby Haswell, helicopter crash (Emmerdale, 2015)
Jack, murdered (The Fosters, 2016)
Gina, murdered (Shut Eye, 2016)
Susan, murdered (Van Helsing, 2016)
Helen, dies in childbirth (Masters of Sex, 2016)
Julia, car accident (The Exorcist, 2016)
Rhonda Lyon, falls to death (Empire, 2016)
Roz Walters, murdered (Guilt, 2016)
Sara Harvey, died in shower (Pretty Little Liars, 2016)
Danielle Cormack, murdered (Wentworth, 2016)
Poussey Washington, suffocation (Orange is the New Black, 2016)
Molly Ryan, murdered (Guilt, 2016)
Monica Gallagher, cerebral hemorrhage (Shameless, 2016)
Lexa, shot (The 100, 2016)
Zora, throat slit (The Shannara Chronicles, 2016)
Carla, cancer (Code Black, 2016)
Julie Mao, infected by alien pathogen (The Expanse, 2016)
Ash, shot (Janet King, 2016)
Kira, suicide (The Magicians, 2016)
Denise, shot in eye with crossbow (The Walking Dead, 2016)
Nora, suicide (The Vampire Diaries, 2016)
Mary Louise, suicide (The Vampire Diaries, 2016)
Mimi Whiteman, poisoned (Empire, 2016)
Camilla, poisoned (Empire, 2016)
Cara Thomas, hit/run over (Marcella, 2016)
Pamela Clayborne, shot (Saints & Sinners, 2016)
Felicity, shot (The Catch, 2016)
Bridley, stabbed (The Family, 2016)
Bethany Mayfair, shot (Blindspot, 2016)
Karen Kim, fell to death (Mistresses, 2016)
Root, shot (Person of Interest, 2016)
Zoë Vaughn, drowned (Scream, 2016)
Loras Tyrell, burned alive (Game of Thrones, 2016)
Edward Meechum, shot (House of Cards, 2016)
Barbara Kean, murdered (Gotham, 2017)
Mrs. Kaplan, suicide (The Blacklist, 2017)
Mia Rochland, shot (Rogue, 2017)
Martha, hanged (The Handmaid's Tale, 2017)
Annie Kaplan, shot (The Blacklist, 2017)
Heather, absorbed by alien puddle (Doctor Who, 2017)
Citlali López, suicide (Ingobernable, 2017)
Eleanor Gutherle, stabbed with sword (Black Sails, 2017)
Bill Potts, shot (Doctor Who, 2017)
Jukebox, shot (Power, 2017)
Ivy Mayfair-Richards, poisoned (American Horror Story: Cult, 2017)
Renée, run over (Slasher, 2017)
Talvinder, murdered (Slasher, 2017)
Susan, neck broken (Slasher, 2017)
Winter Anderson, strangled (American Horror Story: Cult, 2017)
Bebe Babbitt, shot (American Horror Story: Cult, 2017)
Emily "A&W" Blake, neck broken (Prison Break, 2017)