Geeks is powered by Vocal creators. You support
Alex Hodgson
by reading, sharing and tipping stories...
more
Geeks is powered by Vocal.
Vocal is a platform that provides storytelling tools and engaged communities for writers, musicians, filmmakers, podcasters, and other creators to get discovered and fund their creativity.
How does Vocal work?
Creators share their stories on Vocal's communities. In return, creators earn money when they are tipped and when their stories are read.
How do I join Vocal?
Vocal welcomes creators of all shapes and sizes. Join for free and start creating.
To learn more about Vocal, visit our resources.
Show less
A Bot Wrote a 'Scrubs' Episode Good Enough for Zach Braff to Call for a Reunion
Thanks to the magic of the internet and artificial intelligence, BOTNIK Studios has created a bot that's actually managed to write a wondrously average Scrubs script.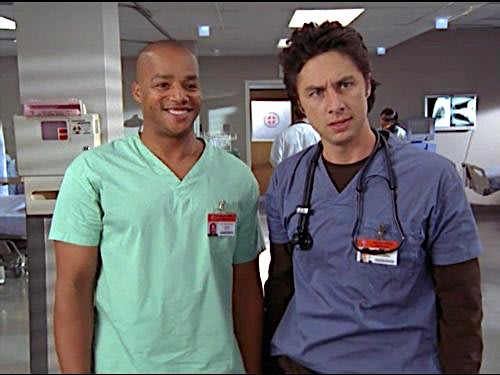 Bill Lawrence's Scrubs was a hit with the fans when it was on the air from 2001 to 2010. A comedy with a heart, the show had the unique ability to make you laugh out loud and cry all within the same episode. Whether it was J.D.'s daydreaming, Dr. Cox's ranting or the Janitor's utter nonsense, there was a charm to each and every character, and their interactions made for an entertaining show. It's hard to believe that it's been eight years since J.D. walked out of Sacred Heart Hospital for the last time (let's pretend Season 9 didn't happen, okay?).
Yep, it's really been that long since Season 8's "My Finale" (which was absolutely perfect, by the way), but the memories remain and the characters are undoubtedly still in the fan's hearts. With so many quotable moments, the show lives on to this day, and many fans are able to recount their favourite jokes, rants or memories. So then, the fans might just be wondering: "What would the most average Scrubs episode ever be?" Considering all those quotable lines and poignant scenes, surely there's some that slipped under the radar and hint at the more average lovability of the show, right?
Well, wonder no more, because thanks to the magic of the internet and artificial intelligence, BOTNIK Studios has created a bot that's actually managed to write a wondrously average Scrubs script:
The script features a number of quintessential Scrubs elements, not least the constant narration from J.D. being the guide to the story. Carla refers to J.D. as "Bambi," the Janitor is up to some hare-brained scheme (as per usual) and Dr. Cox even manages to get a rant in. Every actual episode featured these moments in some small way, and this is reflected in the new, A.I.-written script. While the "exact average episode" features the aforementioned Scrubs tropes, there's a little bit of awkward dialogue thanks to the fact it was written by a computer. One example of this is "Dr. Cox licks his pen and finds it tastes broken," so maybe it'd need a little bit of tweaking before it went to air.
This Average 'Scrubs' Script Caught The Attention Of Someone Important
Despite these quirks, it's certainly got people talking including #ZachBraff — Dr John Dorian himself. Braff noticed the tweet from BOTNIK discussing the "average Scrubs script" and immediately made this comment:
At the moment, there's not been any response from any of his co-stars, but there is still hope. Surely it's only a matter of time before one of them responds, right? The cast have all remained good friends since the show's end, especially Braff and Donald Faison (who are exactly like J.D. and Turk IRL), so it'd be a joy to see them reunited once more.
The Scrubs cast may be keeping Braff on tenterhooks, but a number of Scrubs fans excitedly replied to Braff's tweet when they saw his proposal:
Let's be honest, we all want to see J.D., Turk, Elliot, Carla, Dr. Cox, Dr. Kelso and the Janitor together once again and maybe this is the perfect way to do it.