Geeks is powered by Vocal creators. You support
Edward Anderson
by reading, sharing and tipping stories...
more
Geeks is powered by Vocal.
Vocal is a platform that provides storytelling tools and engaged communities for writers, musicians, filmmakers, podcasters, and other creators to get discovered and fund their creativity.
How does Vocal work?
Creators share their stories on Vocal's communities. In return, creators earn money when they are tipped and when their stories are read.
How do I join Vocal?
Vocal welcomes creators of all shapes and sizes. Join for free and start creating.
To learn more about Vocal, visit our resources.
Show less
Ariana Grande Owned the Internet
In a Twitter Feud with Piers Morgan, Grande proved that she is more than an incredible voice, she's a tart-tongued rival as well.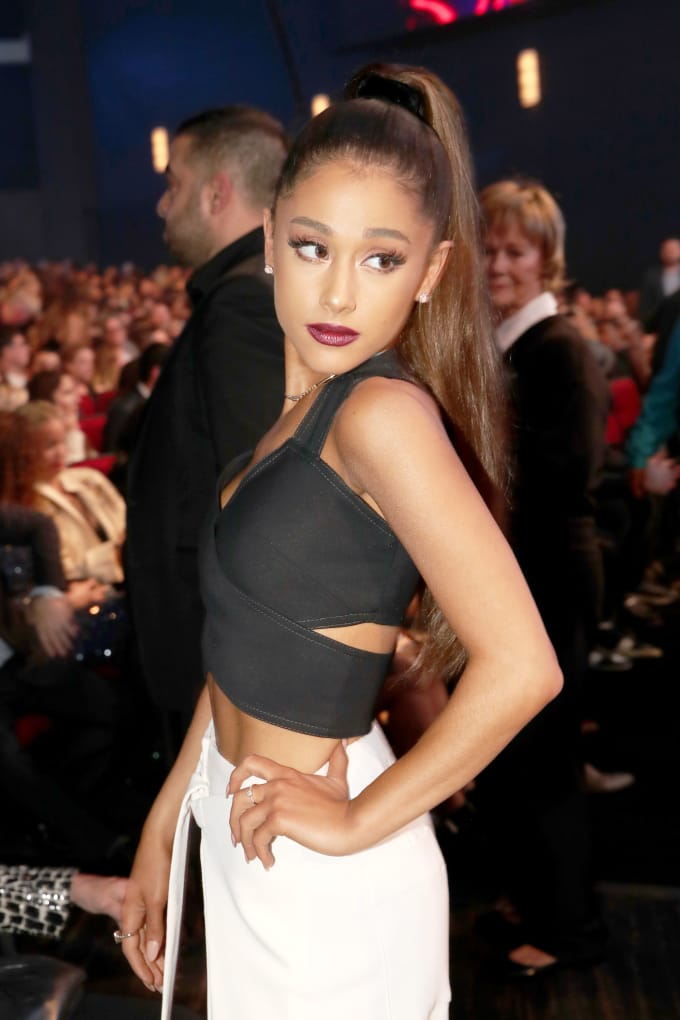 There is nothing better than an older person trying to stay relevant by fighting on the internet with a younger person. As a gossip columnist/podcaster/writer this is what I live for. Mostly, because the older one is almost always way out of their league and really searching for a way to get followers on social media. Such was the case with Piers Morgan when he tried to drag the girl group, Little Mix and for some reason the saint on Earth known as Ellen DeGeneres. An eclectic mix of celebs to be sure, and weird because, except for Piers, none of them are usually involved in anything scandalous. We needn't fear about the ladies honors though, superheroine Ariana Grande is here to put the hypocrite in his place (and in such a classic way too, boo!)
This whole fiasco started when Piers decided that he was the voice that the Men's Rights movement needed. Spoiler alert, he's not. He is salty because made some comments about a woman's legs and he got dragged on Twitter for it, but let's hear it in his own words. 
"Ellen drooling today over famous men's bodies on #InternationalMensDay2018. Yet I've been abused all day for complimenting @hollywills on her legs. The hypocrisy of modern feminism laid bare.." 
So here's where there's going to be some gay-splaining for the straight man (or straight men if there are any reading this): Ellen is a lesbian, she is not interested in doing anything to those men that she features on her show. Also, they are employees; they have the CHOICE (this word may confuse some, so let's say they made the decision to appear) to take their shirts off on Ellen's talk show. Holly Willoughby did not give the OK for Piers to say that her legs are "sizzling" or the other pervy comments that came out of him. This will hopefully clear up any confusion that may have resulted from any of this.
Mix It Up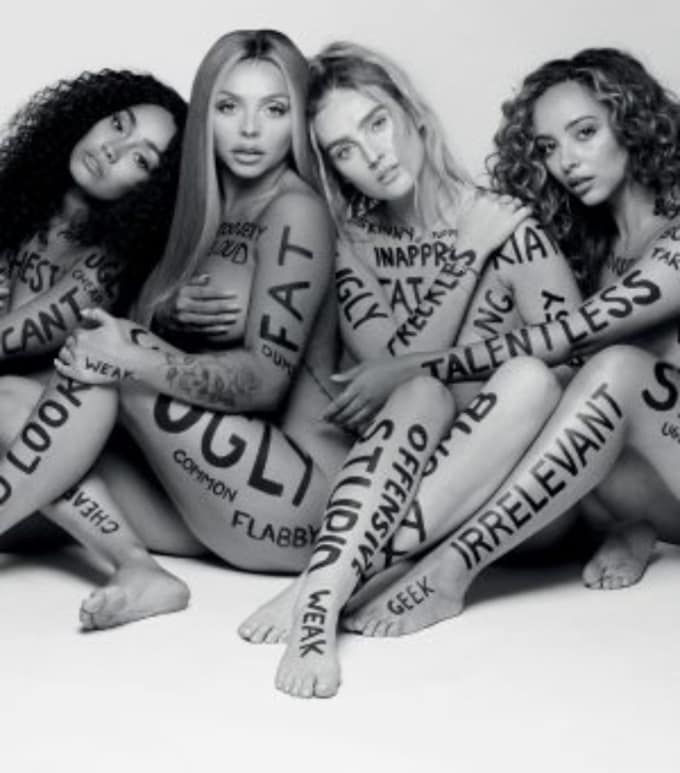 Next, he decided he wasn't here for Little Mix's homage to the classic Dixie Chicks Entertainment Weekly naked cover. The image is above in case you forgot about it. Piers was not having any of the kind or sympathetic feelings that many human beings might have had when reading the vulgar words thrown at the group. Instead, he noticed that they were naked and was not OK with it. Won't someone think of the impressionable young girls that Piers is legally not yet allowed to hit on yet, but will as soon as they turn 18, probably. 
In a Tweet, he came for Little Mix, "Hey @LittleMix - when are you going to admit you stole this idea from @dixiechicks?" And thus began the exchange that would have the internet heralding Ariana Grande as a great feminist.
Ariana's Mom, Joan Grande, thought that she could stop this in the tracks and make Piers see that he was misbehaving, you know as Mothers often do. The senior Grande tweeted at the television host her displeasure with him acting out the way that he did. 
"Honestly what is wrong with you @piersmorgan ? Didn't your mother ever teach you, if you have nothing nice to say, don't say it! You came for @TheEllenShow yesterday which was disgraceful, she is an angel. @LittleMix today, did you ever hear of paying homage? And..well never mind." 
There it is, Mama Grande thought that everything would be fine now, and she kept it classy. Too bad Piers took this as a sign to take his behavior up and the star power involved up a notch. "Hi Joan, my mother taught me to speak my mind & never be afraid to express honestly held opinion. Ellen's a hypocrite - and as for Little Mix, I'd just prefer they use their talent to sell records rather than their nudity. As your own daughter does...!"
 Ellen's a hypocrite because she doesn't show her legs apparently or because she won't bang Piers? Who can really tell? But dragging Ariana into this was not something that he should have done because girlfriend is having a bad few months, and is not the one.
When Ariana joined this hot mess of a discussion, which really boils down to Piers seemingly believing that women are to be sexualized and they should not want to see sexy men, it became something entirely new. She encouraged her friends in Little Mix to keep on, keeping on. "keep fighting the fight divas @LittleMix 🖤 your sisters have your back." 
Then, she went after Piers with the ferociousness of a lioness. "Ellen is an incredible & kind human being.. I use my talent AND my sexuality all the time because i choose to. women can be sexual AND talented. naked and dignified. it's OUR choice. 🖤 & we will keep fighting til people understand. i say this w all due respect but thank u, next." 
Anyone with Facebook has seen the meme about what "with all due respect" means. If by chance someone hasn't, it means fuck you in office speak. But the hitmaker wasn't done letting the older man know that this was no longer his game. "also @piersmorgan, i look forward to the day you realize there are other ways to go about making yourself relevant than to criticize young, beautiful, successful women for everything they do. i think that'll be a beautiful thing for you and your career or what's left of it. 🖤." Damn, she actually called him out on his lack of a career. Let's be real here, Ariana will need to promote her CDs and singles abroad, so her going after the anchor of a major show like Good Morning Britain is not to be taken lightly. This woman means business.
Piers though was not about to let this little tart show him who the boss was; he is a man after all. And he couldn't back down after #InternationMensRightsDay2018, because well, he's a man and he has to be the one in charge. Right? RIGHT?! 
His response was a letdown. "Hi Ariana! How lovely to hear from you so soon after your mother. Of course, women can do what they like—but if they/you use nudity to sell records to impressionable young female fans, I'll continue to call them/you out on it. All due respect, but thank YOU. Next..." Ariana's all due respect had an acidic take on it, Piers' felt more like a dad who was trying to argue the merits of some band that he loves but can't quite reason why they're still the best, even after years of irrelevance. Kind of like Piers himself. He also felt the need to reassure everyone that his career was great and he is not at all disappointed in it. "Now now, young lady—my career's doing just fine thanks. For the record, I criticise/praise everyone—male, female, gender-fluid. Indeed, I've written columns praising AND criticising you, and you deserved both." 
Does he criticize men? Not calling him a liar but maybe his truthfulness here is lacking, a little.
King of Hypocrisy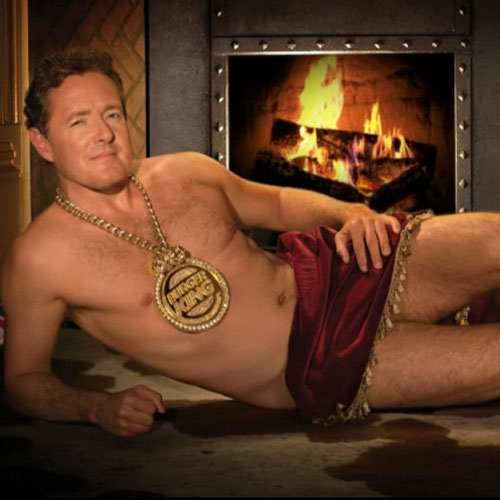 Sorry for the above picture, we can blame Ariana for reminding us of its existence. It was for a good cause though, proving that Piers is a hypocrite and shutting him down, though like a good dad fighting with his daughter he did keep going. Ariana tweeted the pic with this question, "when u do it it's ok tho right?" 
Piers tried to give himself an ego boost, after the beating, it took in his exchange with the pop star, he asked: "Is that your screensaver?" Lord have mercy... Ariana have the perfect answer. Which she did. "nah and it ain't ur girls' either i can promise u that." And boom goes the dynamite. After a burn like that, one would think that the recipient would run and hide. But like a true warrior, Piers took it as a good thing. He boasted about being a trending topic on Twitter. Sigh.
If Ariana ever decides that she doesn't want to sing anymore, she should forgo the usual route of judging a singing competition and go straight to being a co-host of The View. Girl would not only make headlines, raise ratings, and be the water cooler host that they desperately want but she would own that table with her savageness.
Author's Note: All quotes came from Twitter and have been left as they appear on that social media site, grammatical errors and all.