Geeks is powered by Vocal creators. You support
Rich Monetti
by reading, sharing and tipping stories...
more
Geeks is powered by Vocal.
Vocal is a platform that provides storytelling tools and engaged communities for writers, musicians, filmmakers, podcasters, and other creators to get discovered and fund their creativity.
How does Vocal work?
Creators share their stories on Vocal's communities. In return, creators earn money when they are tipped and when their stories are read.
How do I join Vocal?
Vocal welcomes creators of all shapes and sizes. Join for free and start creating.
To learn more about Vocal, visit our resources.
Show less
As 1980s Movies Go, Valley Girl Brings You Back Like No Other
Travel back with Nicolas Cage and regain lost love.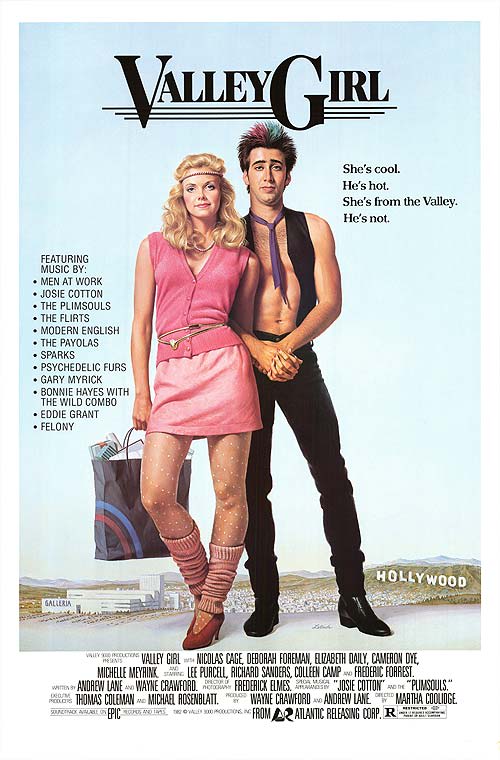 Ah the 1980's, did they ever happen and did that lost love of yours ever really get away? I recently dialed up 1983's Valley Girl to find out if I actually lived through them.
It's the old story of the boy from the wrong side of the Hollywood sign who tries to woo the valley girl from the right. In 1985, my first viewing of Nicholas Cage as "Randy" made me believe and definitely "stopped the world" in Modern English.
That's even in consideration of a tubular dialogue that never quite made it to the valley I was in. Devoid of all that talk in the Saranac River Valley, where I attended Plattsburgh University in Upstate New York, the film still allowed for an uplifting translation.
But 30 years later, it is a little difficult to stomach the, so like, flighty girls, and wooden guys with their turned up collars.
On the other hand, Valley Girl returned me the chance to suspend the decades and all the 1980s movies that have passed in disbelief. Deborah Foreman, as Julie, stands in as the girl with the eyes, hair and smile who did the world melting and stopped my own heart.
So suddenly you're Nicholas Cage and missing a beat is once again a must. But all the inspiration that was stunted when it actually counted finally finds a voice and sings out for you in the 1980s music anthem.
Then like a real person, you actually get to decide if it is better to have loved and lost than to never have loved at all. 
Taking her song back to the lowlands, you're familiar enough with that. Conversely, I no longer lack the wave of my long lost hair and playing it cool seems second nature in the winning-her-back moves Nicholas Cage must have learned from me.
Coyly showing up on a series of Julie's dates with her finely combed boyfriend, we are hard to resist. Remaining anonymous on each occasion to the privileged valley boy, the inside joke between Randy and Julie is not quite enough to do the trick. But it's certainly refreshing to imagine that you're not your own worst enemy, while muscle and disapproving girlfriends are all you need to overcome.
If only life were that easy.
So why not believe and crash the prom from the couch in a last ditch chance to get her lost love back. Easily over matched in a fight to win over the girl, a punch in the face pales in comparison to the fractured heart I routinely carried up and down Court Street at my old Alma Mater.
On the other hand, the corresponding kick in the nuts that Randy levels does the trick. Valley Girl now sees the final act, and the two bounce for the limo bought and paid for by the brainless hunk.
Feeling young, I'm no longer jaded by the reality that love is more finite than forever. Julie's smile says it all and any spark had for the antagonist flies out the window in the diamond bracelet presented earlier to possess her. "Valley High Plaza sir," the limo driver defers.
We know what that means, but Randy hasn't lived as long as me and Nicholas Cage. The smile and sigh of relief could be seen to imply the obvious escapades they are about to embark on. Not here.
Innocence and hope are expressed magically in the face of this future Oscar winner. It made me believe the 1980s did happen, I lived through them and were worth the journey – even without the Hollywood 1980s movies ending.