Geeks is powered by Vocal creators. You support
Tom Chapman
by reading, sharing and tipping stories...
more
Geeks is powered by Vocal.
Vocal is a platform that provides storytelling tools and engaged communities for writers, musicians, filmmakers, podcasters, and other creators to get discovered and fund their creativity.
How does Vocal work?
Creators share their stories on Vocal's communities. In return, creators earn money when they are tipped and when their stories are read.
How do I join Vocal?
Vocal welcomes creators of all shapes and sizes. Join for free and start creating.
To learn more about Vocal, visit our resources.
Show less
Bulking Not Sulking: Tom Hardy Shows Off His Muscles As 'Venom' Starts Filming
Kick-starting Sony's villainverse, Venom will be lead by #TomHardy, hoping to prove that black is the new black when he slips on that symbiote suit.
Prepare for another dark entry into the world of superheroes and supervillains, because Sony is bringing Venom to our screens with a pair of gnashing teeth and ready to take a bite out of the box office. Kick-starting Sony's villainverse, Venom will be lead by #TomHardy, hoping to prove that black is the new black when he slips on that symbiote suit. Now, as filming begins, the official #Venom Movie Twitter posted an image of Hardy's bulging new physique.
The Spider-Man Of The Moment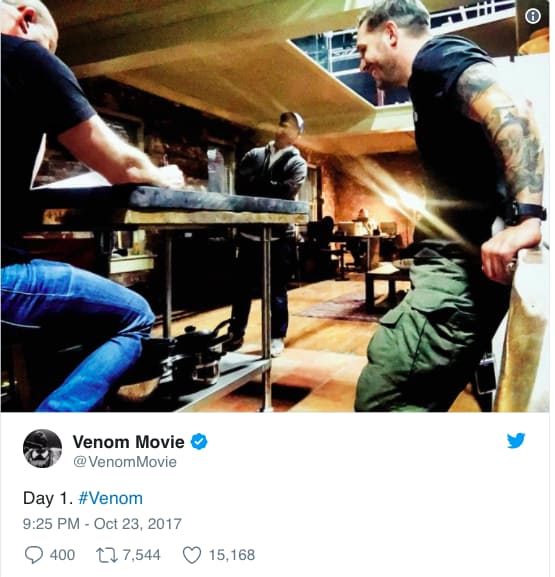 No stranger to body transformations, Hardy famously piled on the muscle for roles like Bronson, and irreparably damaging his body to play Bane in The Dark Knight Rises. While his transition into playing Eddie Brock doesn't seem quite as extreme, Hardy's portrayal will likely be a million miles away from Topher Grace's performance in Spider-Man 3. Grace was the last person to play Brock, giving us the sniveling weasel from Sam Raimi's maligned threequel. By shoehorning the symbiote in as a last-minute third villain, fans were rightly peeved by a lame adaptation of Brock and an equally lame "emo" Peter Parker.
Hopefully learning from the mistakes of Spider-Man 3, Venom should be able to get the story right this time round, and with a new era of the character, it looks like Hardy is going for that muscular version of the journalist that fans are used to from the comics. It is no coincidence that the character hasn't graced our screens since Spider-Man 3, but hopes are high that Ruben Fleischer's gritty take on the R-rated source material can win over fans in the vein of Deadpool and Logan.
With confusion over exactly how/if Venom fits into the candy-coated MCU, Sony bigwig Amy Pascal can at least dream of a crossover between the two universes. With Venom due to be followed by Silver and Black, who knows what else the villainverse has hidden up its sleeve, although most are hoping it could eventually lead to a solo film for the Sinister Six. The MCU may currently be crafting its own team of the SS with the likes of Vulture and Scorpion, but who's to say Sony can't take their own crack of the whip and focus on darker rogues like Kraven the Hunter and Mysterio.
As for Venom, the plot is covered in the sticky gloop of the alien symbiote, but it is thought that Brock will be facing off against legendary villain Carnage in a battle royale for the ages. With an all-star cast of Hardy, Riz Ahmed, and Michelle Williams, Fleischer is said to be inspired by Cronenberg-esque creature features to tell a faithful adaptation of Marvel's comic book antihero. Little else is known about Venom, but with filming underway, it surely can't be long until we see Hardy dressed to impress in that slimming suit. Move over Tom Holland, there's a new Tom preparing to swing into the world of Spider-Man in a big way!