Geeks is powered by Vocal creators. You support
Trevor Wells
by reading, sharing and tipping stories...
more
Geeks is powered by Vocal.
Vocal is a platform that provides storytelling tools and engaged communities for writers, musicians, filmmakers, podcasters, and other creators to get discovered and fund their creativity.
How does Vocal work?
Creators share their stories on Vocal's communities. In return, creators earn money when they are tipped and when their stories are read.
How do I join Vocal?
Vocal welcomes creators of all shapes and sizes. Join for free and start creating.
To learn more about Vocal, visit our resources.
Show less
Lifetime Review: 'Stalked by My Doctor: Patient's Revenge'
Doctor Beck is back to his old ways and Sophie is back with an ax to grind in this deliciously insane Lifetime drama chock full of twists.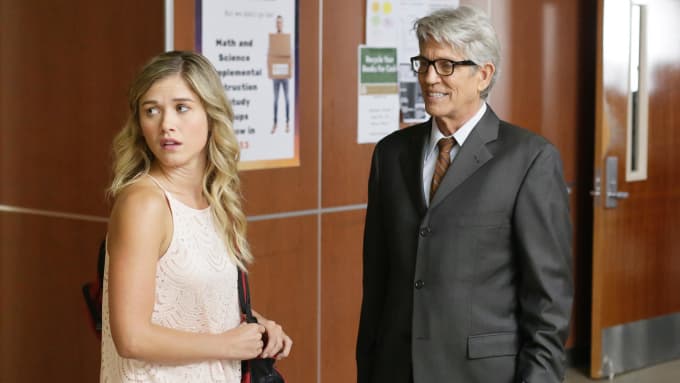 After far too much waiting, I've finally been able to watch the third chapter of Lifetime's hit Stalked by My Doctor series, led by the phenomenal Eric Roberts. This time around, Dr. Albert Beck (Roberts) is riding high following the trial he faced against his past victim, Sophie Green (Brianna Joy Chomer). After seducing a juror into getting him acquitted, Beck manages to land a teaching position at a college, where he is charmed by student Melissa (Anna Marie Dobbins). As Beck and Melissa find themselves bonding, however, Sophie arrives on campus hellbent on putting her abductor in jail—and maybe enact her own form of justice along the way.
Eric Roberts continues to knock it out of the park with his deliciously erratic and deranged portrayal of Albert Beck. In this installment in the franchise, though, Beck's delusional psychosis from The Return has been amped up to eleven, with a tropical-shirt-wearing doppelganger appearing to Albert periodically to try to convince him (to no avail) to avoid women to stay out of trouble. Beck also periodically hallucinates and fantasizes a dream musical sequence with Melissa that is just over-the-top enough to not go too far, with Roberts' portrayal of the character making for a fun little mind trip of a movie. 
But like with the other films in the series, while Beck has plenty of funny moments of lunacy, he ultimately proves that he's still capable of truly horrific things and poses a genuine threat to anyone he sets his romantic sights on. At the same time, though, Roberts gives Beck a few moments where he shows that, for all of the terrible things he does, he genuinely wants someone to love him. Thanks to the chemistry between Roberts and Anna Marie Dobbins (who gives an immensely likable performance as devoted student Melissa), audience members might find themselves rooting for them to stay together and escape Sophie's wrath despite knowing how right Sophie is about Beck.
The rest of the film's casting is also superb, with Dobbins playing Melissa with a fierceness necessary to serve as a strong protagonist against Roberts' powerful performance as the series antagonist. She also helps deliver many of the film's best twists, with Dobbins keeping up with her character's multiple twists and turns. Brianna Joy Chomer also returns in her role as Sophie Green, giving a fierce and complex performance that pales in comparison to her mostly complacent role in the original film. As Sophie fights to expose Beck as a perverted psychopath and get revenge for the trauma she suffered and expresses anger at Melissa for defending him, you wonder whether or not Sophie is going too far in her pursuit of justice. But ultimately, Sophie proves that despite her vicious and seemingly sadistic acts of vengeance against Beck, she is ultimately a traumatized girl who just wants to feel safe to live her life without living in fear of Beck. In the end, this makes Sophie a far more strong and proactive character than she was in her original appearance; something that this critic greatly appreciates.
Stalked by My Doctor: Patient's Revenge is another strong installment in an already fantastic franchise, with Eric Roberts' stellar performance as the loony doctor making this movie far more than simply another Lifetime obsession thriller. Aided by great secondary casting and a script that knows how to make the film insane and unpredictable without being overblown or excessively kooky, this is a film that fires on all cylinders that makes me hold on to hope for another installment in this marvelously crazy film series.
Score: 10 out of 10 musical daydreams.