Geeks is powered by Vocal creators. You support
Sean Patrick
by reading, sharing and tipping stories...
more
Geeks is powered by Vocal.
Vocal is a platform that provides storytelling tools and engaged communities for writers, musicians, filmmakers, podcasters, and other creators to get discovered and fund their creativity.
How does Vocal work?
Creators share their stories on Vocal's communities. In return, creators earn money when they are tipped and when their stories are read.
How do I join Vocal?
Vocal welcomes creators of all shapes and sizes. Join for free and start creating.
To learn more about Vocal, visit our resources.
Show less
Ranking the Movies of 2018: Week 12
More Talk of Nostalgia as 'Ready Player One' Arrives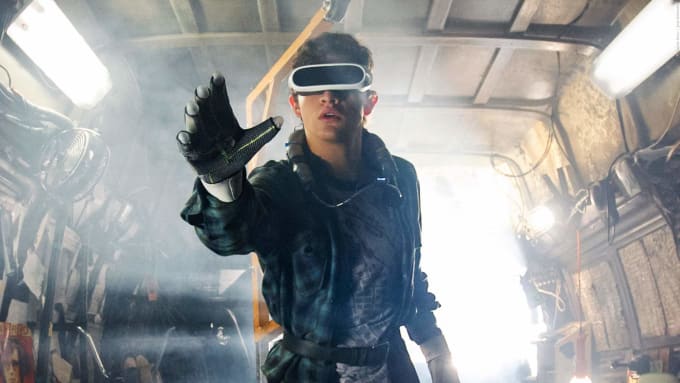 Another week, and another reckoning with nostalgia via the work of Steven Speilberg. In week ten of this rankings column, I wrote about Indiana Jones and how my feelings about the film have evolved over the years. I still love Indiana Jones, but not in the reverent way I did when I was a child. Ready Player One revived this debate in my mind over how our culture_specifically Hollywood—recycles our memories into nostalgia and markets them back to us.
Ready Player One centers on a virtual reality world called The Oasis. In the Oasis, people are free to be whomever they wish, including their favorite characters from any media. While our hero, Wade, has chosen a seemingly original avatar, he surrounds himself in 80s nostalgia from Back to the Future to Buckaroo Banzai. His best friend, Aech, has an avatar based on an ogre from the game World of Warcraft. Other friends have taken on Ninja personas, hitman personas and the like, while Wade's love interest incorporates anime into her character.
I have no doubt that this is how a real life Oasis would work. So many of our imaginations have been shaped by the pop culture we have consumed from childhood to adulthood. That said, the striking thing about the weaponized nostalgia of Ready Player One is the degree to which modern imagination has been usurped by nostalgia. The 2025 of Ready Player One seemingly has no identity of its own.
Seemingly nothing about Wade's modern culture has permeated The Oasis. It's rather chilling to consider that Ready Player One has no real existence of its own and only thrives on what has come before it. All characters, all of their influences are things that came from 30 to 40 years prior. There are nods to modern video games in Ready Player One but they are video games that already exist such as Metal Gear and so on .There is no indication of the modern imagination or creativity.
Now, I completely understand that Ernest Cline's book was, in itself, a remarkable creation and that asking him to include within that a wholly new creation that would fit in among the already created media being celebrated in the story is a lot to ask but it was something that has nagged at me since seeing the movie. Unintentionally, this is a fascinating commentary on where modern blockbuster culture and our reliance on nostalgia is carrying us as a creative culture.
With sequels and spinoffs and reboots dominating the landscape, the modern imagination is being further usurped by nostalgia. Creative people are being encouraged to abandon their imagination and rely upon things from the past for inspiration. New takes on old things like Ava Duvernay's wonderfully imagined A Wrinkle in Time are a fine example of how to reimagine an existing property but what about creating new worlds of our own?
Ready Player One succeeds by feeding things we love back to us in a pleasing form. It's not challenging to anyone's world views, it asks nothing of audience members but to ride along like a rollercoaster, and while that is not a bad aim at all, pure entertainment is not unlike a really great cookie, and who doesn't love a cookie. My concern is that everything is becoming like Ready Player One, eager to recycle what we already love and feed it back to us while giving us nothing nutritious to chew on.
All of this said, I did enjoy Ready Player One as a rollercoaster style adventure, if not as a truly satisfying movie. The best new movie of the week is Armando Ianucci's acidic comedy, The Death of Stalin. This story about the change in power following the death of Josef Stalin in 1953 is a dark tale of selfish men rewarding their own selfishness, back-stabbing, and downright silly squabbling. It's a remarkable story and exceptionally told with some huge laughs from the remarkable cast, which includes Steve Buscemi and Michael Palin.
Also new to this list is Al Pacino's stage play turned filmed stage play Salome starring Jessica Chastain. Miss Chastain is remarkable as the biblical temptress reimagined by the legendary Oscar Wilde. Chastain smolders and pouts and her fiery persona dominates the screen even when she's silent. Pacino is still in his chew the scenery phase of his career but as he pleads with Salome late in the play not to call for the head of John the Baptist we get a few moments of Pacino's legendary talent. Next week the documentary on the making of Salome, Wilde Salome, will join this list.
Our classic on the latest Everyone's a Critic Movie Review Podcast was War Games starring Matthew Broderick and admittedly, we are stretching the definition of 'Classic' a bit on this one. War Games was chosen because it featured prominently in Ernest Cline's book Ready Player One. It was surprising then to find that War Games is nowhere to be found in the movie version of Ready Player One. Nevertheless, War Games is a very entertaining 80's throwback, not exactly a movie deserving of canonization.
Finally, there was a new God's Not Dead movie released this week, God's Not Dead 3: A Light in the Darkness. The nicest thing I can say about this otherwise amateurish effort is that this God's Not Dead movie is less hateful than the previous two films. In God's Not Dead 1 atheist characters were killed in motor vehicle homicides and given cancer in order punish them and drive them to Christ. In God's Not Dead 2, it was Ray Wise as the Devil/head of the ACLU. In the third film, John Corbett plays an atheist who, at the very least isn't murdered for his lack of faith and is actually given room to not be wrong about a few things. It's a minor step forward for the franchise, but still a step.
Next week's classic on the Everyone's A Critic Movie Review Podcast is The Mist starring Thomas Jane—considered by many to be a cult classic. In terms of new movies, the John Krasinski directed horror thriller, A Quiet Place, leads the way along with the John Cena led comedy Blockers, the historical drama Chappaquiddick, and the sports drama/true story, A Miracle Season.
A note: I mentioned last week that Beetlejuice was joining the list. I ran out of time to watch Beetlejuice due to other commitments and that is why it is not featured here.
New movies are in bold type.
1. Eternal Sunshine of the Spotless Mind
2. Mr. Smith Goes to Washington
3. Black Swan
4. Phantom Thread
5. Black Panther
6. His Girl Friday
7. Best F®iends
8. Indiana Jones and the Raiders of the Lost Ark
9. Annihilation
10. Unsane
11. Just Charlie
12. Columbus
13. The Death of Stalin
14. Hostiles
15. A Wrinkle in Time
16. Boogie Nights
17. Foxy Brown
18. Becks
19. Game Night
20. Are We Not Cats
21. The Ballad of Lefty Brown
22. 12 Strong
23. Red Sparrow
24. Act & Punishment
25. Ready Player One
26. Los Angeles Overnight
27. Salome
28. Switching Channels
29. Actors of Sound: A Foley Artist Documentary
30. Tomb Raider
31. War Games
32. Insidious: The Last Key
33. Sheik Jackson
34. Gringo
35. Love, Simon
36. Hurricane Heist
37. Samson & Delilah
38. Heat
39. Hell's House
40. The Last Movie Star
41. Early Man
42. Almost Paris
43. Bloodsport
44. Reds
45. Play Misty for Me
46. Frantic
47. 7 Days in Entebbe
48. Taffin
49. Samson
50. Last House on the Left
51. Burnt Offerings
52. Paddington 2
53. Pacific Rim Uprising
54. Sherlock Gnomes
55. Cloverfield Paradox
56. Peter Rabbit
57. Proud Mary
58. God's Not Dead: A Light in the Darkness
59. Den of Thieves
60. Death Wish 1974
61. Death Wish 2018
62. The Commuter
63. Fifty Shades Freed
64. Winchester: The House That Ghosts Built
65. Midnight Sun
66. Forever My Girl
67. Every Day
68. Strangers Prey at Night
69. 15:17 to Paris
70. The Greasy Strangler
71. Maze Runner: The Death Cure